Time for the annual 1000km ride and I went for the Hamilton one as I usually do. I am right in the middle so either is just as close. Little confusion over the date when I printed the ride instructions which had the 14th and all my plans for time off was the 4th but the 4th it was.
I got up at 1am having prepped the bike the day before and went and checked for the paper but no such luck. A glance upwards showed stars everywhere but so it did on the last ride, and we know what happened there (link to NI800 here).
Anyway by 1:45am I was ready and climbed aboard my trusty steed and headed off. 25kms later it was raining hard out, and I stopped at Stratford the fill the bike up and put on my new rain gear from Scott. Bit easier to get out of than the one piece and maybe easier to get into. It continued to rain until about Te Kuiti and then cleared up and I took my rain stuff off at Otorohanga.
Arrived at Glenview club and no one else there at about 5:30am but some others soon rolled in and Topher was one of them. He checked us all in and I was away at about 5:50am with the GPS predicting I would be back at 17:25. This would change several times along the way.
First stop was Bayview BP meaning had to get back onto SH1 for the run down to Taupo and the SH5 across and south to Bayview. Was cruising at about 107kph most of the time and made good time to Bayview with the predicted time down to 17:15 by the time I stopped to fill up at the Mobil at Bayview and then snap the photo at the BP station. The roads were very wet due to rain that must have been earlier. Also came across the first two of many traffic lights and stop/go areas. Arrival time of 8:58am and depart 2 minutes later.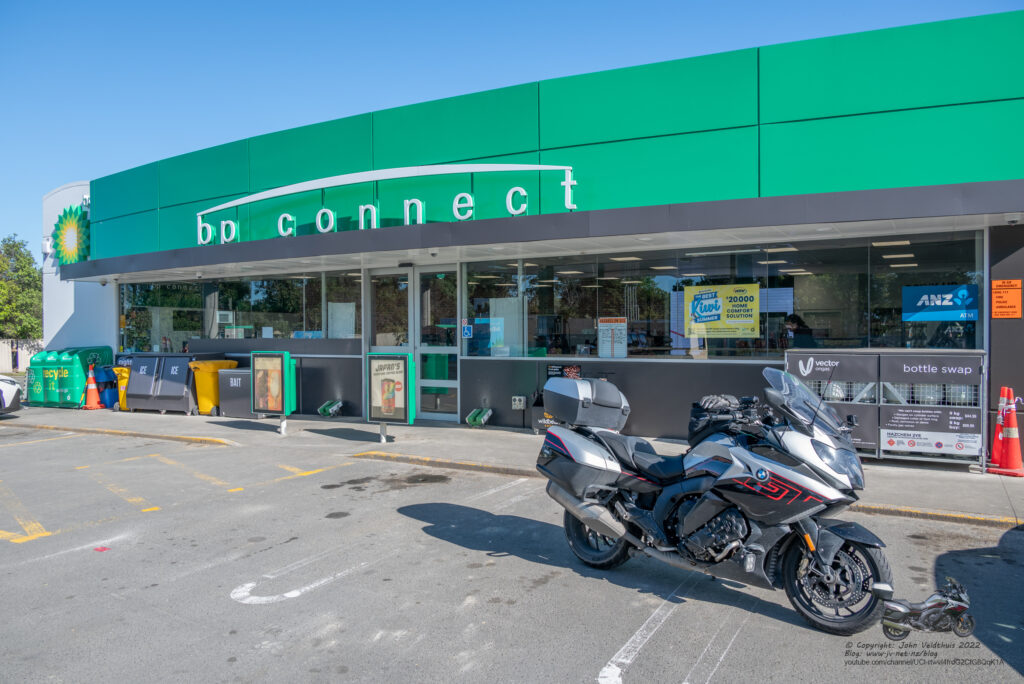 Hopping back on and checking the GPS it now said expected time of 17:48. Must had had a time warp as I certainly was not stopped that long but stranger things were to come. Next stop was the Caltex Makaraka which was about another 200km away.
The road from Napier to Gisborne is shocking to put it mildly. Heaps of potholes, traffic lights, road works. I hit most of the traffic lights okay, so they were either green or was only stopped a few minutes. By the time I got to the check point I think I had been through 9 or 10 light sets. Traffic was not too bad at this point and weather was lovely with the sun out and things warming up.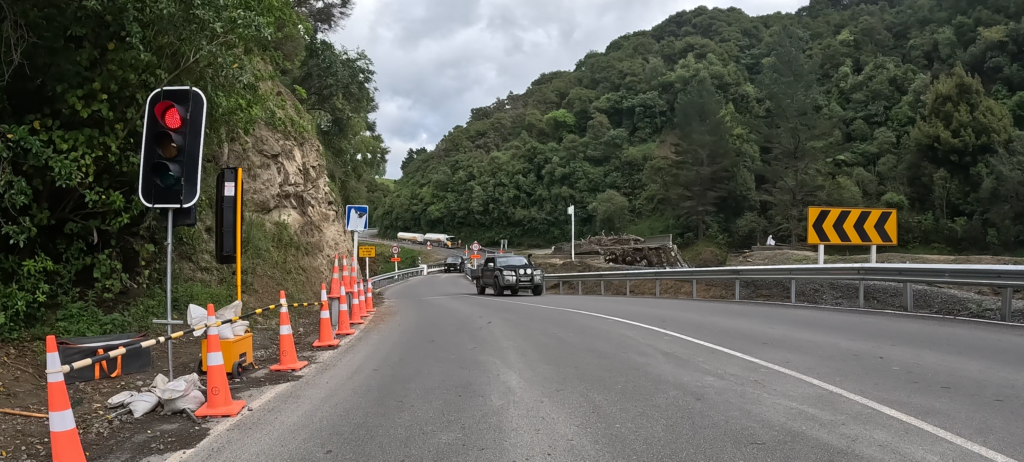 Arrived at 11:19 and filled the bike up and snapped the photo. Went in and got a paper for later and a Moro bar to snack on. As I came out Chris and company pulled up. Thought they would have caught me some time ago. Departed 11:27.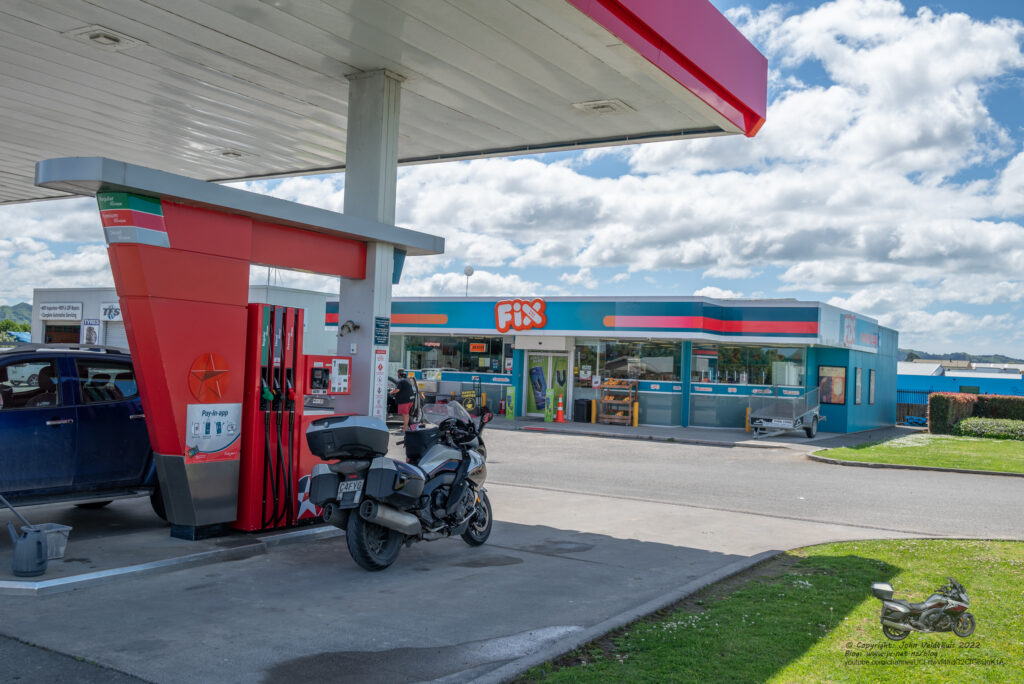 Next stop was Waihi a further 300 odd kilometres away and through the gorge. My GPS was in real time warp mode now and said return time was now 18:43. Didn't think I stopped that long. As I went along it was quickly recalculating the time down. A few road works and a few spits of rain otherwise this was a nice ride. Again, road works along the way and a couple of lights which I hit nicely. At one part a group of cars were doing about 40kph when a water truck pulled out in front of them. It then proceeded to start watering the road works at about 5kph. It was a long stint of works so pulled to the other side and passed the lot of them.
Through Tauranga the GPS decided to route me along the coast when I knew the original track was faster. It recalculated and suddenly I was back to 17:23 arrival time. Strange beast. Traffic picked up after Tauranga and heaps of yellow paint, obviously brought at discount rates, made over taking a challenge. Arrive at the Waihi Mobil checkpoint at 15:06 and filled up for the last time and took the photo. Chris and team again turned up just as I was leaving.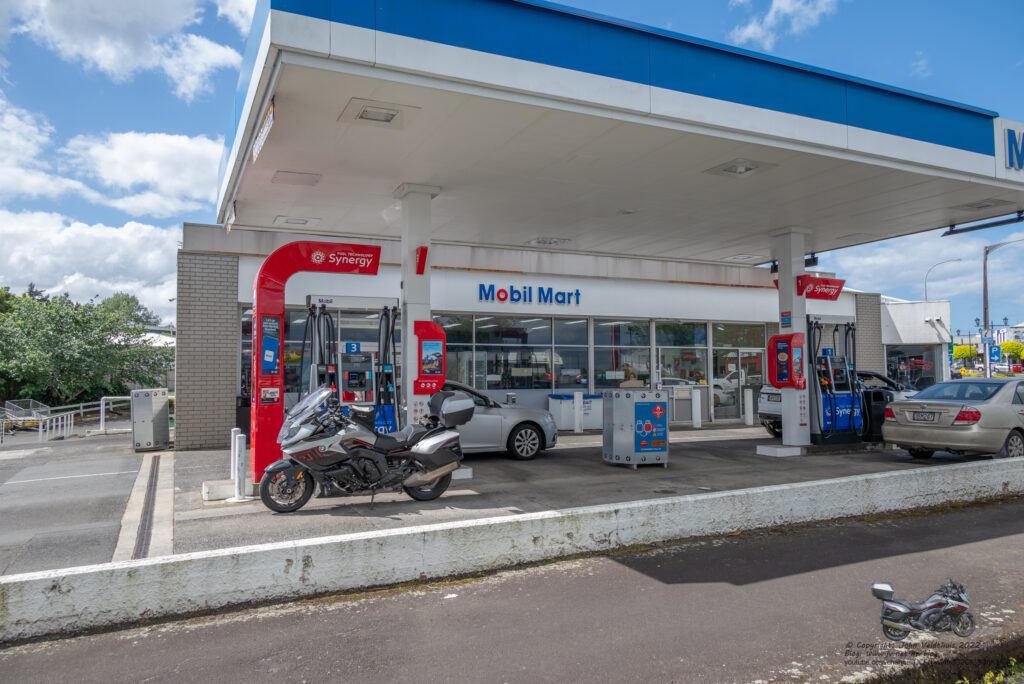 Two more to go and started out for Bombay but my GPS told me to take a u-turn. Thinking I missed something I turned back then realised my tank bag must have pressed on my GPS while refuelling and adjusted the next waypoint. Reloaded the route with Bombay the next one and away we went.
Safely navigated the three speed camera areas and the heaps of slow dick heads who think the entire SH2 is an 80kph zone and stayed at that speed even in the 100kph zones and arrived at Bombay BP at 16:16 to take my photo and be on my way.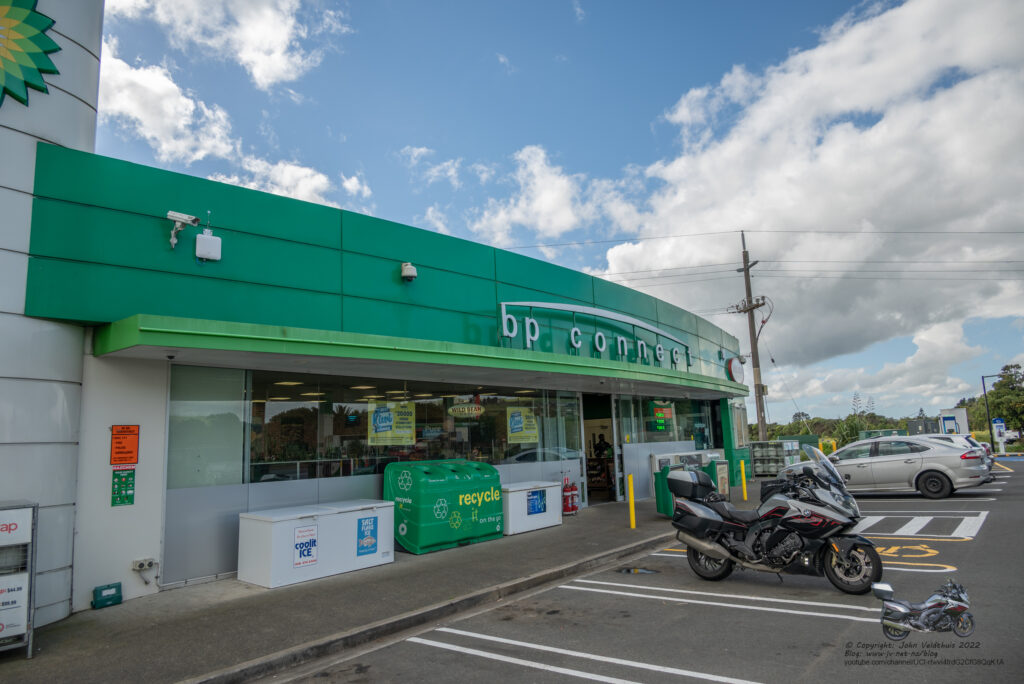 One more stop to go and it was only 12km away so a short hop to Tuakau College. Navigated another speed camera. Plenty of them up this way and it must be fairly new as it was not on my original GPS but was on my XT GPS. Arrive 16:29, snapped the last checkpoint and started back for the finish.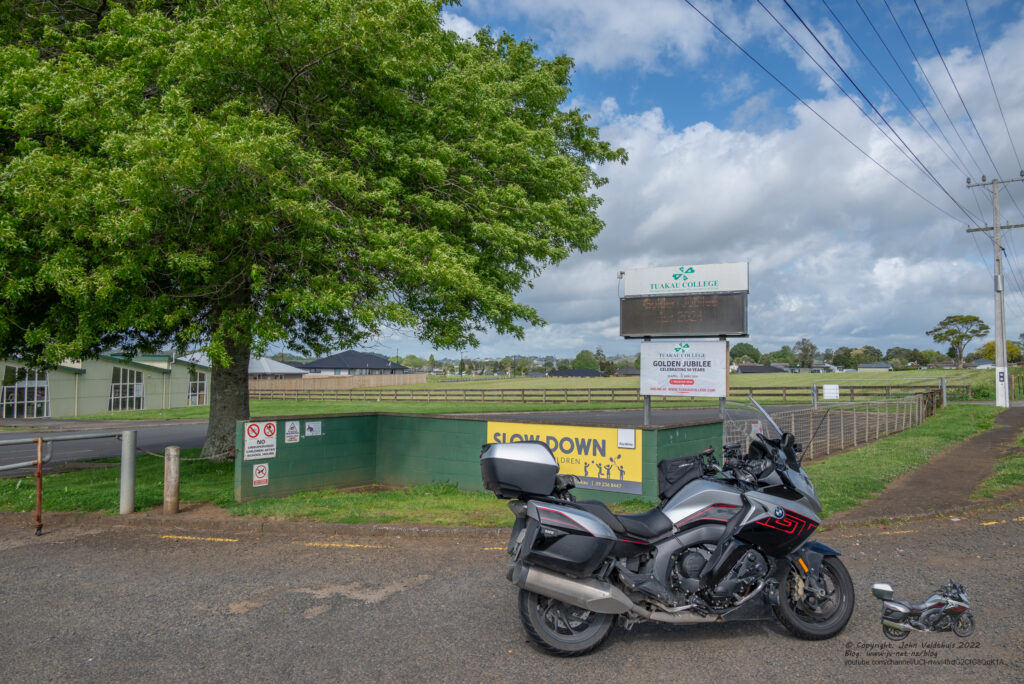 This meant going back to SH1 and back down the expressway. Only a short distance towards the expressway I see Chris and group coming towards me. They must have done the last two check points the other way around.
A short blast down the expressway and the GPS warned me slow traffic 1km ahead and sure enough big tailback due to more roadworks. Clear ride the rest of the way back to arrive at Glenfield Club at 17:31. This was just 6 minutes later than the GPS originally predicted when I started. 1012km completed in 11 hours and 41 minutes.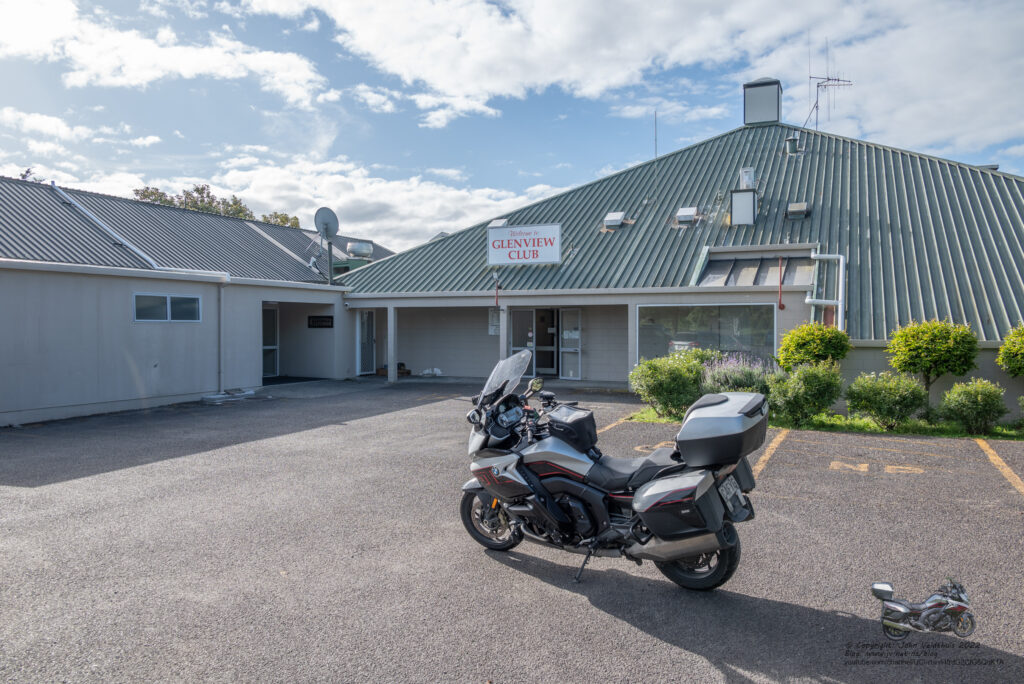 Took off the GoPro camera while I waited for Chris to arrive and about 5-10 minutes later they rode through the gate. Checked the photos and certificate and badge received. Chatted a short bit and then because I had another 3.5 hours of riding I headed off home.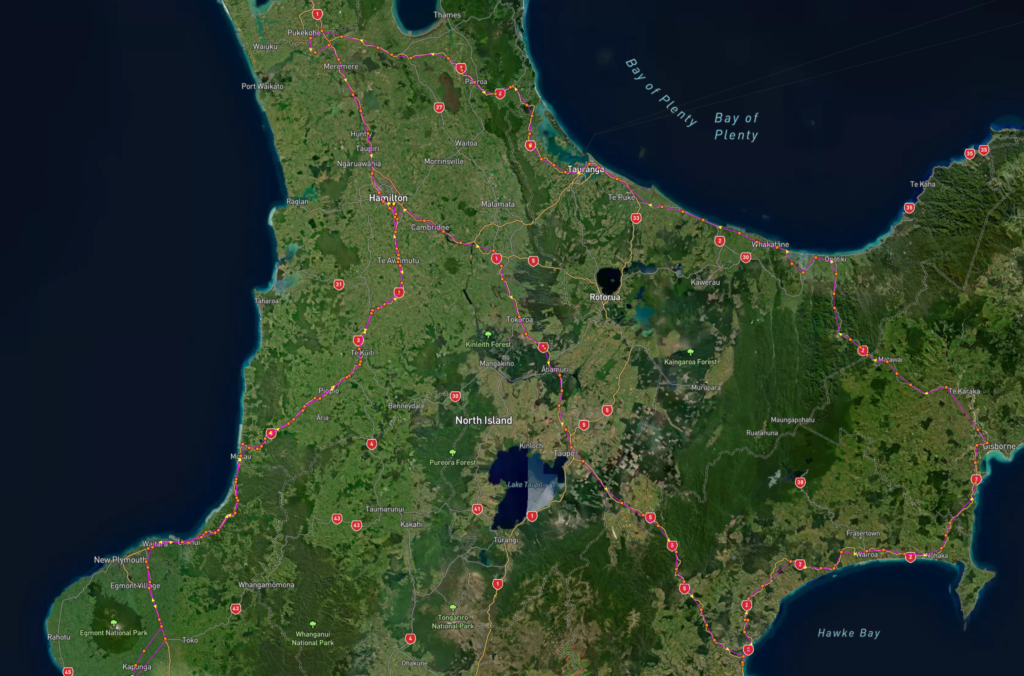 Stopped off at Burger King in Te Awamutu for a bite to eat and drink before carrying on home. The fun was not over though. My wrist was starting to hurt which is the first time since I had the operation to fix it and favouring it made my left shoulder ache. Again, it was also raining when I hit Mount Messenger which made it very slippery but was aware of it due to the wet. The next one I didn't notice until I was in a full-on slide. Someone, not in their right mind had out gravel or stones down on the corner leading to the bridge at Tongaporutu. I was at a good lean on when the front tire hit it and started sliding but quickly stopped. The rear however kept sliding and I had a good cross up going and actually put my right foot down on the ground to help steady it. Not sure that would have helped given how heavy the bike is but I came through it okay but cursing the un-named wanker. Weather cleared quickly again and arrived home at about 21:30 completing another Distance Riders 1000 Cruise.
Again, many thanks to the organisers without whom these rides would not exist. Much better weather this time bit a little breezy at times.