October rolls around and so does the North Island 800 long distance ride. This year was to be an easy ride and it was as far as the route went but the weather was another story.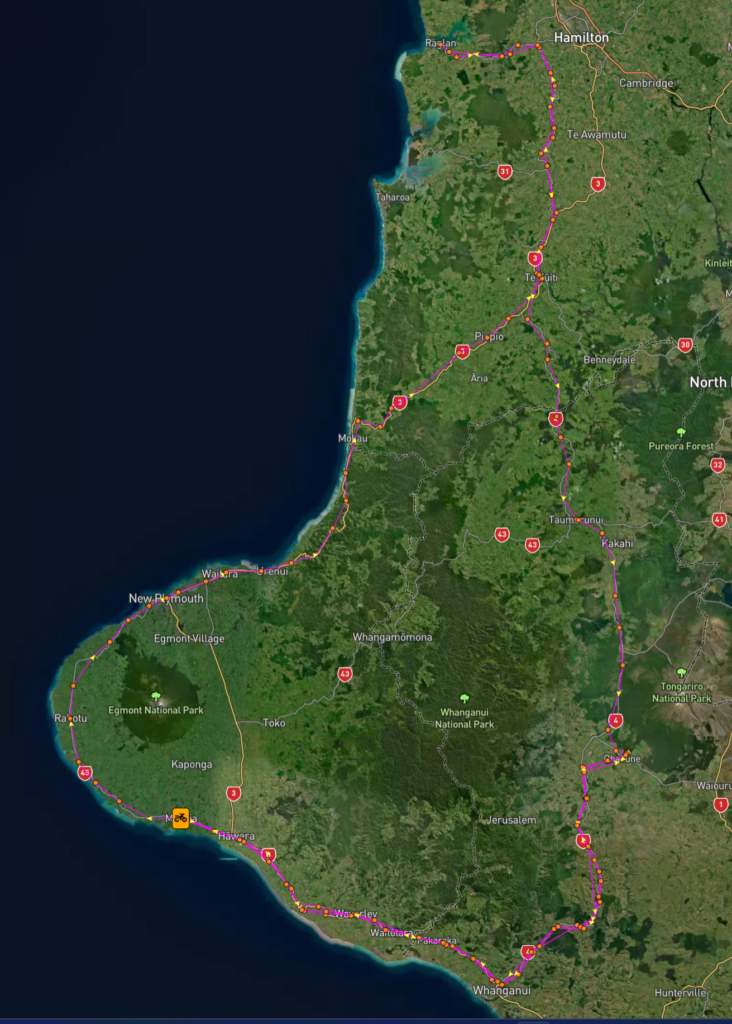 Saturday 14th and I woke up early at 3am having set my alarm for 3:30am. This was lucky as it turned out because just after I had finished my breakfast the power went out leaving me in the dark. Luckily, I had loaded up the bike the day before and it was almost ready. Using a torch to find the few remaining items I left at 4:30am for Ohakune with the stars out and a quite strong wind. Filled the bike in Patea and arrived in Ohakune at about 7:15am to grab my card and get the bike checked. It started to rain about 5km south of Raetihi and continued for some time turning to drizzle at Ohakune. Got my card so went over to the start point for the briefing and leave at 9am for the ride. Chatted a bit with the other riders as they turned up and kept shelter out of the drizzle. GPS was saying 18:20 as return time.
9am comes around and a couple of warnings about police in Ohakune and the dizzle had stopped but the wind continued on. Off we go and the roads still wet but made good time to Wanganui via the Paraparas. 4 sets of red lights but caught one green as I arrived and the others, I could see through them and could see they were clear.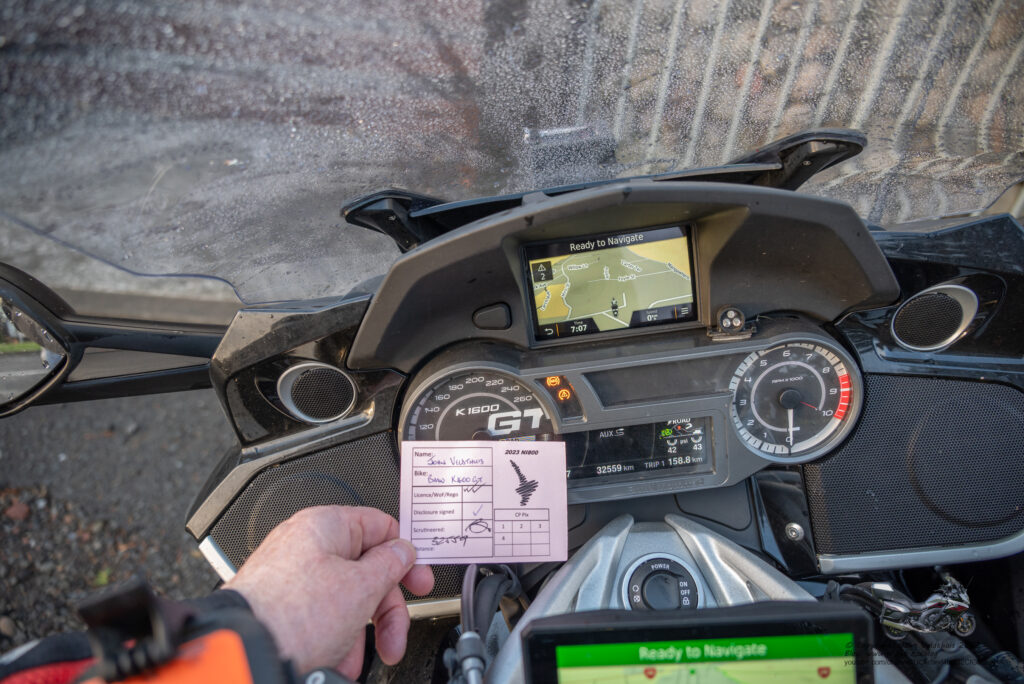 1st stop was Z Dublin but first I filled up at the Mobil shop across the bridge. Had to wait for some dickhead who was going shopping and parked at the pump as it was easier and after that moved over the bridge to snap the photo.
Going back the way I had come not 5 hours earlier and it started drizzling again just before Manaia. It just got worse from there and was raining quite hard by the time I rocked up at the second checkpoint of Rahuto School gate.
Took the picture and the went back a bit to the covered fuel station to put my rain suit on because it only looked worse around the coast. Pulled it out and found it had heaps of mould on it. Nothing left to do but put it on as I had no other with me. Not sure where the mould came from.
Carried on to New Plymouth and refueled again before heading off to Te Kuiti which was the next check point. Rain was continuous now and road quite slippery with all the tar patches. However, made it to Te Kuiti okay and stopped and took the photo of the check point.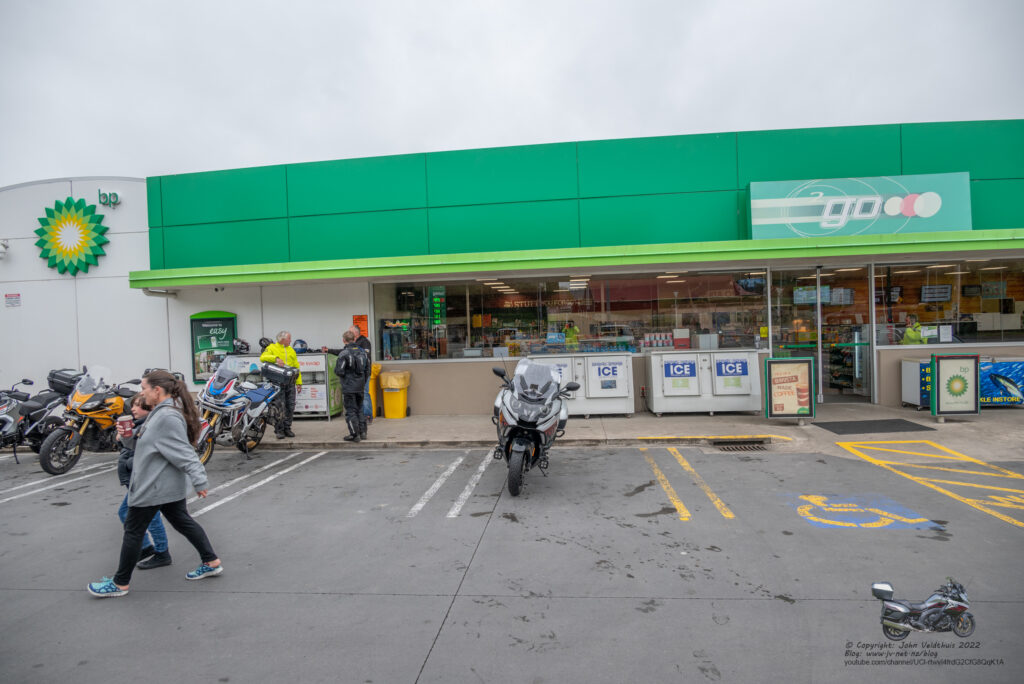 Started for the final check point at Raglan but then decided I would need two more fuel stops to get home so filled up at the Z station. Weather brightened a little so thought about taking the rain suit off and drying up. After another 15 minutes I stopped and took it off. Few little drizzles to Raglan but okay. The road to Raglan is awesome to ride and it ended all to quickly with the 40kph zone and the check point. Photo taken at BP Raglan and now on the homeward leg.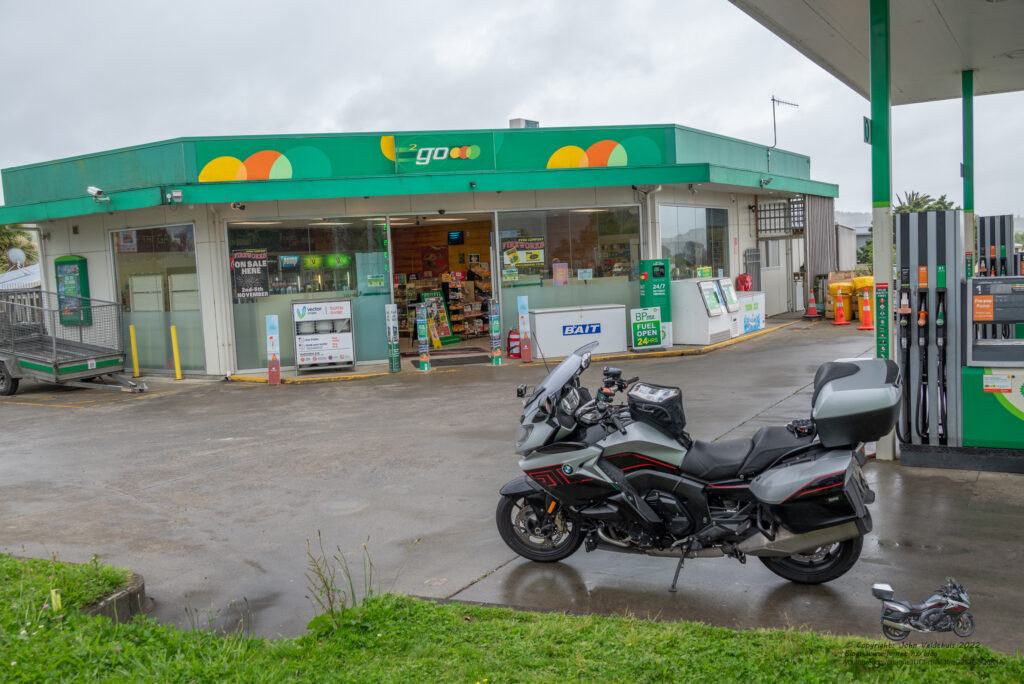 By the time I got back to Te Kuiti it was raining again so rainsuit back on. Turned onto SH4 and made time to Taumaranui. Stopped and filled up for the last time and as I drove out two other hardy adventurers rode past. Caught up to them quickly and stuck with them till we got back. A cop was pulled over at one point just outside Taumaranui and after we went past, he pulled out and followed us but we quickly lost sight of him.
The rain got harder for quite a while around National Park but as we turned for Ohakune it lightened up a bit and nearly gone by Ohakune. Arrived back at 18:34 and then had issues trying to take the photo of the speedo. Camera would not focus in the light and it would not take a shot. Finally got it to be greeted back and declared a finisher. Grabbed my card and went and got the complimentary dinner and drink. Tried to get some fresh gloves on but ended up with two different ones as could not get them on.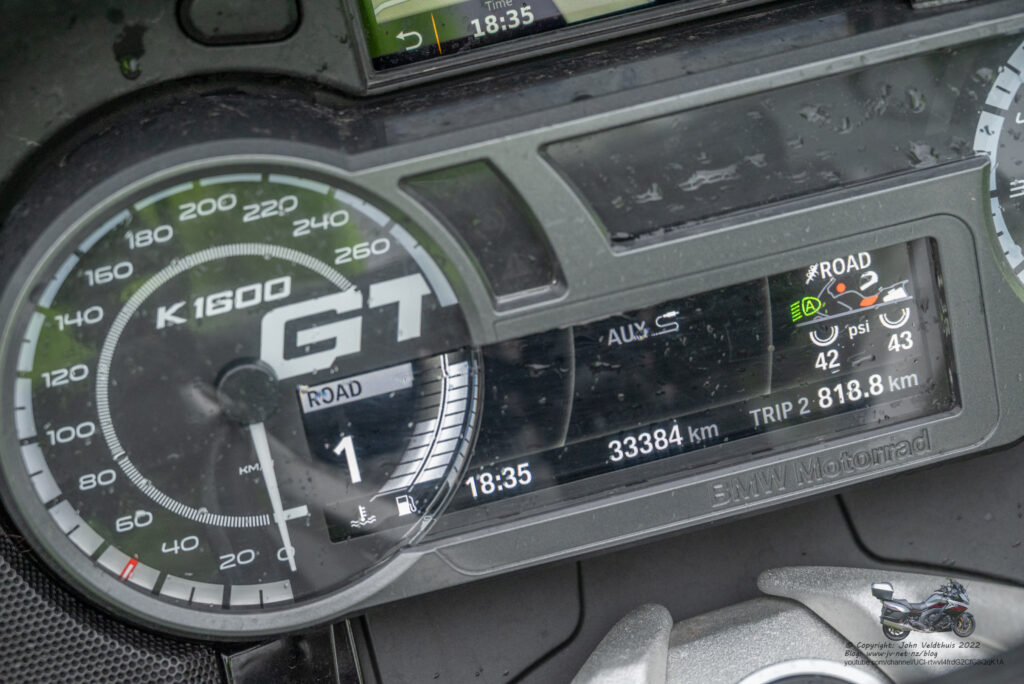 As I left it was fine and just as I sped up out of town my radar detector sounded the Laser alarm. Could not see anything and carried on. At Raetihi it did the same. Sign of bad things to come. It was fine on the way back but damp roads and just as I got to Wanganui my radar detector LED started doing strange light shows and eventually went on full brightness. Guess the rain got to it as well. Had to disconnect it as the LED was blinding me seeing the road.
Arrived home at about 9:15pm, wet and very cold. Also found that I had left a light on that I didn't notice with the power out. After unloading the bike, I had a quick shower and hung things out to dry, put the electric blanket on 6 and went to bed.
Next day I put the radar detector in the sun and after 8 hours of drying it appears to be working again. Think I will keep plastic bag with me to wrap it for when it rains as obviously it isn't waterproof. One set of gloves are still wet inside so needs another day in the sun. Stupid thing is I checked the gloves I wanted to use on the way home and they fitted perfectly. Must have been the cold wet hands might have swollen up a bit and I could not get the pinkie in the right hand to go in.
Awesome thanks again to the organizers who do a terrific job finding routes each year. Need more practice on the weather though.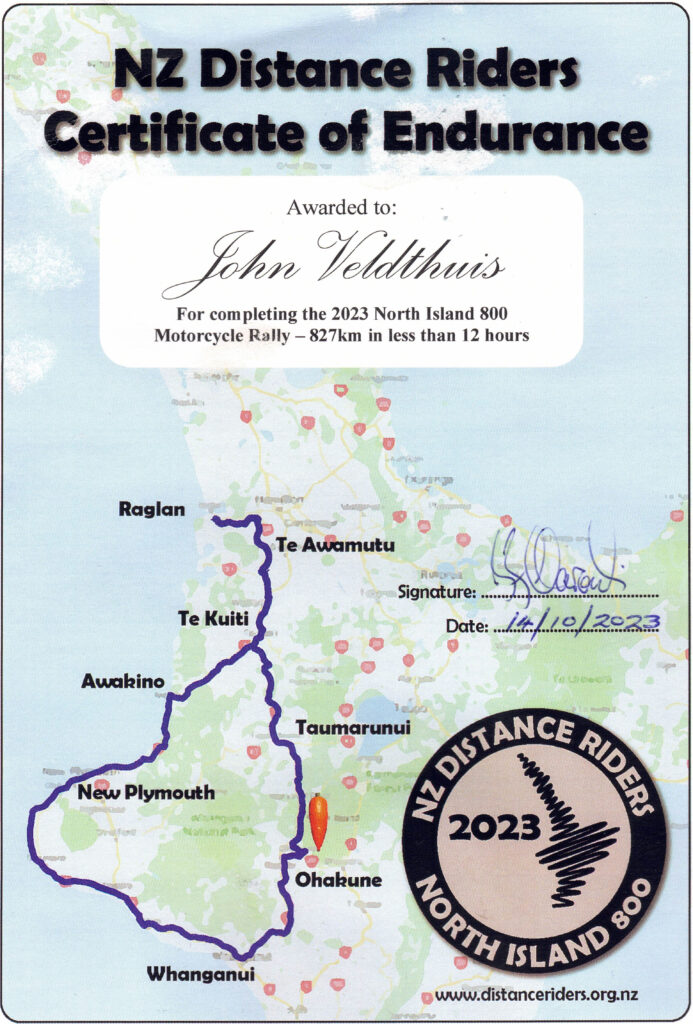 Had the GoPro Hero 11 on timewarp the whole way and looking at the raw video it did an awesome job in the rain. I will put it up on YouTube once I have processed the videos.