TT2000 time again and this one is in the North Island. Again, four mystery checkpoints, three of which I knew straight away having seen them all many times and in fact one I pass at least twice a day. The forth one, a church, was a little harder to find but find it I did.
Planning began as soon as the checkpoints became available and I soon had an anti-clockwise plan that covered what I needed so banged it into Basecamp and left it there. I only needed accommodation for one night as I would be sleeping at home for Saturday night. Stayed at the Top 10 in Gisbourne before so made a booking to ensure I got it. Then nothing for several months.
My bike in December was only about 3,000km from its service and the tires had about 5,000km left in them so did not do much travelling in the three months before the ride.
Also, at the end of January I hurt my right hand/wrist so bad that they wanted to put it in plaster but settled for a wrist splint. Several days before the ride my wrist was still sore on the bone between the hand and the arm. The little bony part and my little finger was sore with any pulling motion. It was not going to be a comfortable ride.
A flyover of the route with pictures is located here.
Day 1
Friday arrived and I made sure everything was on the bike, the GPS programmed, and batteries charged. First order of business was to ensure I stopped taking my water tablets. Sitting on the bike makes me go enough already without the added pills. Turned on Spot for the Spotwalla watchers and also for my own use and was away about 8:30am. My plan was to stick to about 108kph as I could not afford any more demerit points for at least another year. Arrived at Ashhurst and checked in and had a short wait for the riding brief from Wayne and was soon away.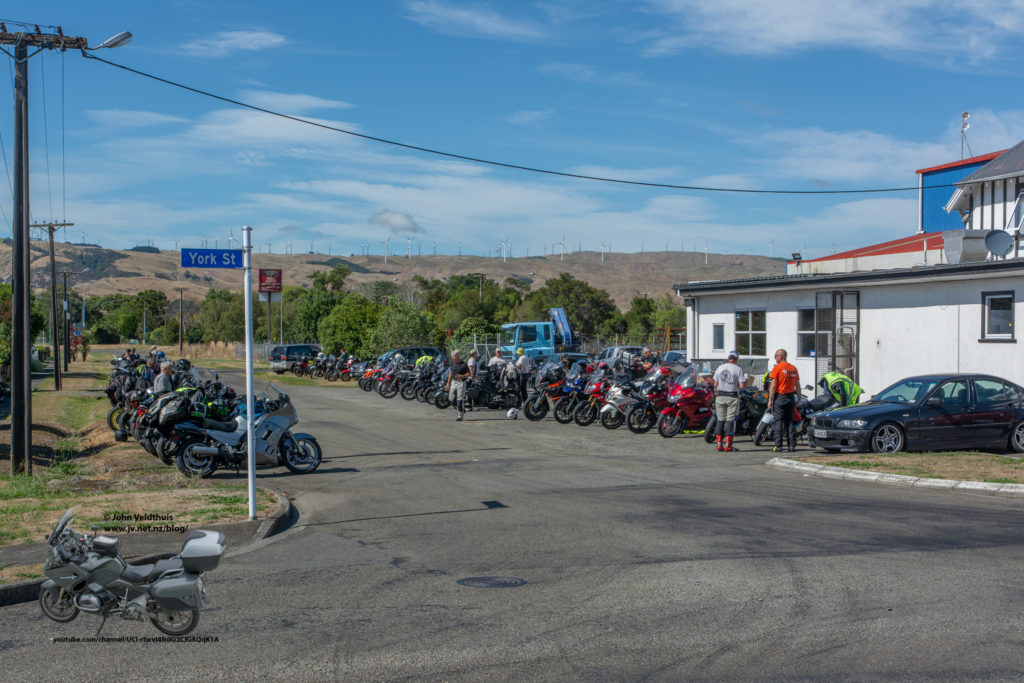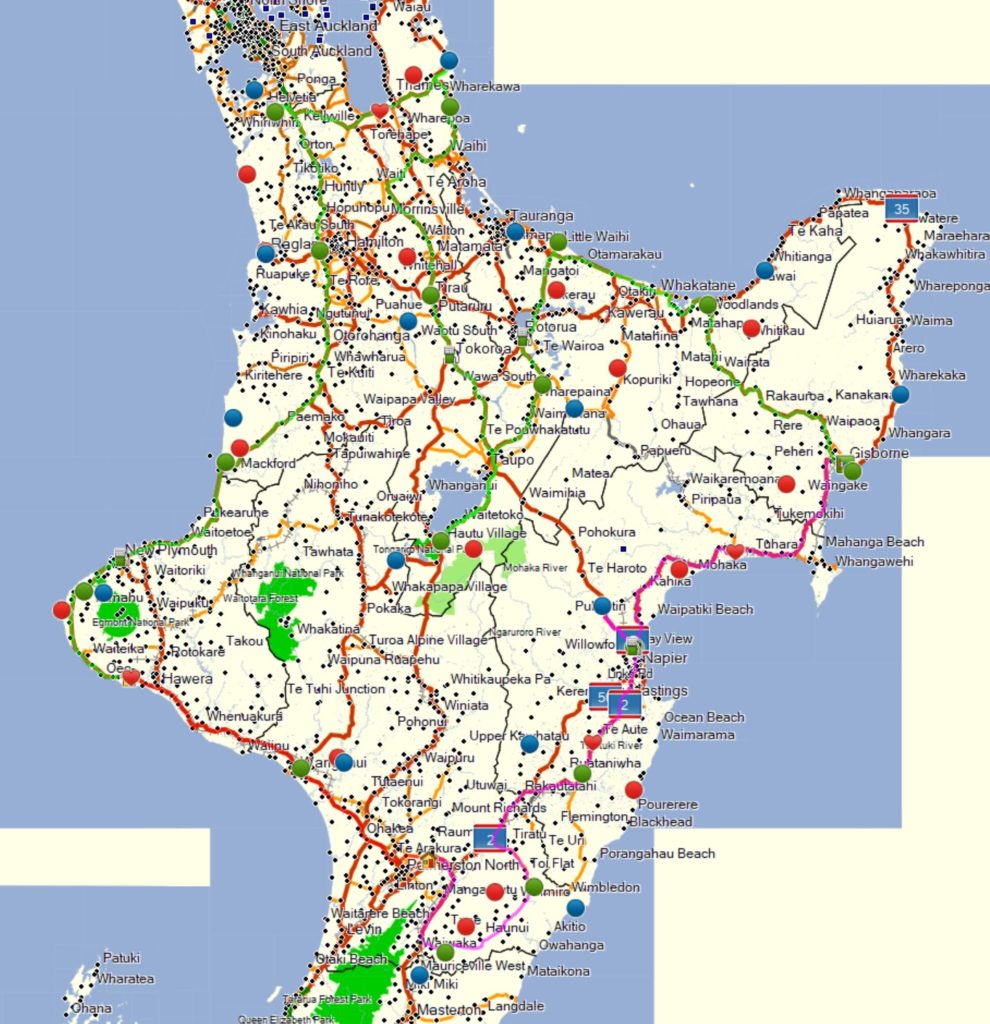 Plan was to head down and cross over via the Paihiatuha track. However, briefing said they lost a roller over the bank and there might be hold ups so over the saddle it was. The plan had me arriving at Gisbourne stop at 18:47 having covered 590kms.
First stop was to be Alfredton and some letterboxes. Decided to go down to Eketahuna and go left from there. Road was not as twisty and would mean I could use the cruise control more resting my wrist. Was soon there and grabbed a quick photo.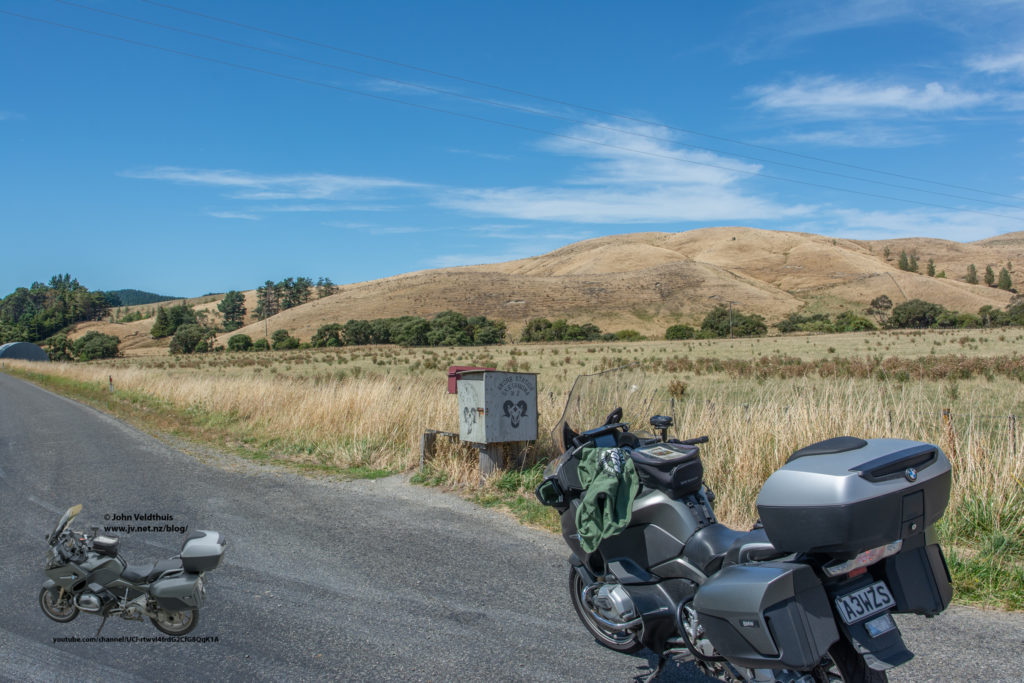 Next stop was Webber and I continued along Route 52. At some point came around a corner and I did drift a bit wide but a cattle truck coming the other way was also wide and over the center line when I first spotted him. My GoPro snapped one clean shot of him which looks further away than it did in person.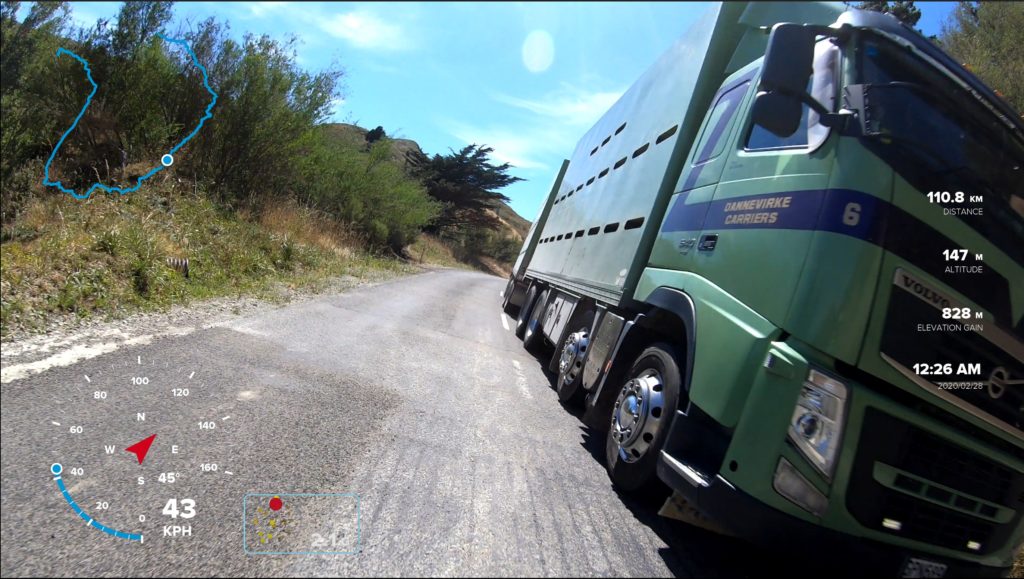 Carried on no harm no foul and it was getting warmer but also windy. GPS was saying in 25km do a U-turn so was doubting it and stopped and just did a straight goto which nearly said the same thing but not quite so carried on. Arrived at the checkpoint and as I pulled up my front wheel went into some deep gravel as I stopped, and it tried to drop on its side. With my sore wrist I nearly let it, but pride got the better of me and I wrestled it back up. Photo taken.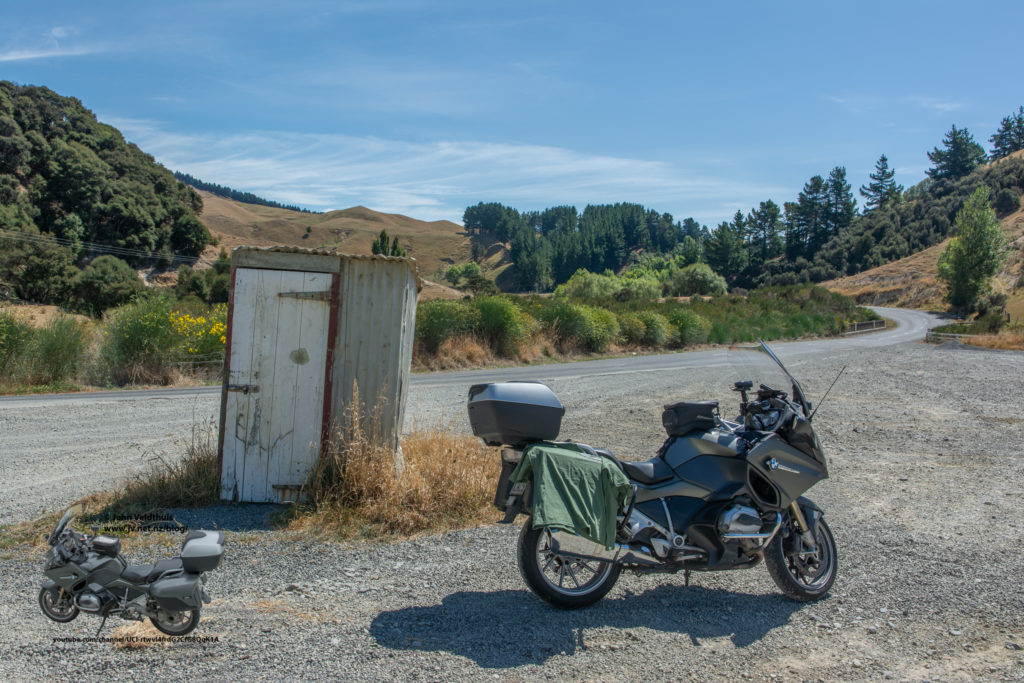 Next stop was Waipawa and nice ride and once back on SH2 could let the cruise control take some wrist action away again and rest it. Photo taken.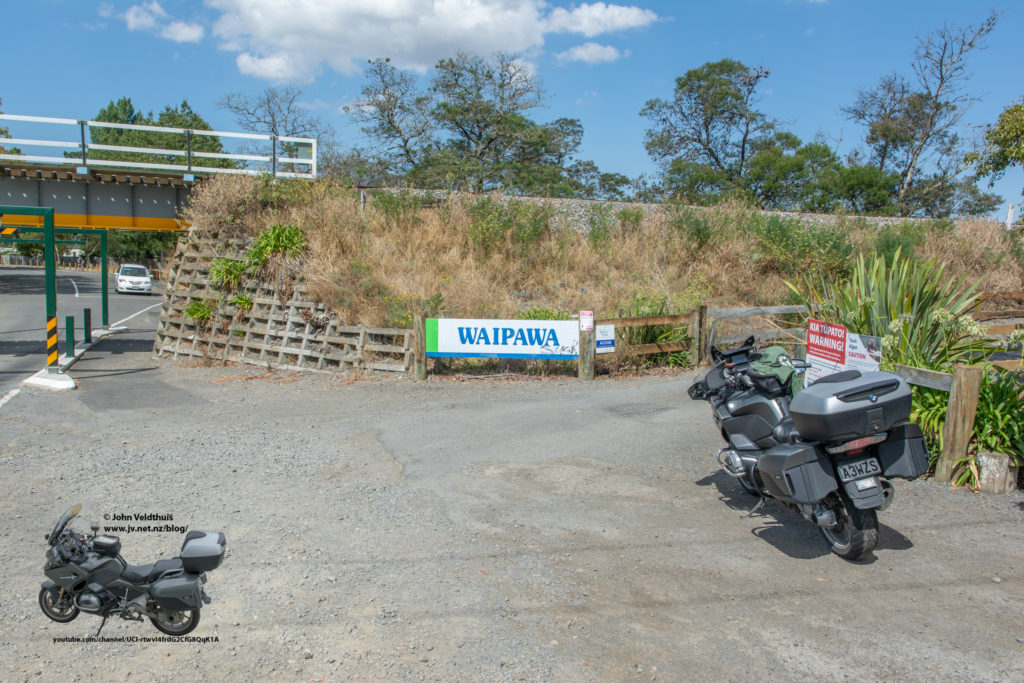 Mystery Checkpoint #4 was just up the road and there was something going on as many people outside so stopped across the road and took a snap. Checkpoint done.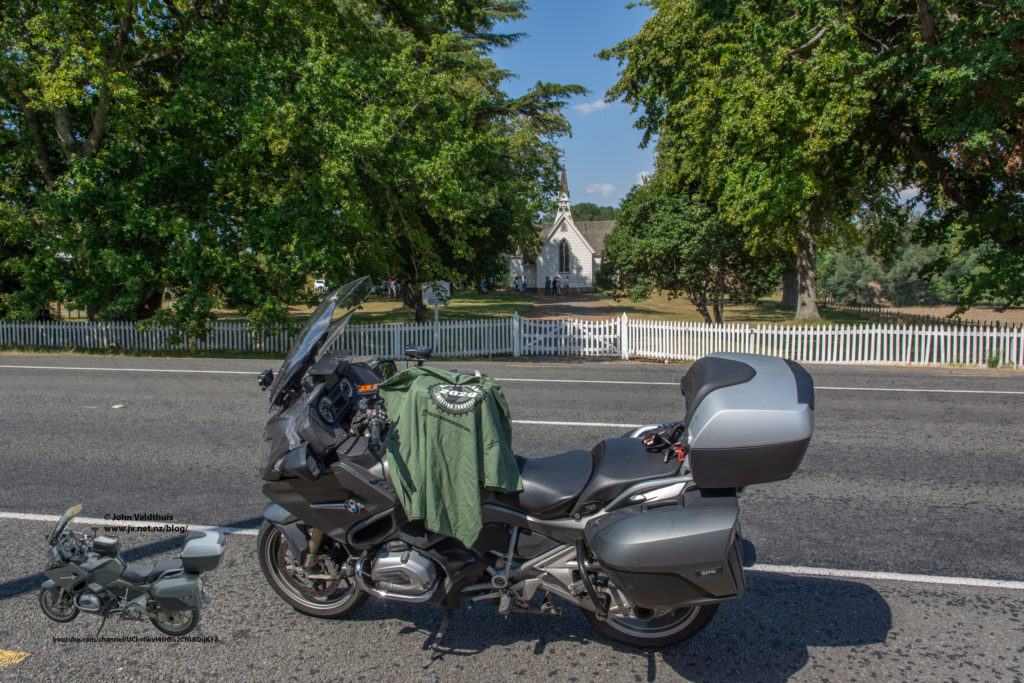 Bayview was the next stop on the list and would be my first fuel stop. I planned on stops every 300km leaving a 200km buffer at all times. Got a drink here as well as was really hot and had already run my bottle out. A few others here as well so we all took our shots.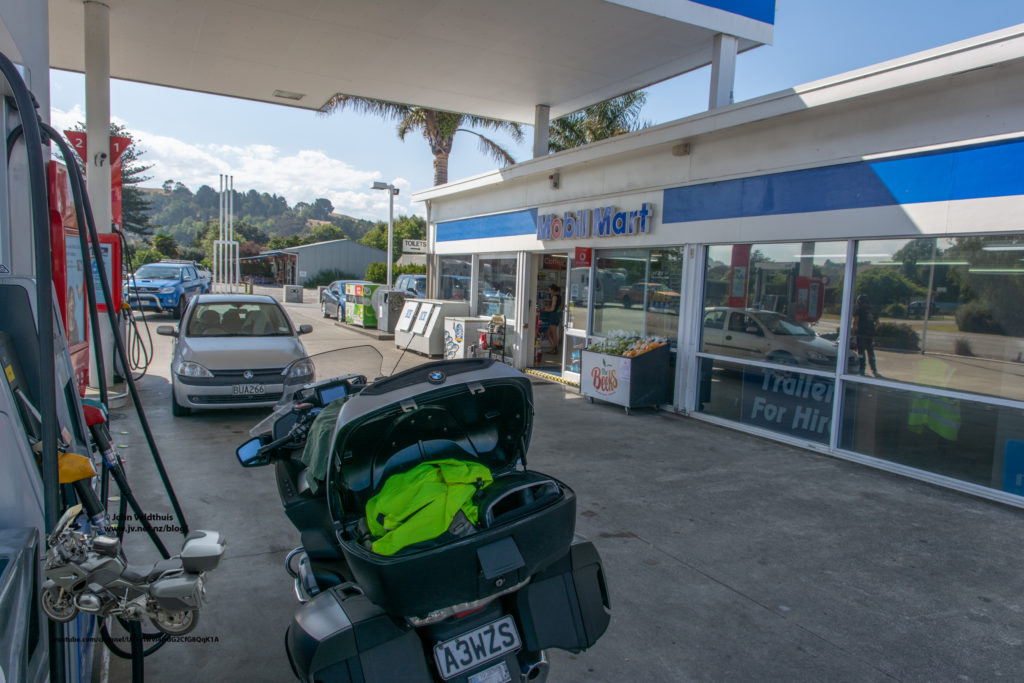 Bayview flyer in was inland from here and grabbed it because I needed the distance. It was every bit as grotty as Wayne had warned us it would be. Took the photo and headed back the way I came. However, my GPS decided to send me down a side road which I started to take but it was very narrow and looked suss so quickly turned around and headed back for SH2.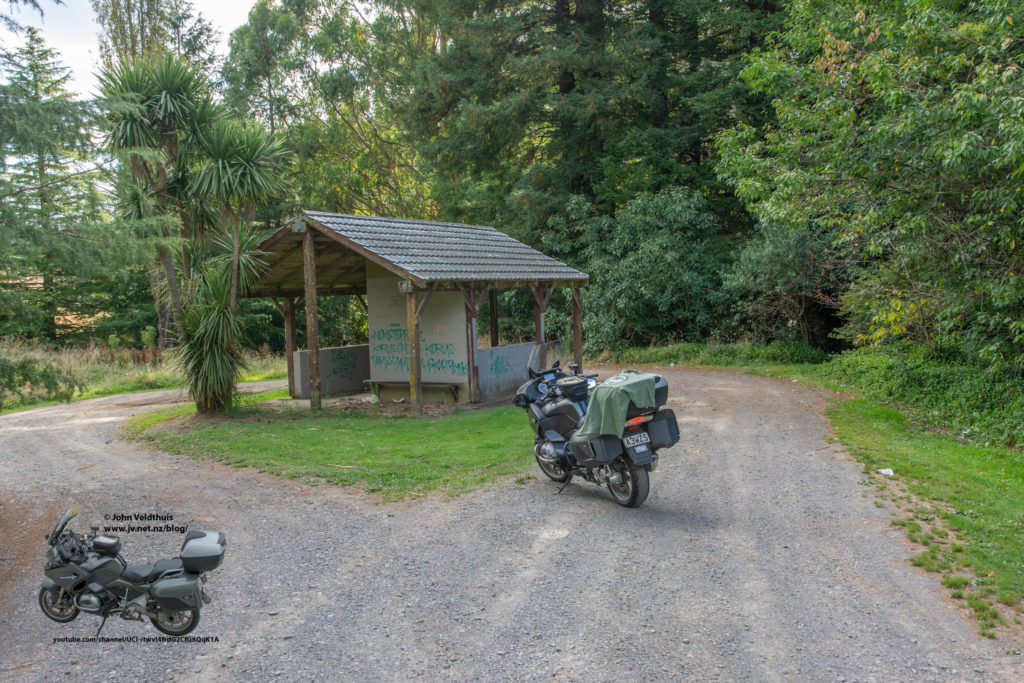 Mystery Checkpoint #3 was the lighthouse in Wairoa and had been a checkpoint in a few other rides so was familiar with it. Again, more riders here as well. Quick snap and on the way.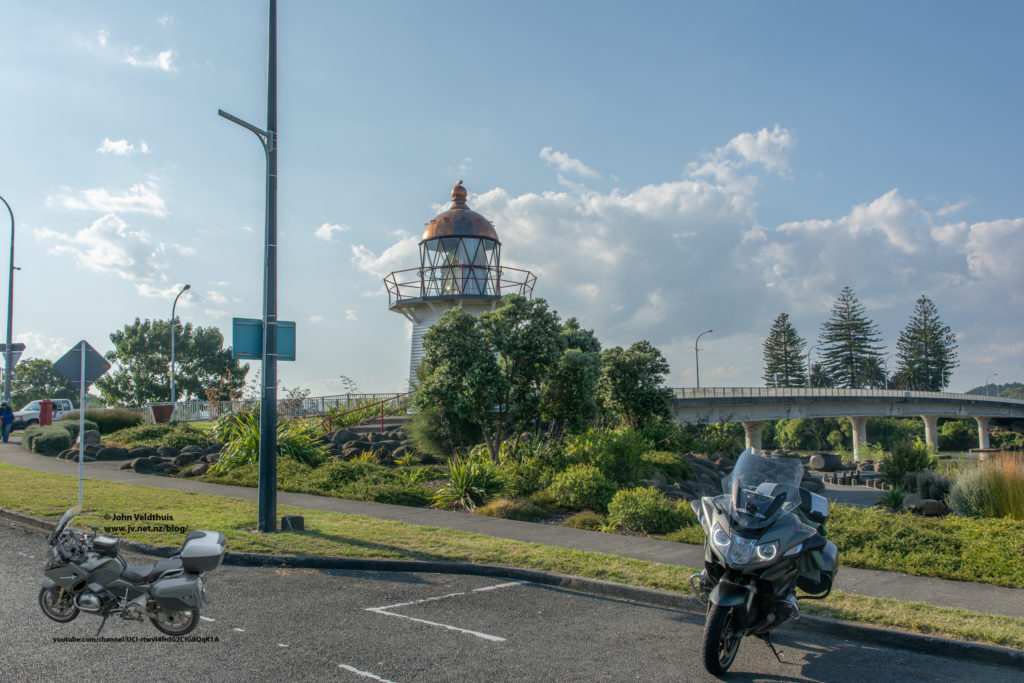 One more checkpoint for the day and I would need to go through Gisbourne and out to Wainui to get it. Here I saw my first police on the ride so far. They were doing breath testing so I pulled up and the constable looked down at my radar detector beeping away and gave me an evil look while asking my to recite my name and address. I did and passed his test and was away to take my snapshot. I filled p the bike again here. After taking it and having come back I had to again go through the same routine this counting from one to five. Again, passed and pulled into the Top 10 at 19:07 20 minutes late on my schedule and only having covered 579kms. Lost 11kms somewhere. Went up town and got four black Russians and some Burger King for tea before trying to sleep in the hot room. My wrist was extremely sore, and paracetamol did nothing to help so put it back in the brace for the night.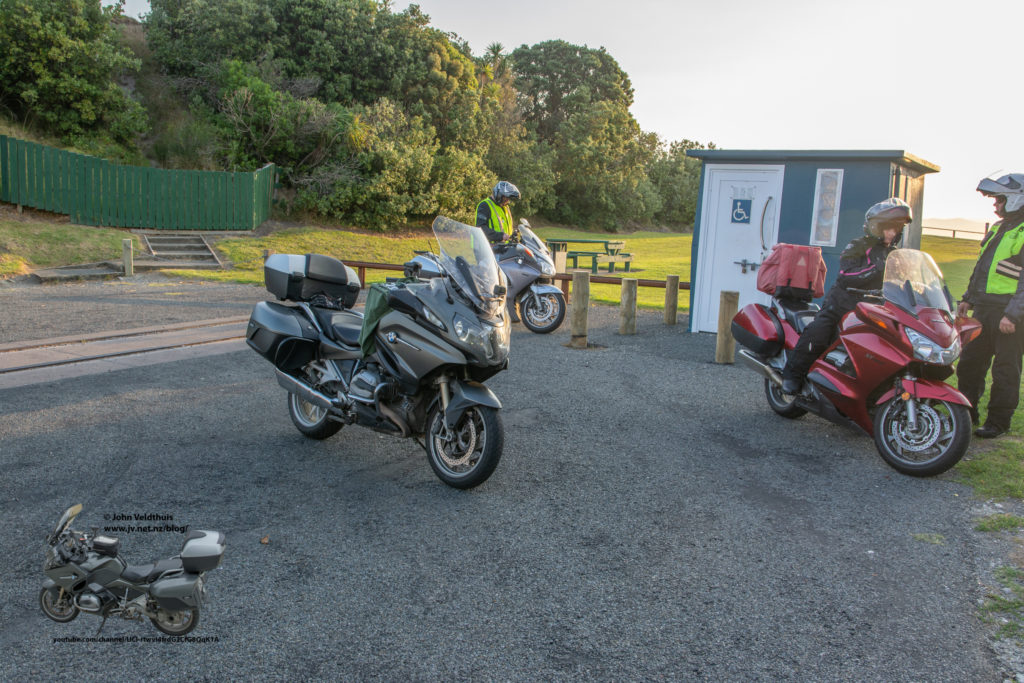 Day 2
Plan was to leave at 3am and arrive home in Manaia at 18:03. Didn't really work as I woke at 2am and decided I may as well make a start. Put all the stuff back on the bike and set up the GoPro for the days ride. Put my riding gear on only to find I left the key in my shorts pocket and it was hard to get out but managed it without stripping down again. One last check of the room for any missed stuff and I was away.
How embarrassing it was. I could not find the bike key so had to assume I had dropped it in the room as I left. I had locked the door with the key inside as instructed so had to go and wake the reception staff to come and unlock the room. She was good about it though and let me in and left. Double embarrassment when I could not find the key inside. Finally found it in my tank bag. Don't know how it got in there. Started the GoPro for its time warp recoding for the day and left the camp.
First stop of the day was Opotiki and wrist was feeling not too bad. Not much traffic on the road so made reasonably good time but even though I started at 2:40am the GPS was saying I would not be home until 18:18. It was very warm at 18 degrees so the shorts and tee shirt under the riding gear was a good choice. Checkpoint arrived and photo taken.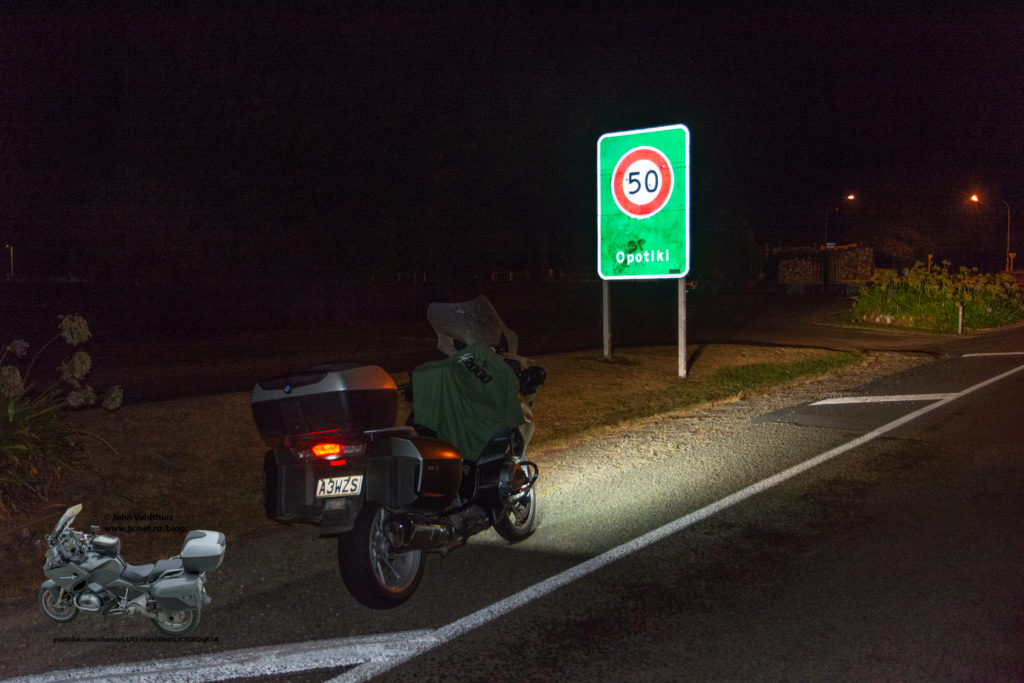 Maketu and then Wai-o-tapu where next on the list and soon had both of those with no issues. Could tell when I got to the central plateau area though as the temps dropped to 11 degrees. Photos taken and I was getting hungry so was looking for a breakfast place open. I filled the bike at Rotorua because it had cheap fuel as I past through.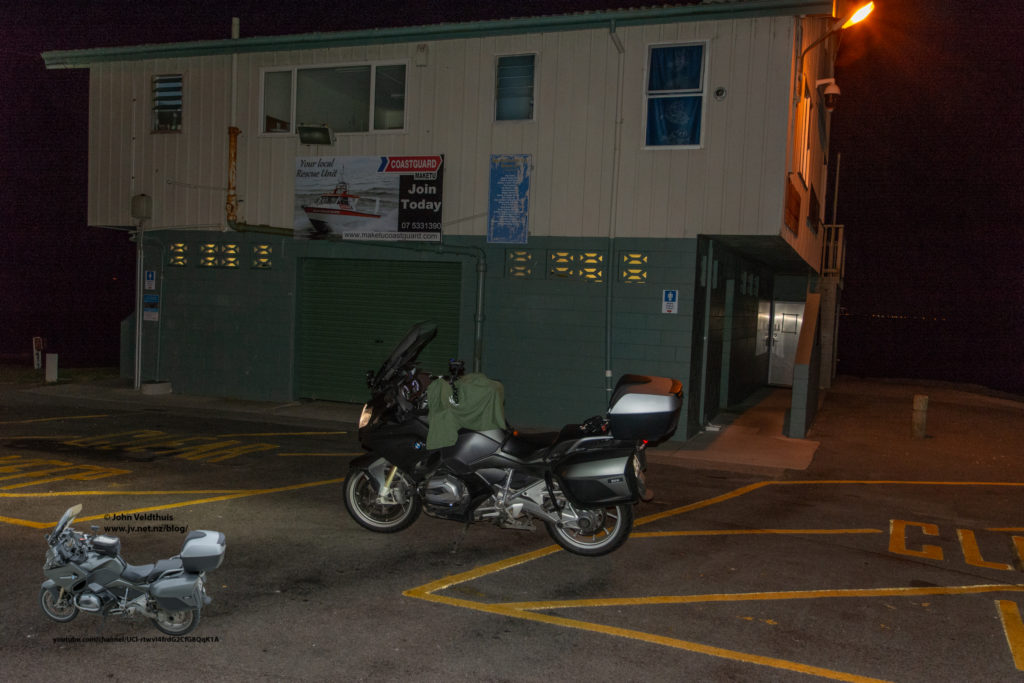 Turangi was next and the road from Taupo to Turangi had roadworks going on and while it slowed me down, I did not stop at any stage and made reasonable time down the road. Arrived and took the photo and then went into Turangi itself and found a place that was open. Ordered scrambled eggs on toast and a orange juice. Eggs bit sloppy but it filled the gap and I was once more under way. I refilled at my planned stop at Tokoroa and was back on track with my fuel plan.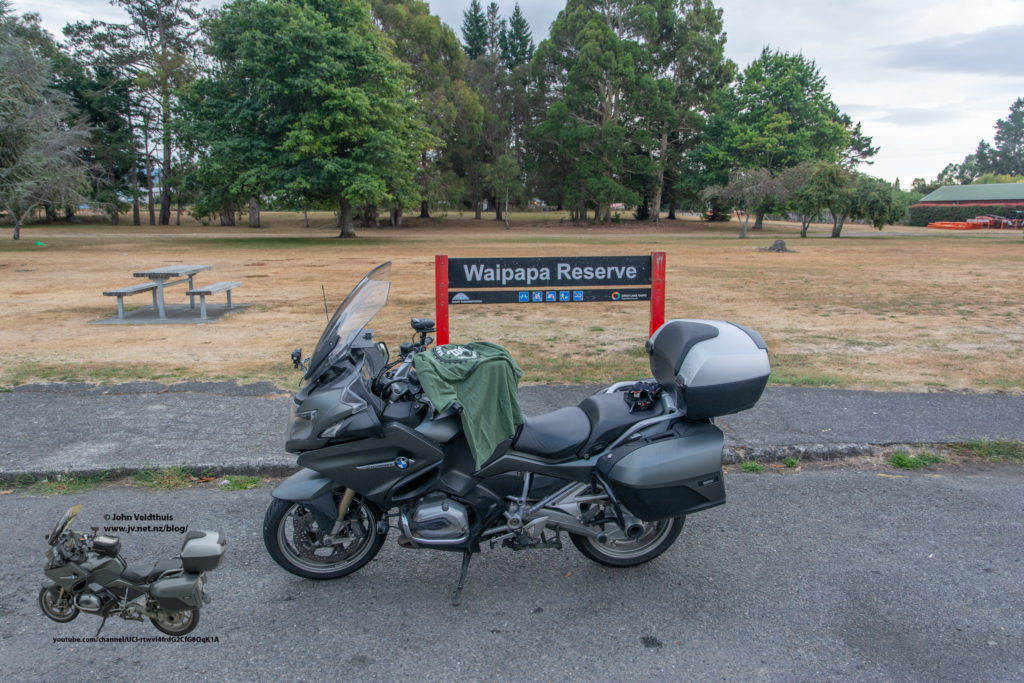 Tirau was next on the list and then after that Whangamata. The gorge was lovely as usual and not too much traffic and remembered the speed camera here and just before Waihi as well. Both photos taken.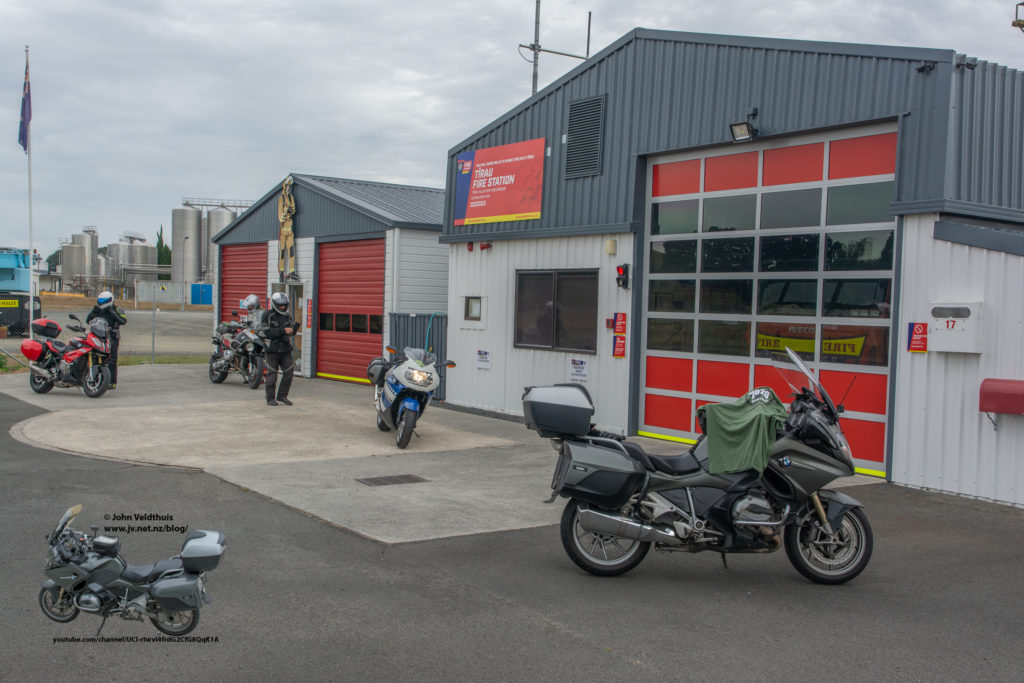 Next up was the Whangamata Flyer which I decided to grab for the extra kms. It was not far away and somehow the GPS put me wrong again. Just before the checkpoint it told me to take a left then a right. Looking around it seemed to be housing area and sure enough ended in a private driveway from which I could see the checkpoint but could not get too from here. Had to go back and take the right street to get there. Will blame the GPS co-ordinate being out for that one. Grabbed the photo.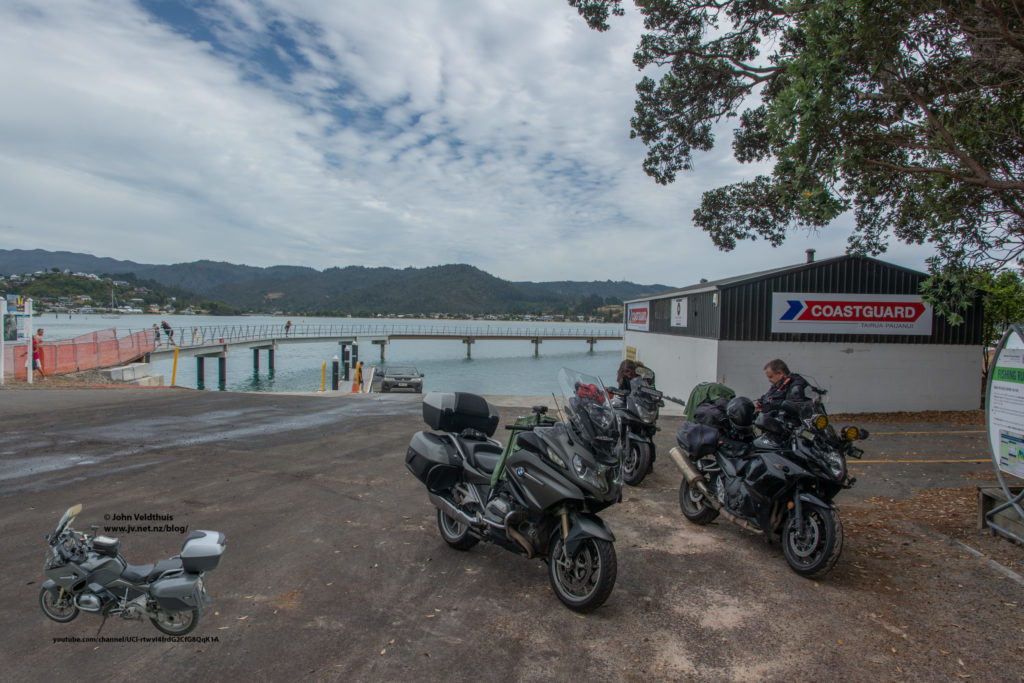 Mystery checkpoint #2 was next and there were quite a few bikes already here including the Goldwing team. Quite a busy place so took my photo and was on the road again.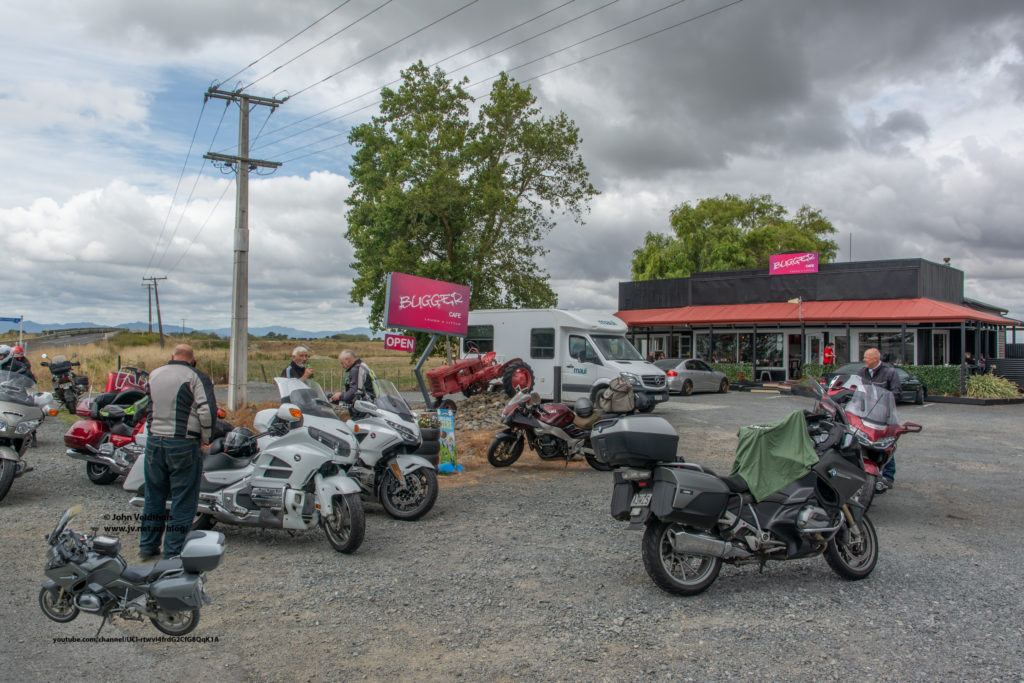 Pukekohe was next and this meant back onto SH2 with its safer speed zones and yellow paint. Limit was 90 but cars only doing 75-80 and of course no where to pass cause of all the yellow. Finally, it ended and was able to get back to speed and was soon at the checkpoint for the photo. I then refilled as planned in Pukekohe which was bloody expensive. Thanks Jafas.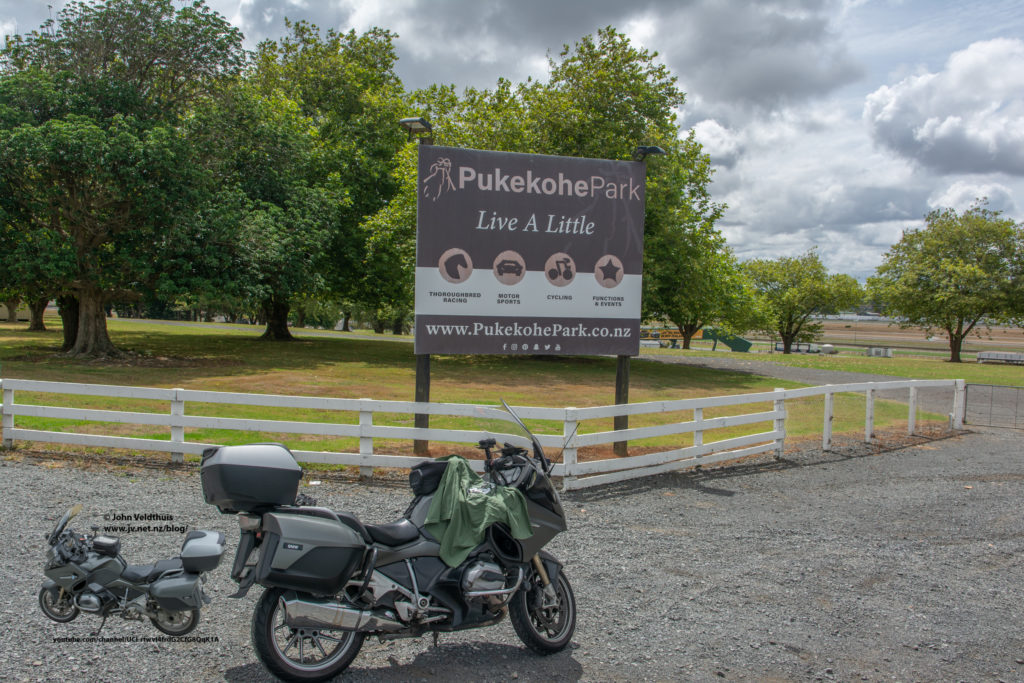 Whatawhata was the next stop and I came down the expressway expecting to bypass Huntly on the new bit but not to be and it was a slow ride through there. My GPS was giving me strange directions again so tried a direct to point. The route and the direct to point both gave different routes but I stuck to the programmed route and was soon going down the Hamilton bypass and made it to Whatawhata and took the picture.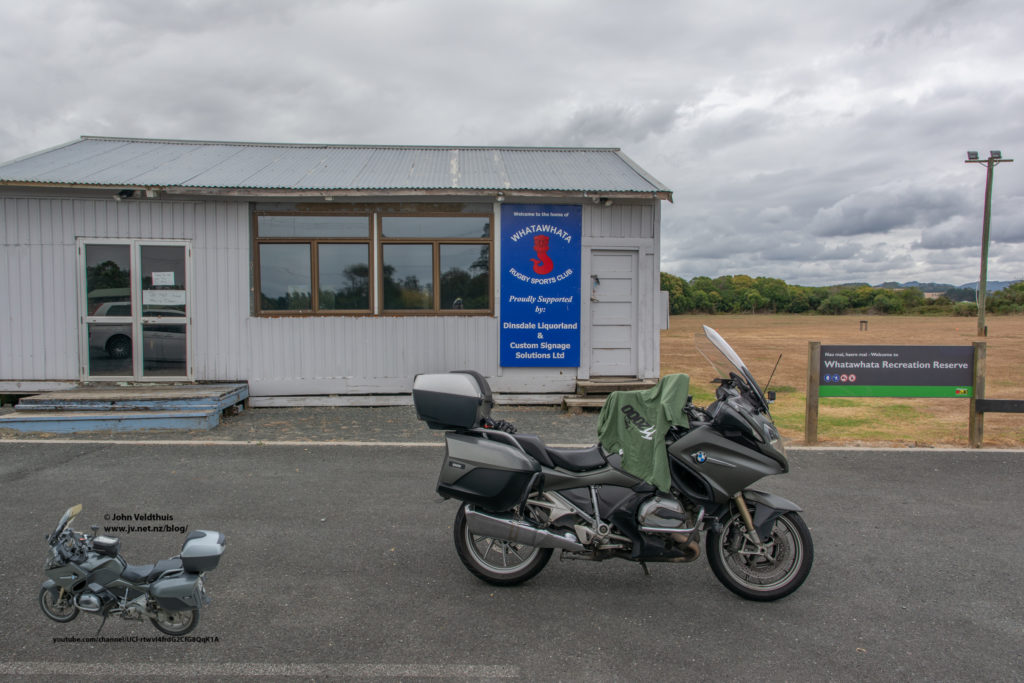 Next stop was the Awakino checkpoint but the clouds were moving it. Forecast had rain in the evening in the Naki when I last checked it and rain it certainly looked like it. It started light and was refreshing but soon turned heavy so decided to pull over and put the rain suit on because it looked like it was going to last. By the time I did this and got back on of course it started to clear and after five minutes it was bright sunshine again. At Otorohanga I took the suit off again. Awakino had three sets of traffic lights each taking an eternity to change. However, eventually made it and took the snapshot.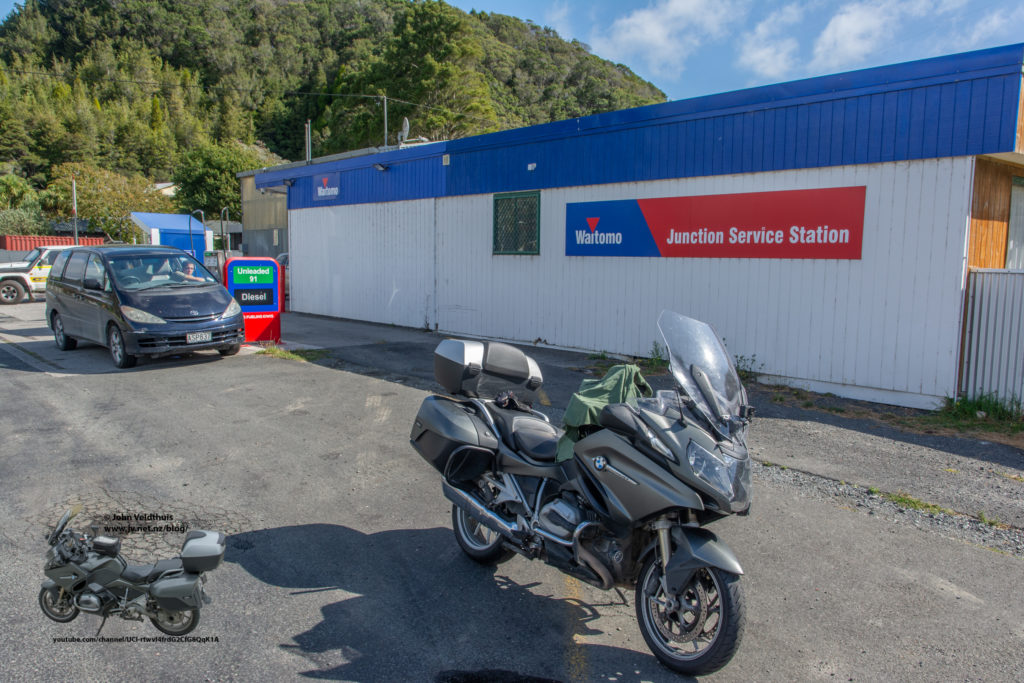 One final checkpoint for the day and that was Okato. First a refuel at New Plymouth Mobil. I use Mobil because I get 21 cents a litre off due to my employer. However, Mobil New Plymouth is undergoing a rebuild so decided to fill up later. Okato checkpoint came up and was taken like the others.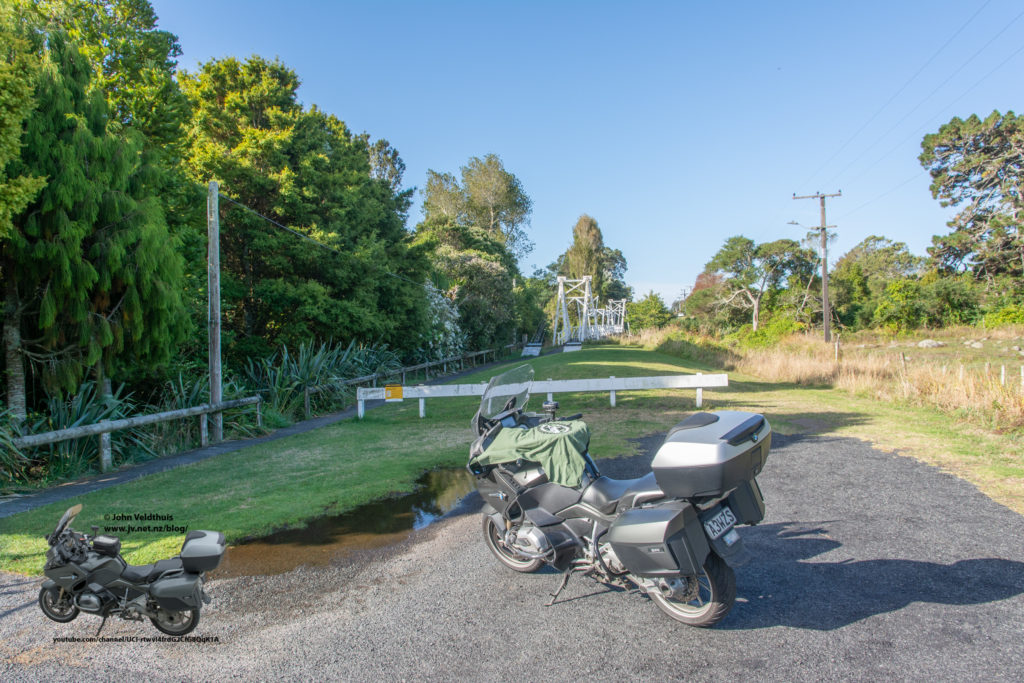 Just a straight ride down the coast to home or so I thought. Got through to Opunake fine and past through. Then soon after while cruising at 105kph, a car in front of me put its brakes on and was slowing down. I slowed down with it unsure what it was doing. It then pulled to the left a bit so I thought he was pulling over, so I started to accelerate and pull out to pass him. Then then braked harder, put on his right indicator, and started a right turn across the road all at once. I could instantly see myself smashed into his rear and grabbed the brakes. The ABS did its job and somehow managed to stop just before smashing into him. I am sure the front wheel rubbed his bumper. I still don't know how I stopped in time from hitting him.
I did not stop and abuse him as I had the camera running and was going to report him to the cops with video evidence of his reckless driving.
Arrived home at 18:40 a little behind schedule but not bad with all the stops and roadworks. I had done 1275kms when I should have done 1290 so was a bit short again. I went to check on the camera to grab the footage and found that it was turned off. A check found that the SD Card was full. Turns out that the mode had reset to 4K video rather than time warp and I had recorded 8 hours of 4K video before the card filled up and shut off. So, the idiot got away with it.
Day 3
Mystery Checkpoint #1 was first on day 3 and just about 1km away from home and left at 7:30am for it. Pass this at least twice a day so was easy to find. Took the snapshot and was off. A quick check showed I had enough petrol left to get to Patea for the Mobil station there and arrived with 2 whole litres to spare. With the sun low it was a pain to see for a while, but it was a lovely sunrise. Whanganui Kowhai park was the next stop on the list and also my final checkpoint. I took the long way through town to gain a few extra kms and arrived to find another rider there. We both took our photos and was soon cruising towards the finish line.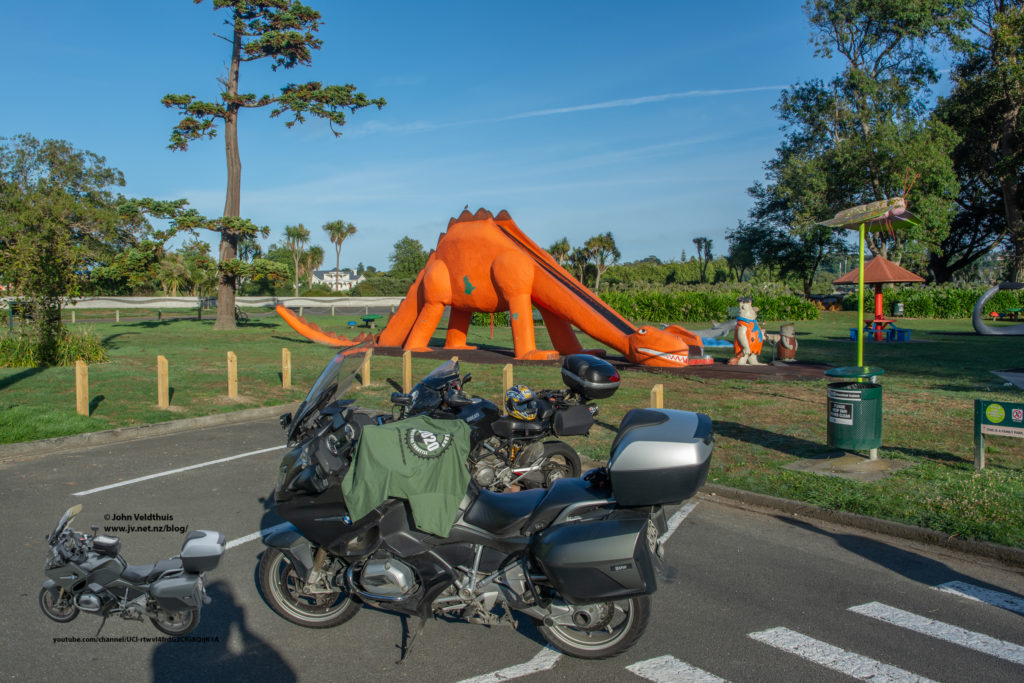 Arrived at the Ashhurst finish at 9:48 and there were already a few others there. Took the photo of the finishing speedo indicating 2043kms completed. Original plan was for 2070 so lost 27kms somewhere along the way. Had enough anyway and had 120,000 points so went and checked in with Wayne and got my photos downloaded and handed my form in.
Another TT2000 completed. It would have been excellent bar for my wrist. Note to self. No injuries before the next one. Real pain that I used the wrong mode on the camera as well and I missed the whole of the second day. The video footage was not really that great due to the vibrations. Made sure the default mode is time warp from now on and my Hero 8 Black should be here any day now.
Again, many thanks to Wayne Poll and his team for organising the ride. It is always awesome, and it was nice to be in the North this time so made finding the Mystery checkpoints easier.
I will link the Go Pro timelapse of day 1 once I have it posted.