So it is the 9th November 2019 and time for the 1KC ride again. I took the Hamilton option and was all planned up. GPS loaded, New battery for my Hero 7 camera, Spot batteries changed (3 good and 1 low so put one in).
Was going to get up at 1am and finish loading and munching and be away at 2am so went to bed early. My neighbour quite a distance away decided to get the boom box going again so that was not to be. Finally, he put it away and started to get some sleep when the fire works started again. Same people every night so far and they start at 9pm and go for at least 2 hours.
Anyway, up at 1am and had some munchies and loaded up the last bits of the bike and I was away at 1:45am under a starry sky. Not to last. Just after Waitara someone flicked a switch and it went from nothing to rain so hard I couldn't see through it. Lasted about 10 minutes and dropped away but didn't entirely stop. I stopped at the Uriti hall to put the rain suit on and carried on. Awakino gorge now has two sets of Traffic lights which take an age to change and I thought I could see the other end so carried on. I stopped at Otorahunga to refuel and it was here I noticed the clock on the GPS was out by one hour. Could not find an option to change it though. The bike reads its time off the GPS and it was right so not sure what was going on.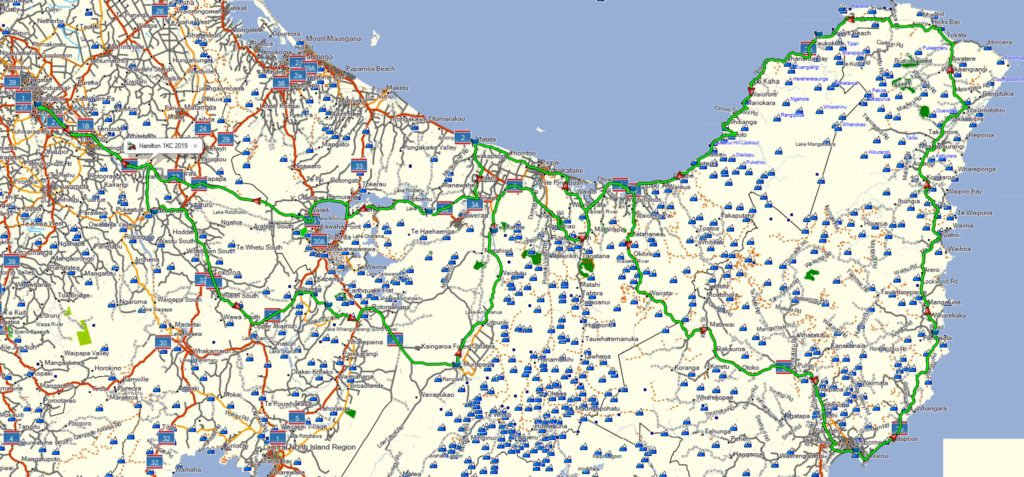 (added later) Turns out my Nav V thinks that it is March 26th 2000 (10/11/2019) so why it is having troubles with the time and satellites)
My Spot was flashing red again meaning battery was low so cursed the battery and stopped just before the start point and topped off and brought 4 AAA batteries for spot at $13 (bad mistake). A few bikes already at the start point so I got my GoPro hooked up and in the right mode. Tried to view it on the app to see I had it pointing right but stupid phone asked for the password for the Wifi and I could not remember it so just had to hope. Changed the batteries in spot and he was all good again (for now).
Signed my form and picked up my ribbon and loaded the route in the GPS. It said I would be back by 16:46 (1 hour out of course) so should be back by 6pm. Turned on the camera and was off. I now noticed the auto brightness and auto color mode on the GPS was not working either. Another time related issue. Due to being more than ½ way over my demerit points I had decided to stick to no more than 108kph but just going at a steady pace. My plan with the GPS had it as 12 hours meaning I would be back at 6pm and home by 10pm. My plane was 4 minutes late back in Hamilton and 11 minutes early home. Not bad.
First checkpoint was Puketurua Hall on Old Taupo Road. A quick blat up the expressway at 110kph started shaving time off my finish straight away. Made good time to the checkpoint and as I went to take the photo Daniel Fisher arrived. Would play leapfrog with Daniel for a while as he had to stop to fill his tank whereas the BMW has a rather large tank and is only thirsty if you open her right up.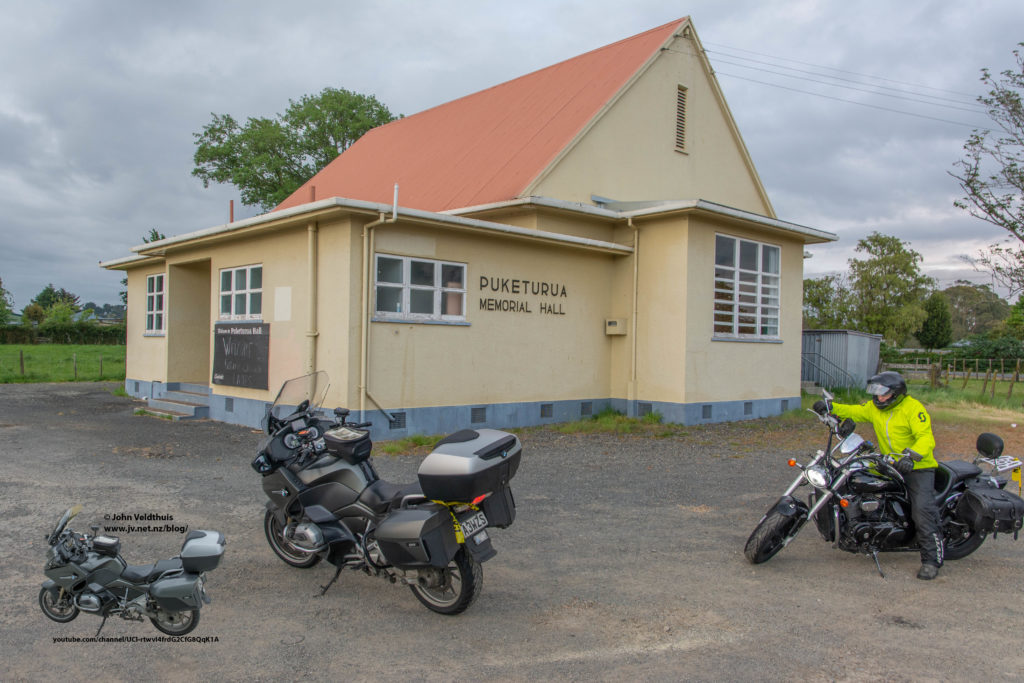 Daniel headed off one direction and I followed the GPS route I had and headed back to Awapuni Road and back to SH1. Am assuming Daniel carried on down Old Taupo Road which looks shorter, but I think SH1 was the faster as I did pass him somehow.
Second stop was The River Plate Road in Waikite Valley. After passing through Putaru and Tokoroa, it was a left turn onto SH30 and a right onto Waikaukau Road. A left onto Corbett road and I was there. Total distance so far was 140km and still gaining time on my schedule.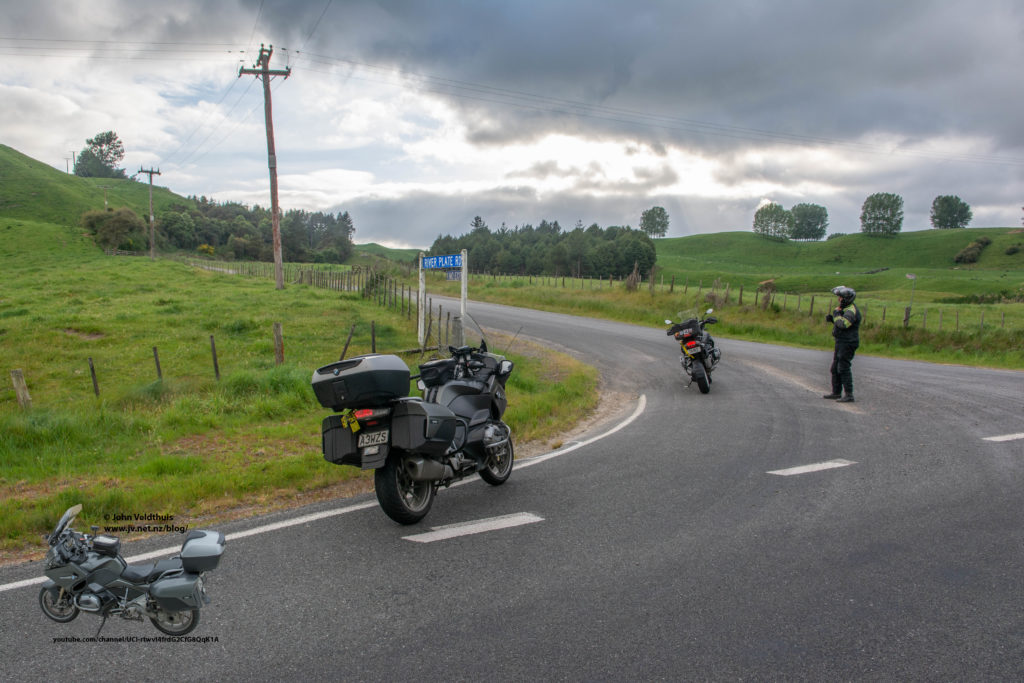 Next stop was at the intersection of SH38 and Kopriki road, Murupara. Was soon there with Daniel just in front of me. It was about here I noticed my Spot flashing red again meaning it had chewed through the new batteries. Later found out that it can only take Lithium or NiMh batteries and chews through alkaline ones like no tomorrow.
Next stop was Lake Matahina Dam. Went left and joined up with Galatea Road and followed this all the way to the checkpoint where the photo was taken. 239km down now and the next checkpoint was some distance away at Tologa Bay.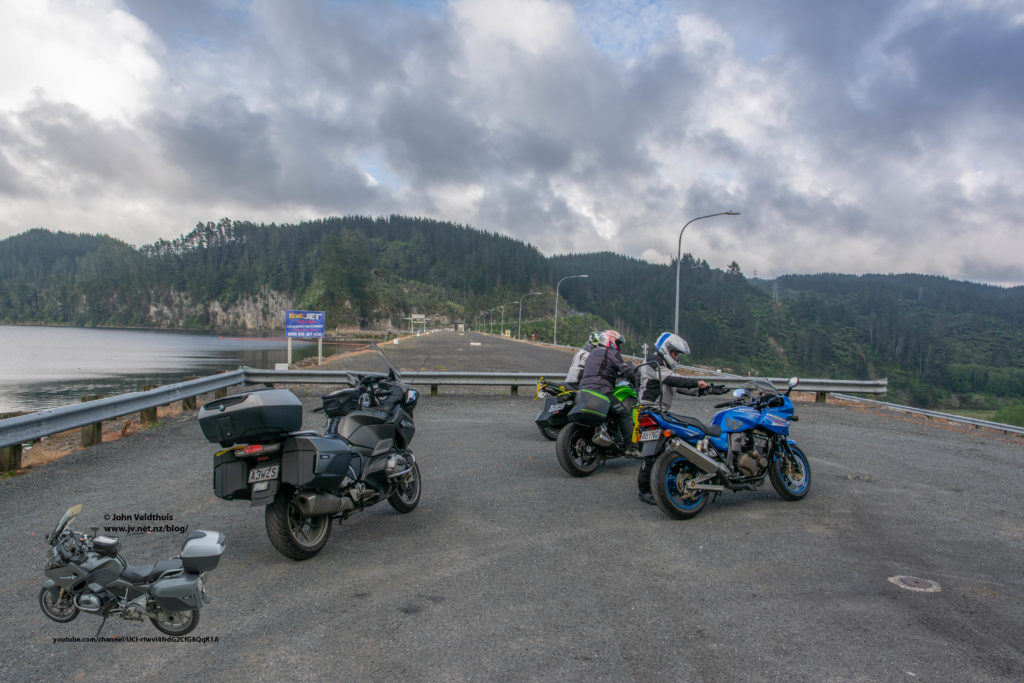 First though I pass through Opotiki and filled up there. Back to SH2 and through the gorge and some nice twisties. My GPS decided to give me the long way into Gisbourne. I thought I had a shaping point to avoid just this but must have removed it but got to the petrol station and topped off with the cheaper 91 option as I only need a few litres. Now the nice rise around the coast started and I was soon at Tologa Bay for the photo at the Tologa Inn. 513 kms down and just under halfway.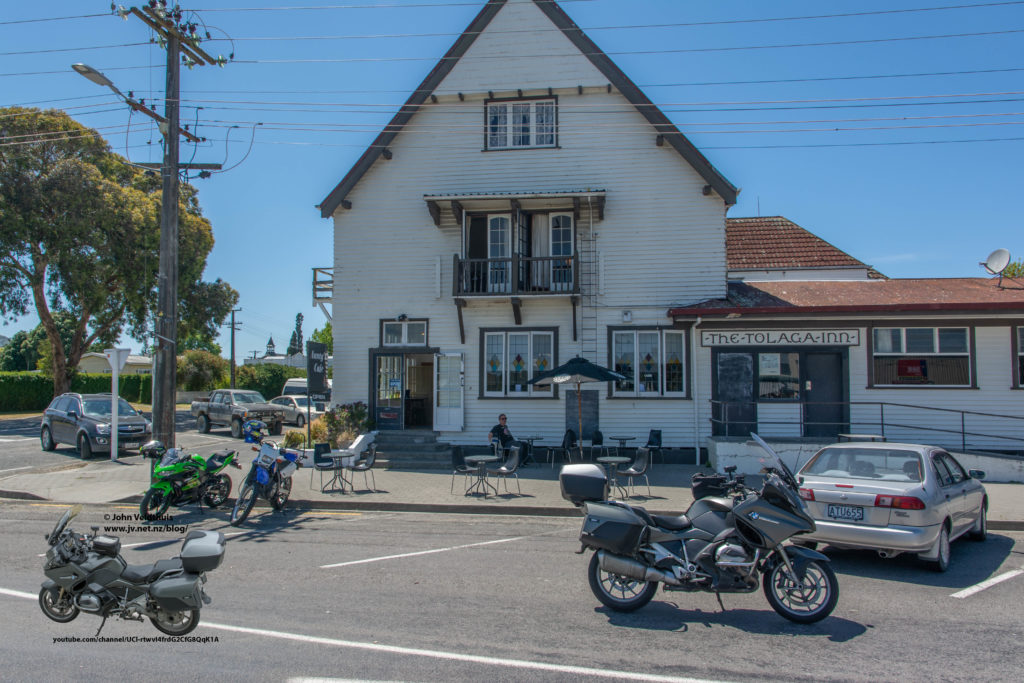 However, it was here I started to lose time on the GPS. It was showing a finish of 17:25 (corrected time) and was heading back towards 18:00
180kms more saw Waihau Bay lodge and another photo. Started seeing signs saying tar bleed but never actually saw any. The road was in good condition most of the time.
Next stop was Matata Hotel and the constant corners one after the other was starting to take a toll on my right hand. The finish time had drifted back to 18:15. First though another stop at Opotiki for a final fuel stop before the end. Finally, at the hotel and took the photo. I had not seen any other bikes for a while.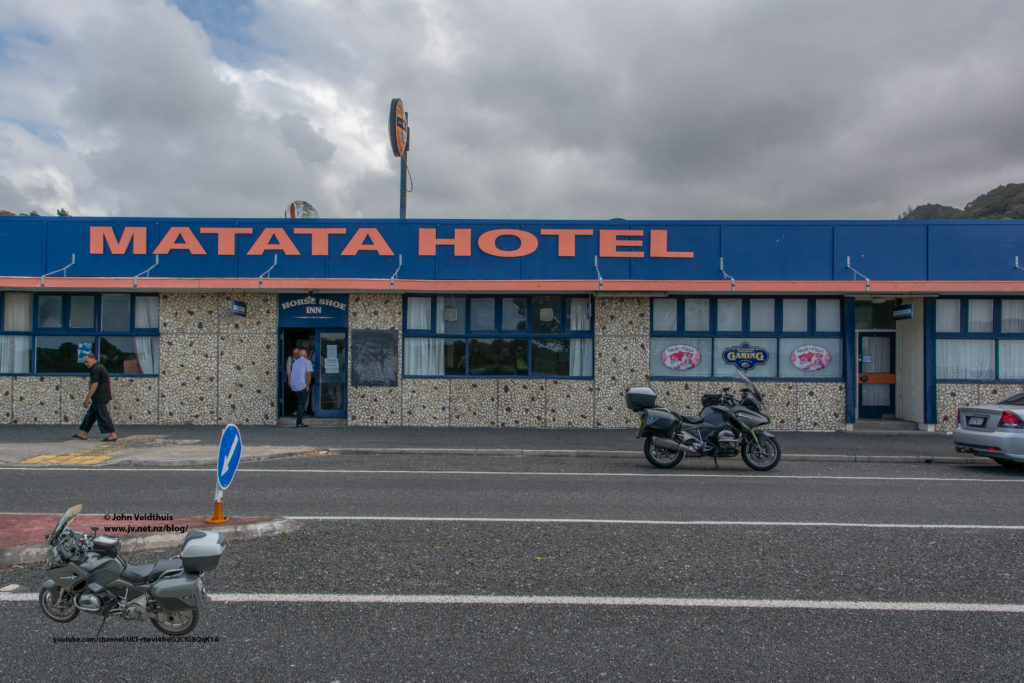 There was one more photo to take and this was Lake Rotoma Boat ramp. It was only a short hop to it and there was a boat parked in front of where I need to take my photo so had to go on an angle. 891kms down and nearly a straight run back to Hamilton.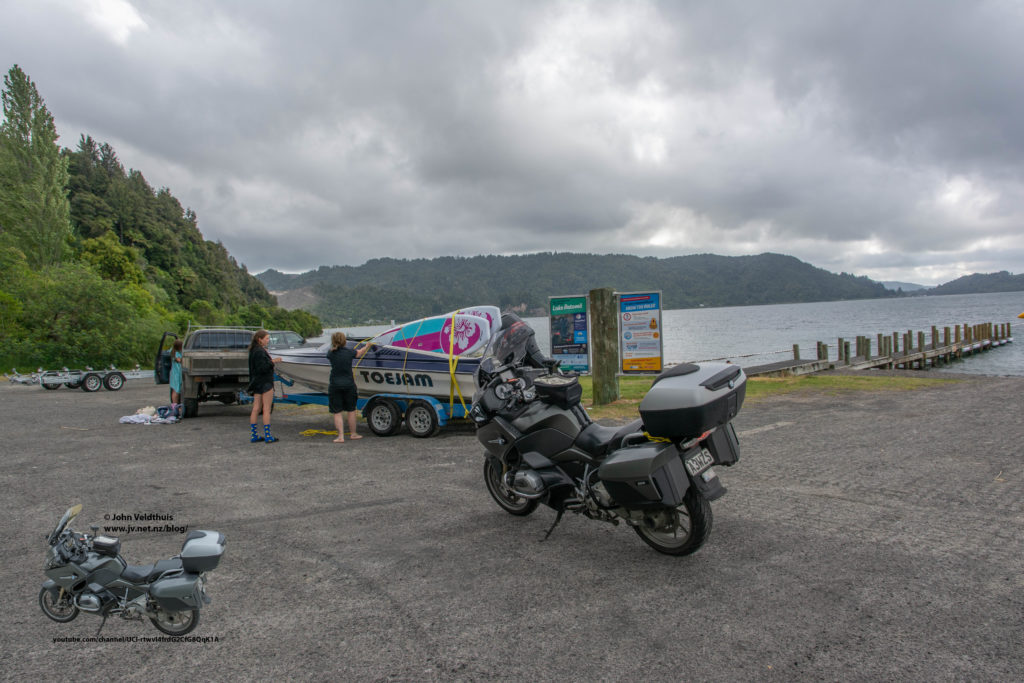 First though the road around the top of Lake Rotorua. This would be a nice ride but for the fact most of it is 60kph or 80kph limited and there is a lot of traffic using it. Got stuck behind some of this traffic and had to endure.
Soon back on SH5 though and was able to start making up a bit of time bringing the finish time back to 18:04. Tirau was the last town to go through and finally back on the expressway and back up to 110kph.
Turned left into cook street and left again into the carpark at exactly 18:04. Catching up to Daniel one last time. Seems I was the 3rd one home and would explain why I was not seeing any other bikes towards the end. I did not really speed but I kept my speed up most of the time. They say slow and steady wins the race.
Anyway showed my photos, got my badge and certificate and was straight back on the bike for the 3.5 hour ride home. Stopped in Otorahunga for fuel home. Arrived home just before 10pm after having some Burger King n the way.
One thing that was happening during the ride was my GPS kept losing signal for long periods at times. It was one hour out and the display was not lighting correctly. I later found out that the GPS thought it was March 2000 so is why the DST time was out. Also why it could not find all the satellites and kept losing them. Seems it needs an update but Garmin have to work out what is going on first.
Another great ride from the Distance Riders and much appreciated for the effort that was put in.
Here is a playlist Hyperlapse of my ride from the GoPro Hero 7.