This years NI800 has come around again and as usual it seems to be when I am on night shift. It actually is on a day off but just after my night shifts so was hoping to get the route Friday at home so I could put it in the GPS and confirm the track it planned. No such luck.
Anyway the trip started two days earlier for me getting my cameras charged up and sorting out what I needed. I found that my jump starter battery pack was dead flat and would not charge up at all. Spent a day on the charger as still had nothing. I use this to power my Go Pro Hero 7 camera for the time lapse video so unfortunately no video this year. Have ordered another one through eBay.
The actual day started at 3:30am and still a bit tired from the night shift. Had breakfast and avoided the water tablet as I did not want to be hoping off the bike every twenty minutes. Most stuff was loaded already so turned on my Spot and was on the road at about 4:15am. Forecast was for showers turning to rain over most of the north island so it wasn't looking too good. Stars were out however so at least a good start.
SH4 was closed due to the road vanishing so had to go via SH1 adding an extra 35kms to my trip. Made good time to Taihape where I filled up the bike. There had been the odd shower but very light up till then. Just outside Taihape it started to rain quite hard and after five minutes I pulled over and struggled into my rain suit. As happens once I put that one the rain went away again. The roads were wet but only sprinkles. The desert road was very windy as usual and cold (3 degrees).
Pulled into Turangi about 8:30am to check in, get the bike checked and pull the Surface Pro out to enter the route into my GPS. Had to enter a few shaping points as Basecamp did not want to route some of the trip at all and then transferred it to the GPS. Normally I would then recheck this via Basecamp but was running out of time so did not. My Bad!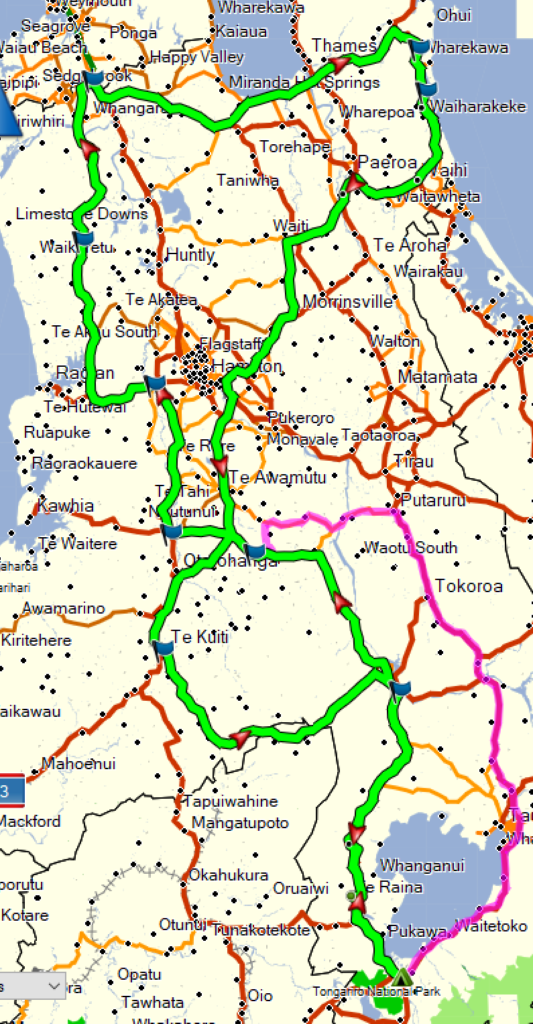 Went and filled up and at 10:03 I was away with the second lot of starters. My GPS told me to head up SH1 to Taupo but the direction said go the other way. I went the other way trying to force the GPS to recalculate but then saw in my mirror two others heading North so decided to follow the GPS. Bad choice and is why I like to check it after the route has been set. Traffic was quite heavy and very slow. Went around Taupo and was soon wondering where the GPS was taking me as the road names were not matching. I was beginning to get worried when all of a sudden I spied a bunch of about six bikes on the turn off ahead which the GPS was telling me to take. So I was back on track finally and was soon at check point number 1. This was a photo required in front of the Korakonui School sign. I had covered an extra 35km taking this shortcut the GPS gave me.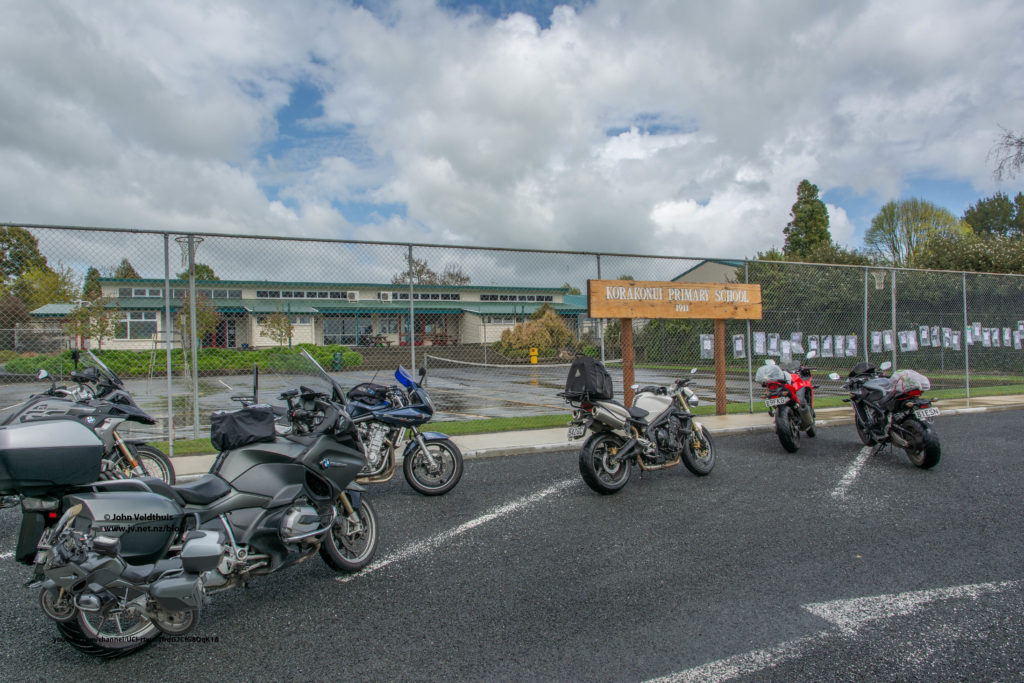 The next checkpoint was only 23km away at Tihiroa hall and this was quickly dispatched.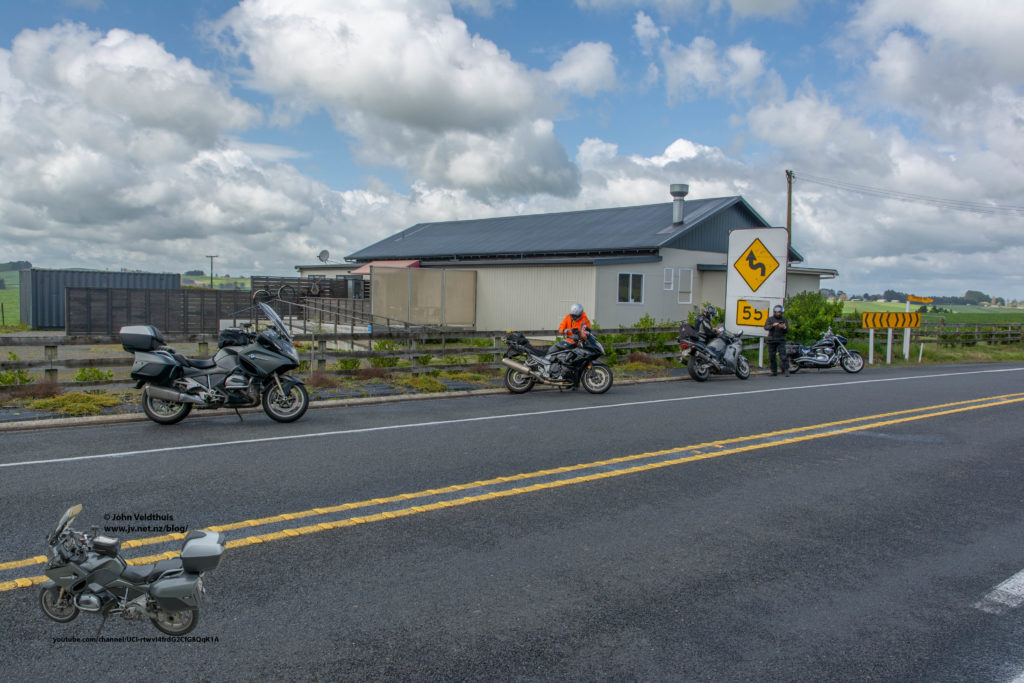 Was now on the bypass around Hamilton on SH39. There was a couple of paths given to get to the next checkpoint and my GPS choose to stay on SH39 and then turn left at SH23. Road was pretty boring as normal and the rain had stayed away with only a couple of spots of rain. Just enough to clean the visor. When I arrived at the New Beginnings Church to take my photo there were a couple of others there. When I planned this part the GPS was going to send me up the main road which was easier but longer distance. I put a shaping point here to force it onto SH22. The couple at that had arrived before me were either taking the long way or going back to fill up.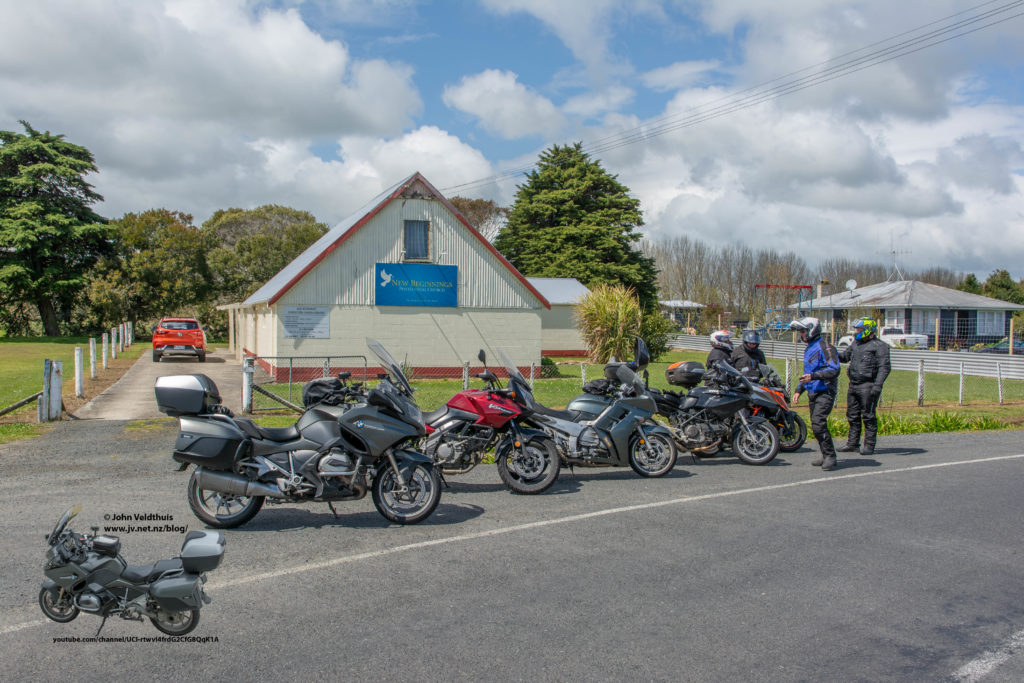 Next checkpoint was Naike and required heading out towards Raglan. This is always a nice road to ride but it quickly ran out and had to turn right onto Ohautira road and then onto SH22. Naike was 63km away and required a photo in front of the hall.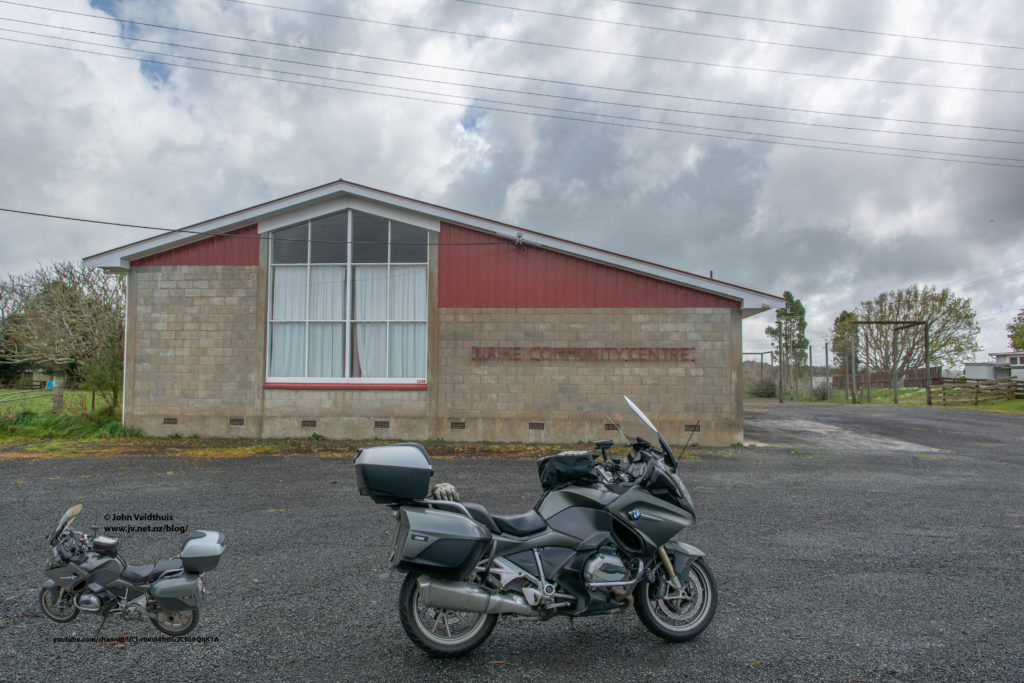 Next was Bombay and continuing up SH22 I thought I had run out of twisties and was slowly increasing my speed only to be caught out by a corner. It looked easy at first but was over a slight rise and when I saw how sharp it was I could tell I was not going to make it at the speed I was doing. I kept the bike upright and piled on the front brakes and the back brakes as well. The back was squirming around like they do on the GP races and I managed to drop the speed down enough to take the corner and only used ½ the other side of the road to do it. Normally corner like that are marked as 35kph but nothing here. It was 53km from Naike to Bombay and quickly arrived to find a heap of bikes there including many of the first group to leave. Looks like they were having lunch. I decided to put 10 litres of very expensive 91 petrol in the bike here as it was down to about 100k left. I was looking for a Mobil station as I get 21 cents per litre off due to my employees reward card from Fonterra. Picture taken on the forecourt and I was away.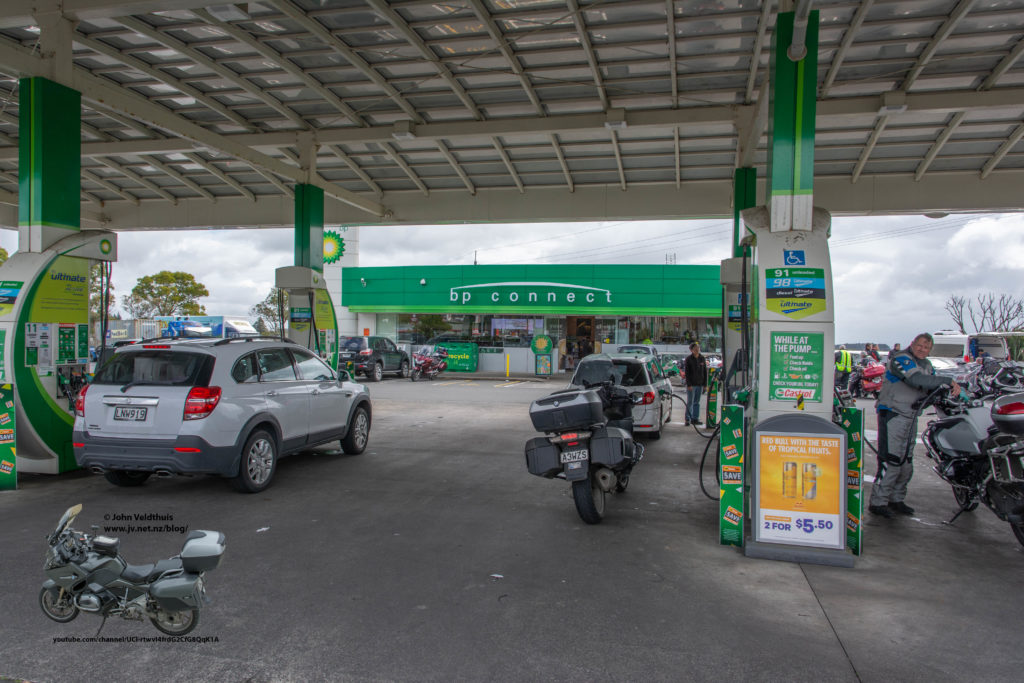 Next was a slow ride up SH2 to Opoutere which was 102km away. SH2 has plenty of 90kph safer speed areas for all the Jaffas who don't know how to drive and they were out in force doing about 70kph. Given there is yellow lines nearly the whole length you either follow them or break the law and pass over the yellow line as none of them seem to want to move over a meter to let you pass. Finally arrived and took the photo in front of the school sign as requested.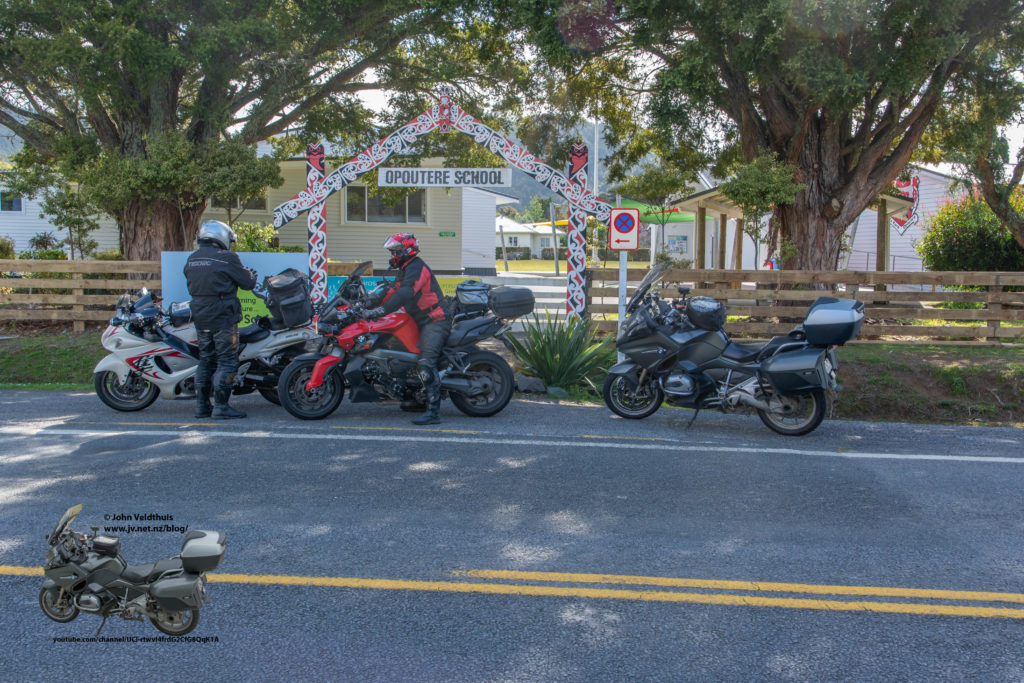 Next was Whangamata and some nice riding on SH25A. This road was even better than the gorge later on as no speed limit and much less traffic. It was awesome. It was only 12km away so came very quickly and took a photo in front of the school.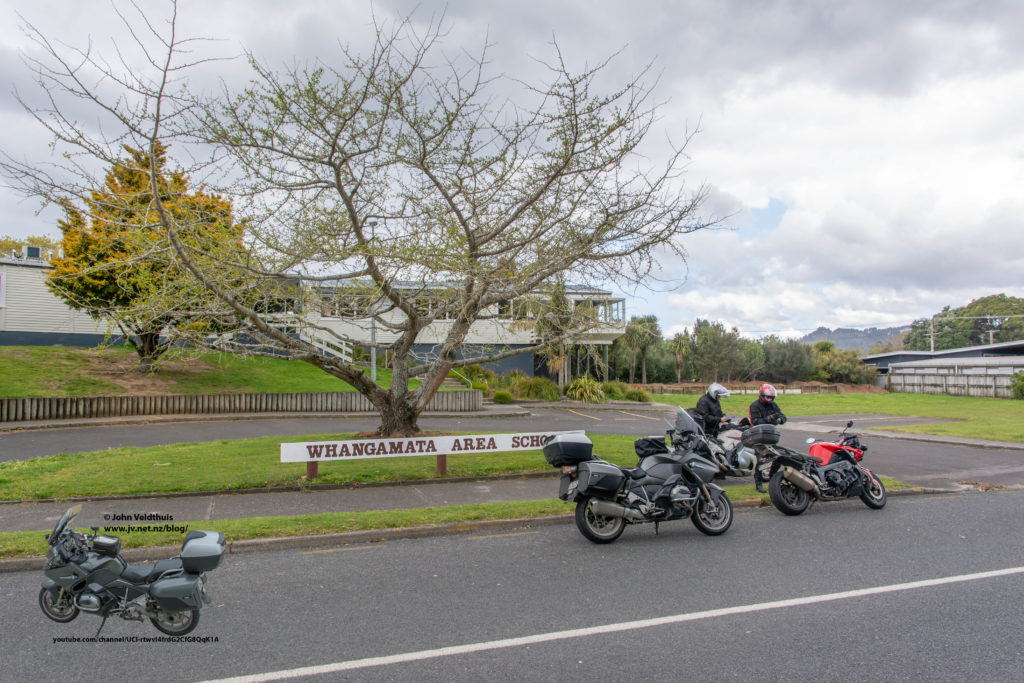 Next was a longer stint of 190km over to Te Kuiti. After was down to abonegotiating a couple of speed cameras in Waihi and Karangahake gorge I saw a Mobil station and filled the bike up. Total km was about 650km at this stage and the directions said to go through Cambridge way but again the GPS routed me differently and I ended up in Hamilton East and on the road to the airport which was under heavy road works and at about 20kph speed for quite a while. Looking after it looked shorter but certainly took longer. Was soon at Otorahunga and a Mobil station. Didn't need to but I filled up so I wouldn't have to later on. The book said to take a photo of my bike on the forecourt of Z Te Kuiti however the picture on the other side showed the BP station but I had that folded and didn't see it. I nearly stopped at Z but three others in front of me carried on and I looked at the GPS and it showed I had more road to go so to there I went. Photo taken and off I went.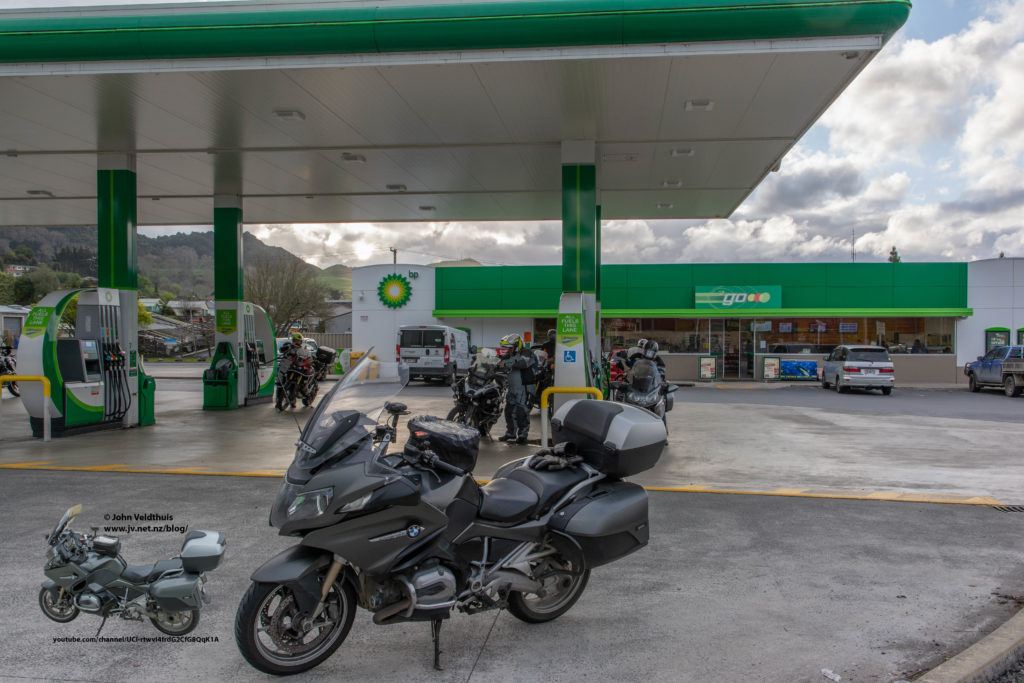 Last stop before the finish was Whakamaru at 84km distance along SH30. A picture at the GAS station and all nine checkpoints were done and it was time to head back.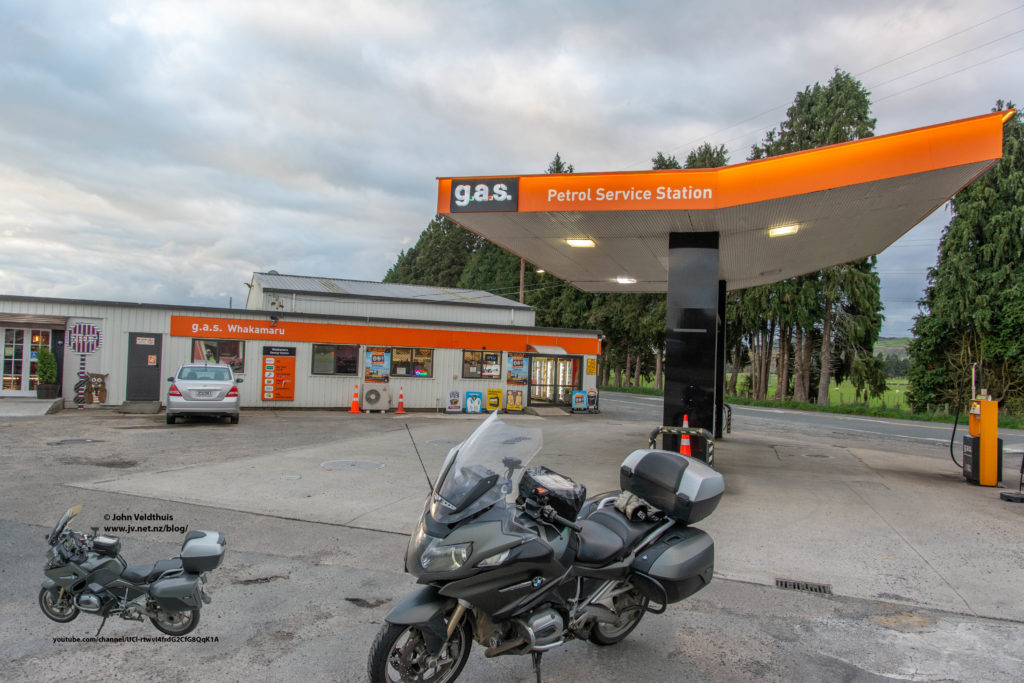 Again the GPS tried to route me towards Taupo and SH1 and this time I didn't listen and carried on down SH32 and after the turnoff it gave up and recalculated and was giving me an earlier arrival time of 20:12. When I started it showed I should finish at 20:54 so shaved some time off.
Was getting dark by the time I arrived back at Turangi but there had been no real rain so took the final photo of my speedo and went and checked in to complete the actual NI800.
Still had over 300km to go to return home so left straight away and it was now dark and almost immediately it started to rain. I decided not to bother with the rain suit as I could dry my gear when I got home. The tar bleed on the desert road was horrible in places and it was very hard to see. The rain was persistent but I finally came to Waiouru. I planned to refill at Mobil Taihape but it was closed so filled up at the BP station instead. The rain was getting heavier each passing minute and finally by Hunterville it was coming down that hard I had to pull over under a cover to get into my rain suit as I could feel the wet coming through all my layers and it was getting cold.
Had some more slippery times on the tar bleed but soon Wanganui came up and another hour later I was home. I just dumped everything on the floor and had a clean-up and went to bed for a good sleep to sort everything out the next day.
Another awesome ride put on by the Distance Riders Group and many thanks for the effort they go to. Get to see many parts of the country I would otherwise not think of seeing. Do wish the route would be out earlier so it was not so much of a rush at the end to get it in the GPS.