Time once again for another ride. This time the Distance Riders 1KC Hamilton start. This is a 1,000km ride starting and finishing at Hamilton. This ride will most likely be the last big ride for my trusty BMW R1200RT. It has been a good machine but pushing 140,000km it is time for a new machine but more on that at a later date.
Planning started a week before the ride when the details came through. A quick scan through Google Maps to get the exact GPS co-ordinates and punching them into Basecamp before letting it calculate the route. I normally have "avoid gravel roads" turned off but as the route went through the forgotten highway it was hard to get it to route properly. Had to add about 5 via points to get the route I wanted but it still tried to send me over a gravel road later.
The day started for me at 1am looking for the paper that had not arrived. It was starting to rain which was not a good start. Breakfast done I suited up and packed the last bits onto the bike and pushed it out of the shed. Wonders, the stars were out and I was off at 2am for Hamilton. By the time I got to Inglewood it was starting to sprinkle again so decided to stop and put the rain suit on. This usually makes the rain go away and it was a good call. It was good because Mount Messenger and Mokau was absolutely hammering down with rain. With the road works through Awakino gorge the bike got filthy. Filled the bike in Hamilton before arriving at the checkpoint at about 5:30am to find several bikes and Jim already at the start.
Here I hooked up my Hero 8 camera. Normally have been taking Time Warp videos with the Hero 7 but finally got a good waterproof case for the Hero 8 that allows external battery. Man, the difference between the 7 and 8 was unbelievable. Got my bit of tape from Jim and was still putting the camera on when Jim did the briefing to those there.
Jim then let us go at about 5:45am and I was second away. My GPS telling me I would be back here again at 17:45. I was hoping for earlier but Forgotten Highway put paid to that idea. My demerit points still on my license meant I was sticking to pretty much the speed limit (108) most of the time. It is not speed but consistency that keeps the time down. Slowing for corners and such take a lot of time off so keeping the speed up while still being safe is the aim. Having faith in the tires helps as well.
First checkpoint was at Te Aroha and a photo in front of St Josephs Church. There was a little bit of fog around but not too bad. Looking at the video the lens was a bit dirty and made things a bit blurry. Traffic was light at this time of the morning following Sh26 to Morrinsville and then to Te Aroha. 53km after starting I was at the checkpoint and photo taken. Four others arrived with the same idea.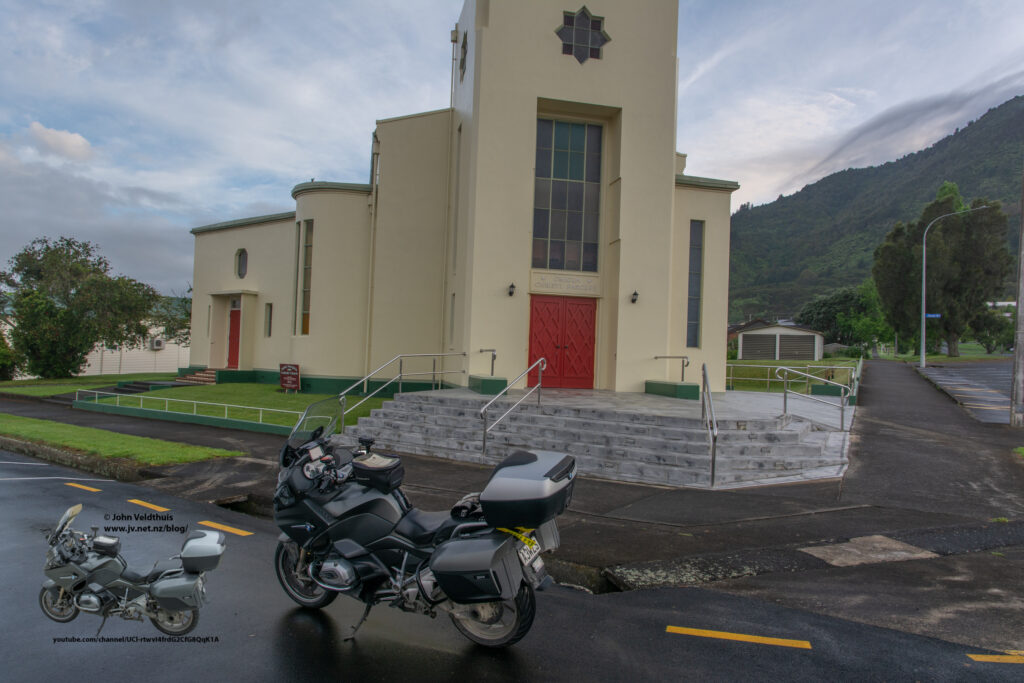 Next check point was 70km away at Miranda Farm Café. Still a bit foggy in places. The part put me on some roads I had not travelled before so was good. Traffic was still light. The fog started to get a bit heavier closer to Miranda and was getting a bit of water streaming off the visor. Café turned up and I took my photo and was off for checkpoint 3.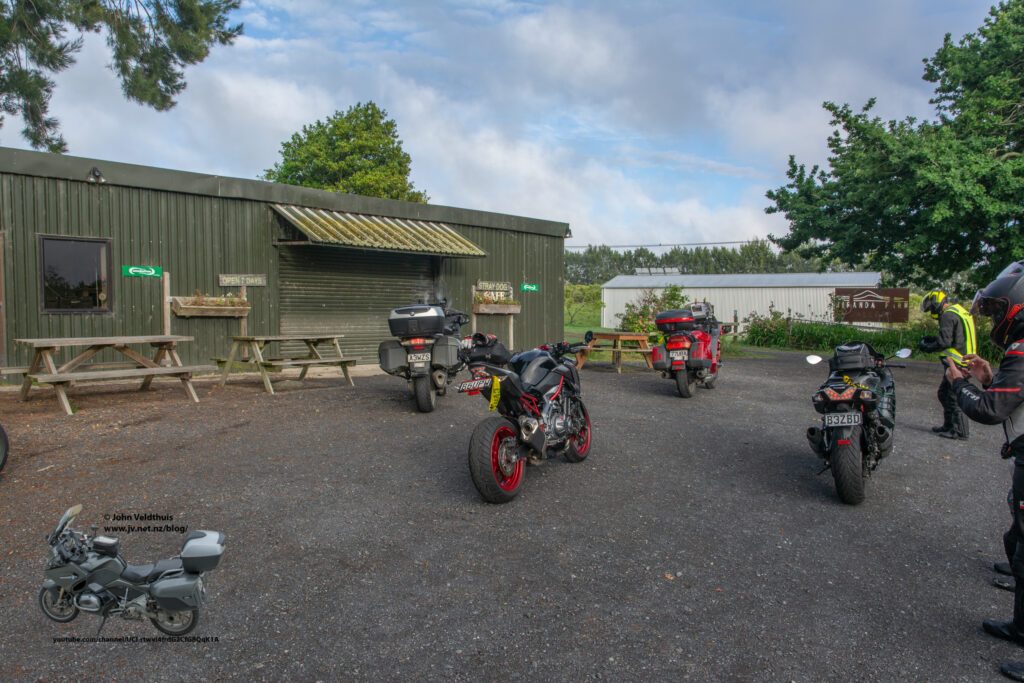 Checkpoint 3 was another 74km away at Naike and a photo in front of the hall. Here my GPS told me to go a different way than the rest. I was following two others at this point and after a quick stop to check the GPS decided to continue following them. The time difference was the same either route. At Mercer I pulled in and put a few litres in the tank so I did not have to stop until New Plymouth. I caught up to so riders and decided to pass as they kept slowing for the corners. Just after passing my GPS told me to turn left. I did and it was a gravel road. It was not bad, but I have an aversion to gravel as all my punctures have happened on gravel. It was actually a shorter route but I U-turned and went back to the road and soon arrived at Naike and took the photo.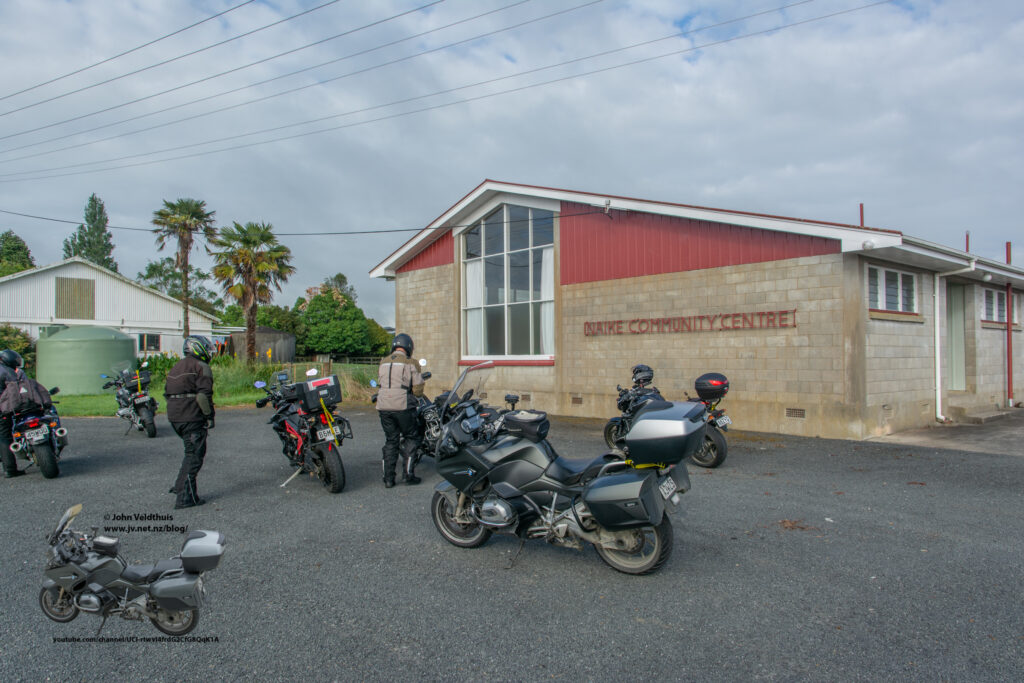 Forth checkpoint was a further 43km away and a shed on the corner of SH23 and Ohautira road. Not much happening here and quickly arrived at the checkpoint.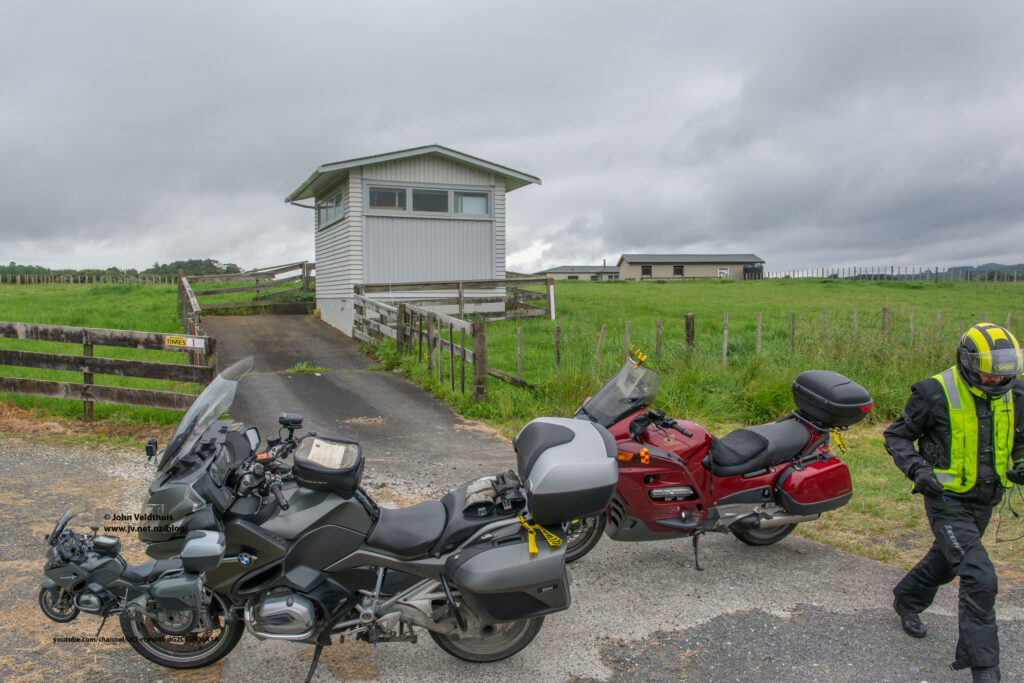 Fifth checkpoint was a little further away at 281km at Okato. Also along well known and well ridden roads for me. Traffic started picking up a bit as well. Pirongia saw the start of the showers as well and from here on they were on and off frequently. Just after Te Kuiti some sort of bug splatted right into my camera lens making the view unwatchable. It started to rain again in the Awakino gorge and the lens soon began to clear up. By Mount Messenger it was fully cleaned but I was getting wet again. It did not last long and was soon drying out. Stopped in New Plymouth to refill the tank as planned and then around the coast to Okato to take a photo at war memorial. The around the mountain foot race was on this day and there were still runners out. Was taking to a lady at Okato and she said several other bikes had already taken the photo there so there seemed to be a number ahead of me. I was making good time and GPS was telling me back in Hamilton at 17:20.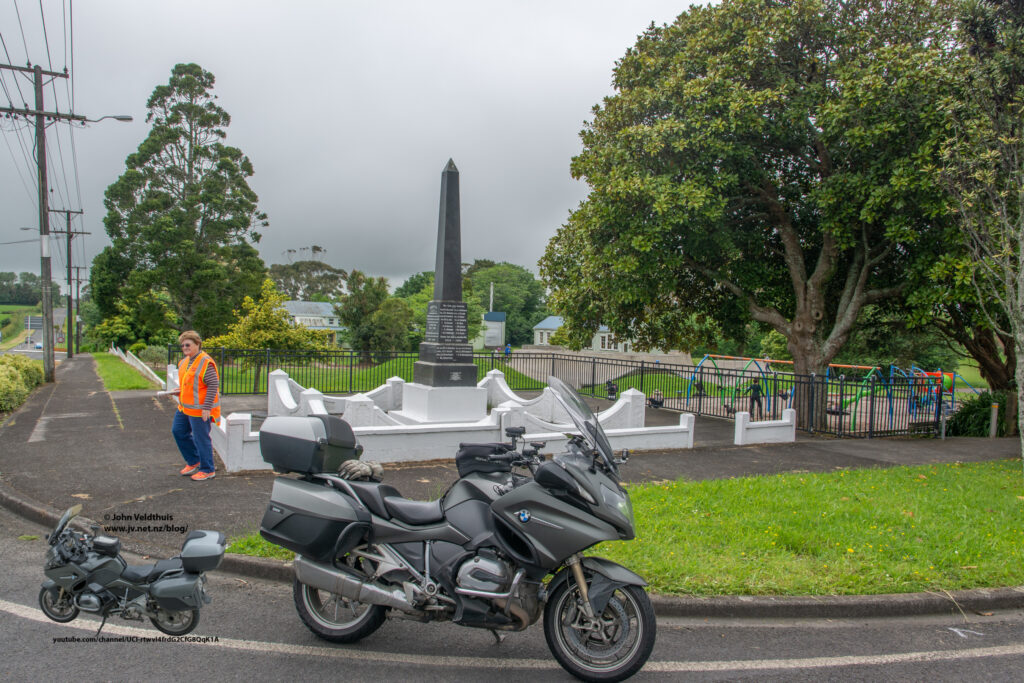 Next checkpoint was 46km away at Kaponga to take a photo of the Fire Station. Well-trod roads these for me so pretty boring.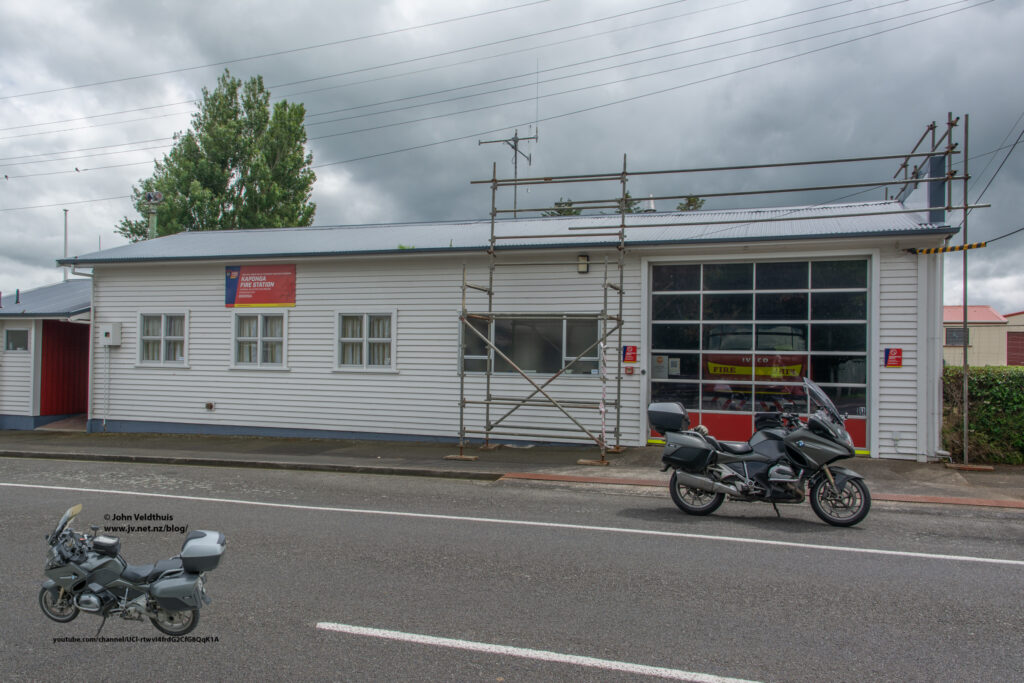 Next checkpoint was Whangamomona Pub 86kms away. I took the back way into Stratford rather than through Eltham and was soon on the forgotten highway. The rain had not forgotten it and the road was quite slippery slowing my pace. However, I made it in one piece with no issues and took the photo.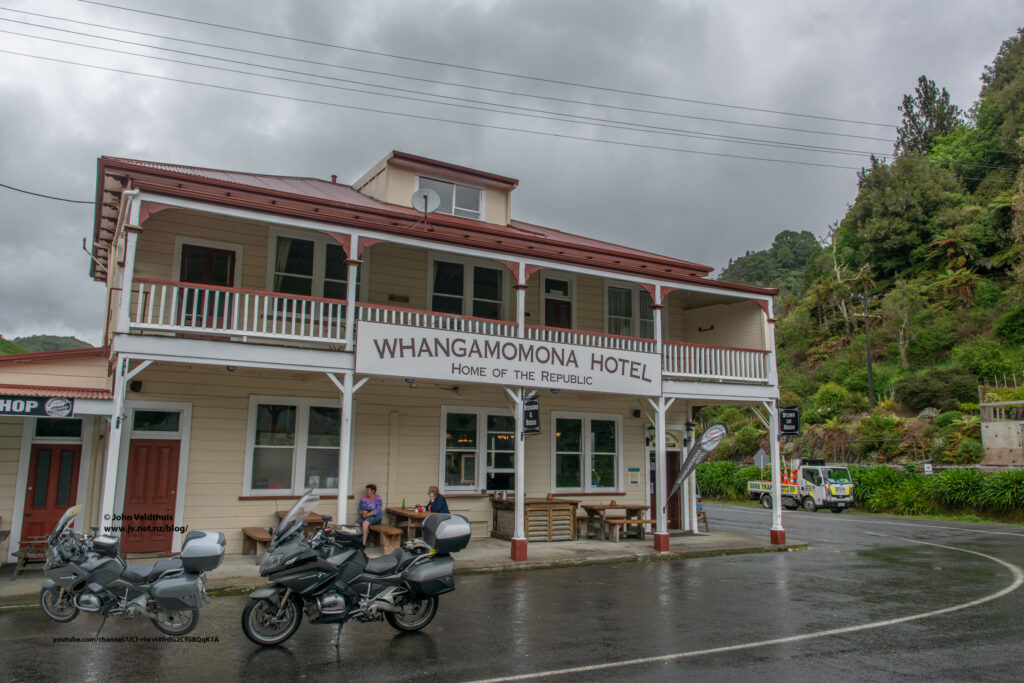 Another 202km for the next check point at Tirohanga school. This meant the rest of the forgotten highway and the gravel road. The gravel was probably in better condition than the road and I barely slowed down for it. The big RT is quite squirrely in loose gravel but 80kph was the sweet spot here. Stopped and put another 10 litres of gas in at Taumaranui. The trip through the wet forgotten highway had cost me 27 minutes on my schedule and GPS was telling me 17:55 finish. Weather was starting to get a bit better now and the ride was pretty uneventful to the school. Photo taken and no sign of any other riders.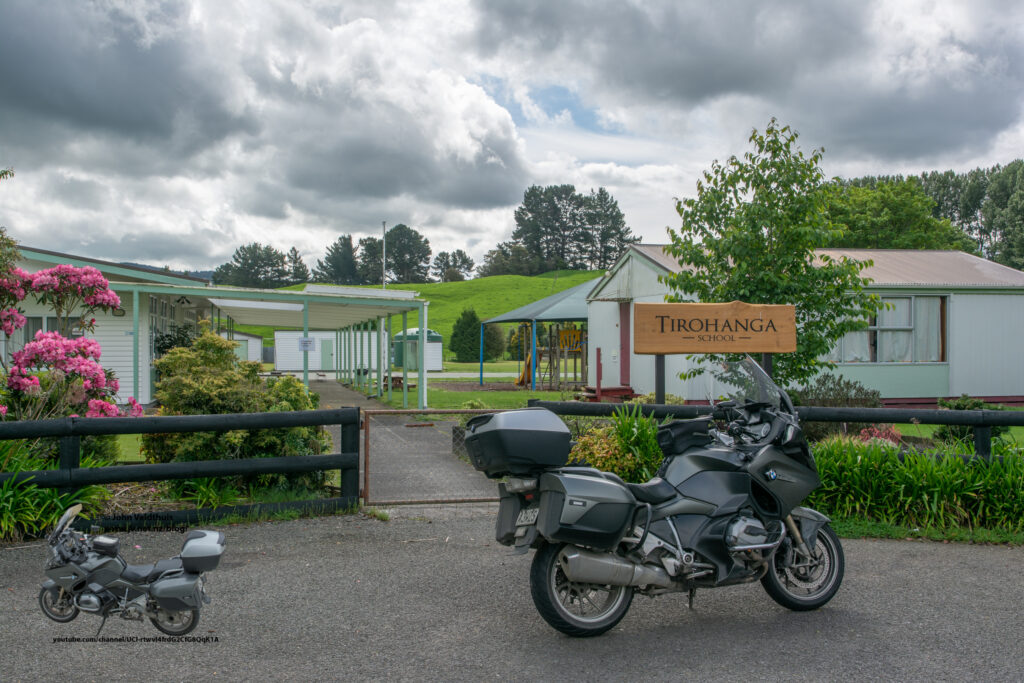 Last checkpoint was 62kms away at Rotorua. This part included SH1, SH30, and SH5. GPS again was trying send me on a shorter route onto SH1 but I carried on via the written instructions. I refilled in Rotorua to get me home to Taranaki. Soon was at the checkpoint of the Skyline sign. Right here my GoPro stopped recording but it looked like it was still going when I got to the finish so not sure what happened there.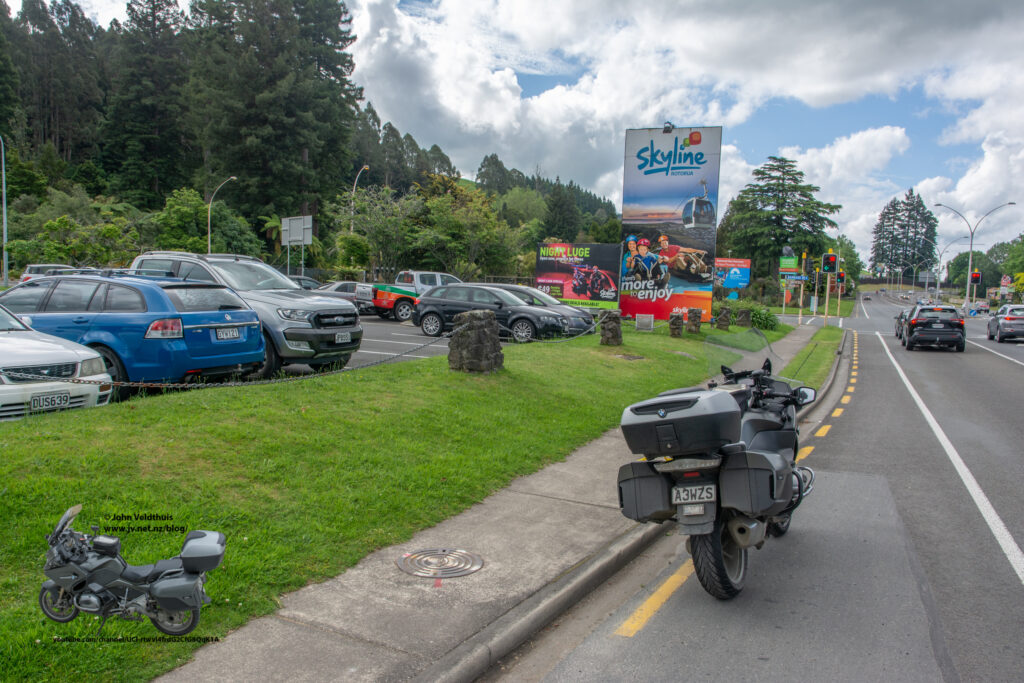 The finish was 100km away and took just under an hour arriving back at about 17:45 pretty much to what the GPS said.
Jim was waiting to congratulate me. I was the second one back so not sure what happened to all the others that I thought were ahead of me.
Many thanks to the organisers to make this ride happen under the Covid conditions. The weather could have been a bit nicer but just as I was getting wet the rain would stop and I would dry out again. Had a three hour further ride to get home so stopped off at Burger King for a quick bite and off for home arriving at 21:45. A long day but a nice ride.