It is mid-August 2020 and the latest TT2000 for 2021 details are out. Again, this is in the South Island but this time the start/finish is in Oamaru. That put a bit of a kink in the plan straight away as it was obvious, I could not do my usual of sleeping on the ferry on the way over and getting to the start at around 11am. Google says 7.5 hours to get from Picton to Oamaru. So that meant an extra day to take off from work.
Plan is to catch the 8am Bluebridge ferry to Picton on Thursday 18th February and ride down to Timaru where I plan to stay the night at the Top 10 Park and then ride down to Oamaru Friday morning. Booked the stay straight away as to not miss out.
The ride this year has a Scottish theme to it and follows the same format as previous but this time no compulsory stops. Therefore need 100,000 points and 2,000km. Checkpoints were around the lower 2/3's of the South Island. Looking at it quickly the points were going to be easy to get but would have to make an effort to get the distance. Again, there was four Mystery checkpoints.
So I decided on a clockwise route sort of and had a quick plan of the first day which would have me arriving at Queenstown around 7pm for a stay at the Top 10 park there. Decided it was good and booked the accommodation which was cheaper than Timaru to my surprise.
Saturday plan was a bit harder to come up with but would start with a ride up to Glenorchy and back for a 10,000-point checkpoint. After a lot of chopping and changing I had a plan for Saturday that would have me back in Timaru for another stay at the Top 10 park arriving about 6pm.
Sunday's plan was just to mop up the distance needed and finish at about 9am picking up a couple of extra photos. Would need about 230km for the last day. Needed to get away early to catch the 6pm InterIslander ferry home so I could be back in time for work.
Now time to book the ferries and the last stay and start hunting the mystery checkpoints. At time of writing this I had already spent about 8 hours searching with zero success and none of them looked familiar from previous rides, but you can bet that I have ridden past each of them at some point.
All was looking good and waiting for February to roll around and then disaster struck!
On the 11th of January I was heading to Tauranga to drop off a new radar detector to be fitted to my new bike. As I climbed the Kaimai hill at about 9:30am a truck decided to cross the double yellow line and pull into the lookout near the top. I came around the corner to find the truck across the road. Could not stop in time and hit the rear drive tires somewhere between 50 an 80kph. Destroyed the bike and did a lot of damage to myself. Had a broken left wrist, broken left pinky in three places, compression fracture of the L1 and L2 vertebrae, an extremely sore right shoulder, a covered in bruises head to toe.
It was a rather long road to recovery and even now 5 months after the crash my wrist is still very sore along with other bits. But that wasn't going to stop me. My new bike finally arrived missing the Top box and Tank bag and the key fob. Managed to get enough gear into the paniers for the trip but would be missing the GoPro camera and extras I normally take. Rebooked the ride for the 29th April and adjusted the route a bit given I could start earlier than lunchtime.
Time to leave but first a few things about the trip
With no Top Box and especially no Tank Bag meant I could not use my GoPro for the HyperLapse shots. I normally use a battery in the tank bag to feed the camera which has a normally short life.
Second was my main camera. It gave me trouble along the way with not detecting the GPS for the location and even throwing up [ERR] when taking some shots. Turns out it took the shot but with no light so suspect the comms with the lens.
Third was my GPS on the bike. It was a newer version of the one I had. Had trouble loading the trips from Basecamp onto it with two going in and the other two getting rejected. Had "avoid unpaved roads" turned on in avoidances but it still tried to turn me down six unpaved roads and even telling me to turn left onto the unpaved road".
Fourth was the Mystery check points. I found two but didn't click to them at first and wasted heaps of time on them. Never found the church and some kind soul pointed out where it was. The forth I knew the general area and knew I would pass by it.
Fifth the new bike. It is a 6 cylinder 1600cc beast and only had 1.5 litres more than the R1200RT had. I knew I could get 50km easy on the RT but the l/100km varied on the big bike between 5.0 and 6.0 l/100km so deemed 400km was more than enough between refills with a little to spare.
Weather was supposed to be fine and sunny Thursday through till Sunday, so I thought all good. I did take one rain suit and my heated jacket just in case.
Thursday 29th April – Day 0
Ferry booking was for 8am with a check in of 7am. Left home at 4am thinking I had plenty of time. Forgot about the rush hour traffic though. It started backing up around Otaki with the road works, 80kph zones and the likes and only got worse. From there I spent ages filtering down the left side of the road hoping I didn't pick up a puncture. Some people were good and pulled over to let me through but then there were some arseholes who went out of their way to make sure I couldn't get around them. By the time I pulled up at the ferry I was quite tired from treading though the traffic and it was 7:20am so checked in, waited five minutes and boarded the ferry. Grabbed a quite breakfast and enjoyed the trip.
The ride down to Timaru, where I was staying the night, was very nice but too many 80kph zones on fantastic roads. There was Stop/Go just south of Kaikoura for cliff plastering but arrived and did not even have to stop. Arrived in Timaru about 5:30pm to check into my motel, grab a feed and some drinks. My wrist was hurting something awful at this point and was hoping it would be okay I the morning. Set my alarm for 3:30am and went to sleep.
Friday 30th April – Day 1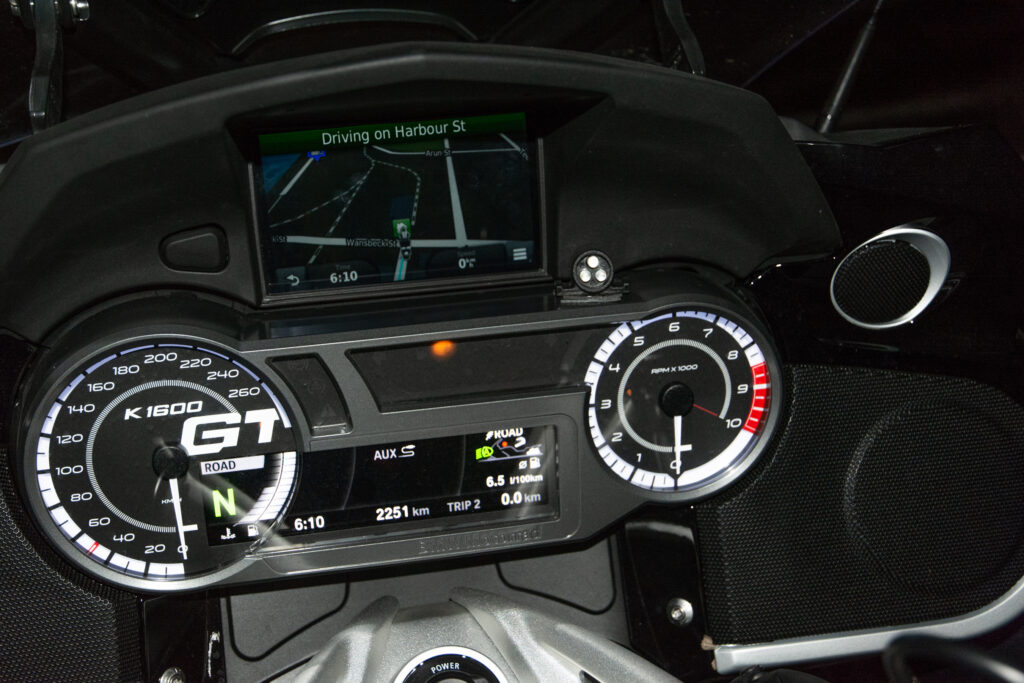 Left Timaru at about 4:15am for the ride down to Omaru. Skies were clear and stars out. Arrived at the original start location of the ride and went to take the photo of the dash for the check. Took three goes before I realised I had the flash in manual mode. Duh! Anyway off for the real start and the first location was Dun Eideann. This was a nice ride and the sun was just coming up when I got there. Wasn't quite sure of the location to take the photo from but after three re-positions think I got it. Sky was overcast at this point.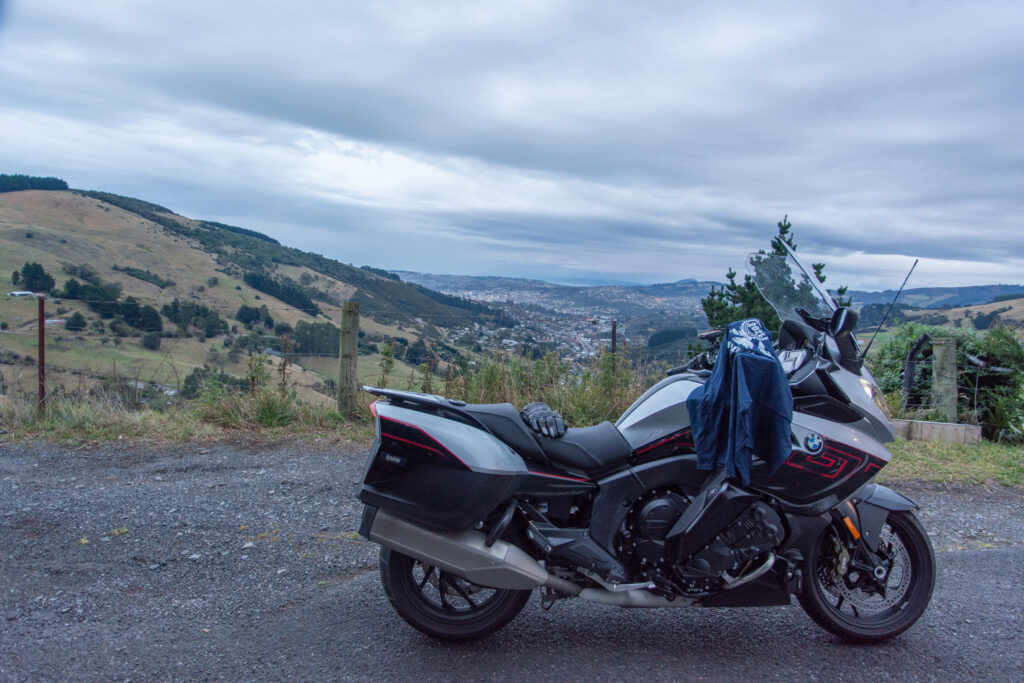 Next stop was Benhar and very easy to find this one. It started to rain as well and this would carry on for some time. Not hard enough to put the rain suit on but a pain in the butt. Did not want to put the rain suit on as I put it on during my trip to Tauranga and once there could not get out of it due to my wrist. Very embarrassing. Photo taken and started to get hungry so was on the lookout for a café.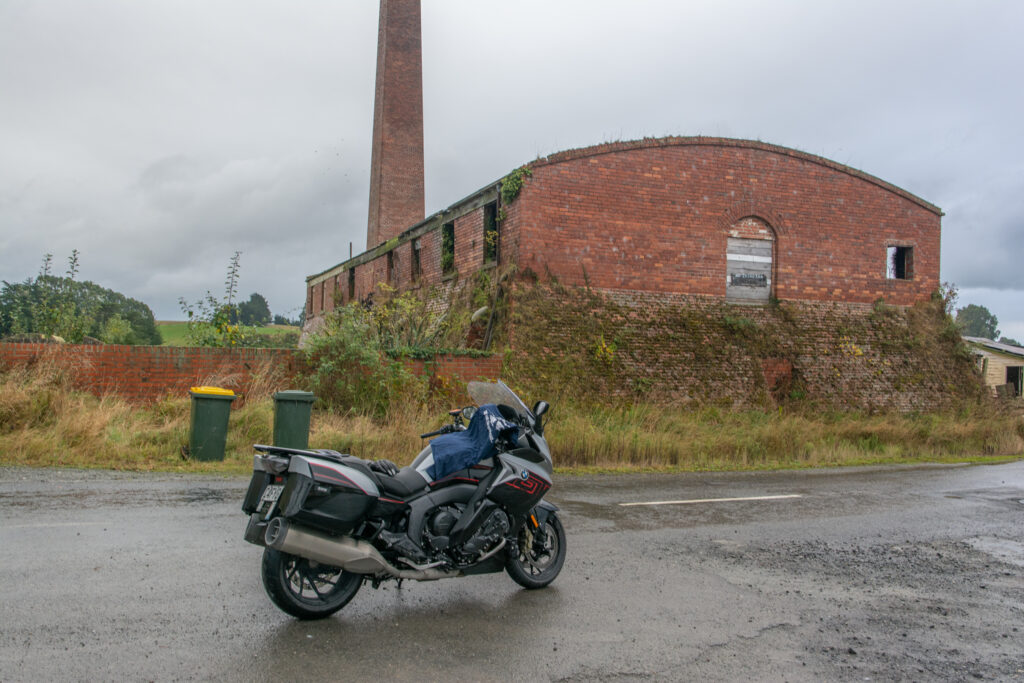 Craiellachie was next up on the list and the roads down here were getting horrible with tar bleeding through everywhere and the rain making it like ice. Three times I headed for the side of the road unable to turn for fear of low siding. Slowed my pace down from the 105kph down to about 90kph.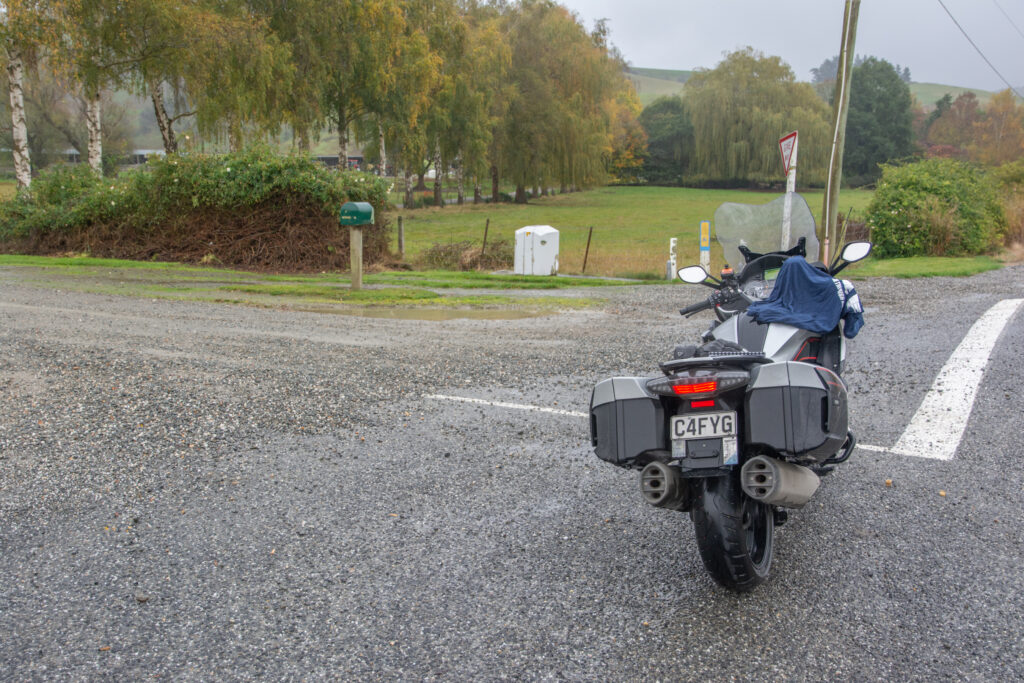 Glenkenich was the next stop and man was I getting hungry. No places to eat around these roads. Quick photo stop and on to the next.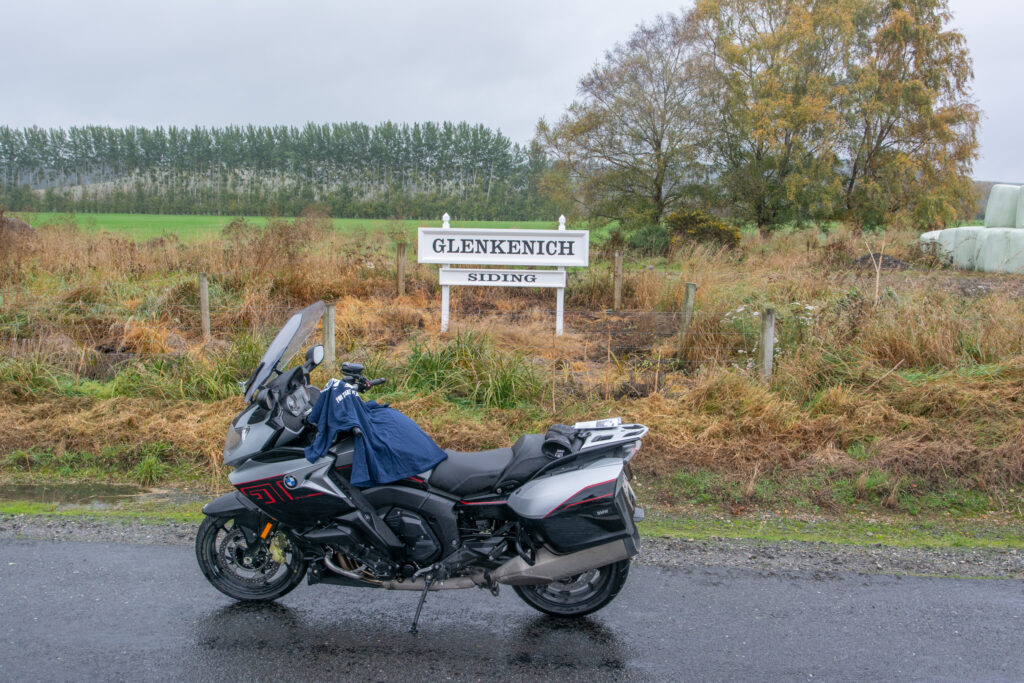 Next stop was in Gore to refuel as the Mobil station so at last would be able to eat. What the Mobil station is now a Gull station. While cheap I don't get the discount that makes Mobil cheaper for me. Took the next best at the Z station and then stopped in a café for some bacon and eggs. That was all it took. The rain had gone never to be seen again but the wind had got up. Next photo stop was Glencoe. Camera started playing up here and would not take the photo properly. Took three goes to get on but got it in the end.
Dunaern was the next stop in the middle of nowhere so photo taken and away.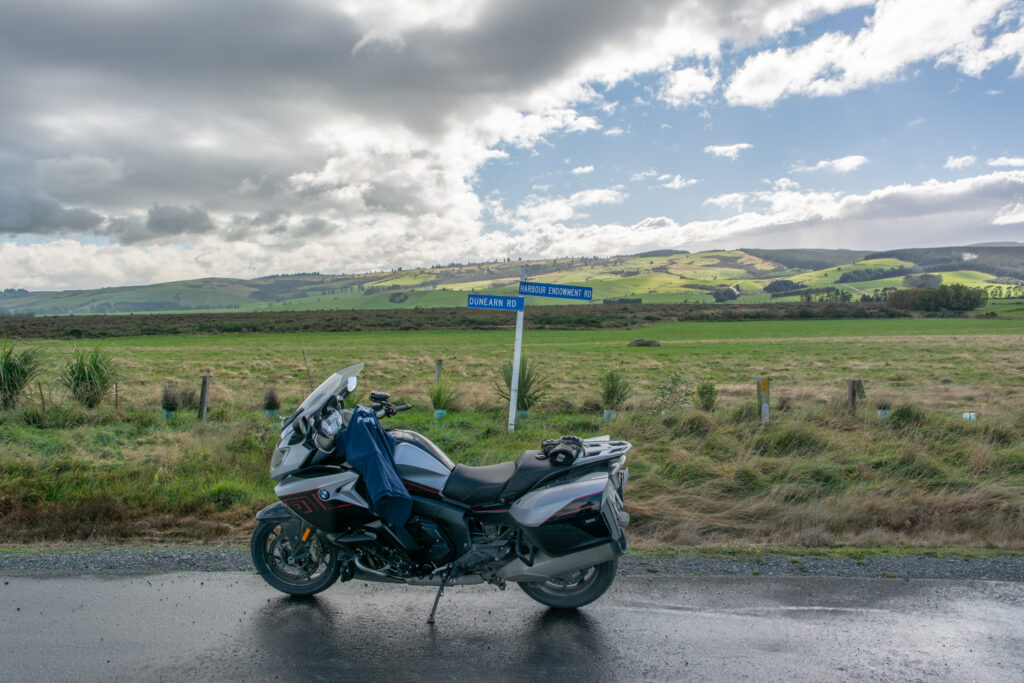 Mystery number 4 was next. I never did find this one and someone gave me the location and I would never have found it as my route did not go past it. Close but not past.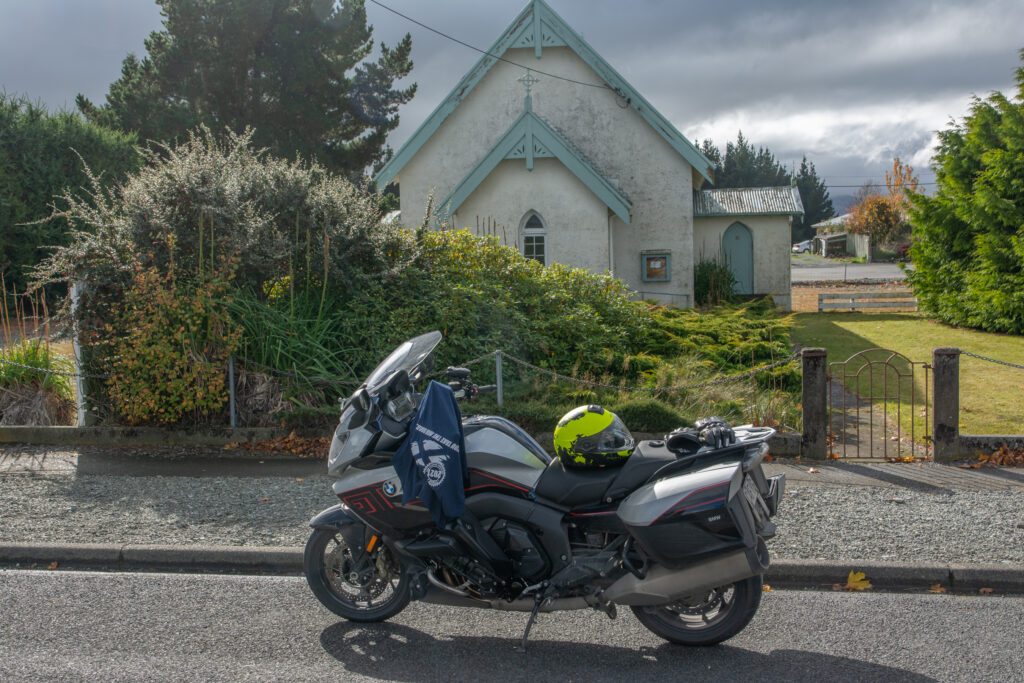 Athol checkpoint was next and another quick photo. GPS on camera was playing up and would not lock so didn't worry about it.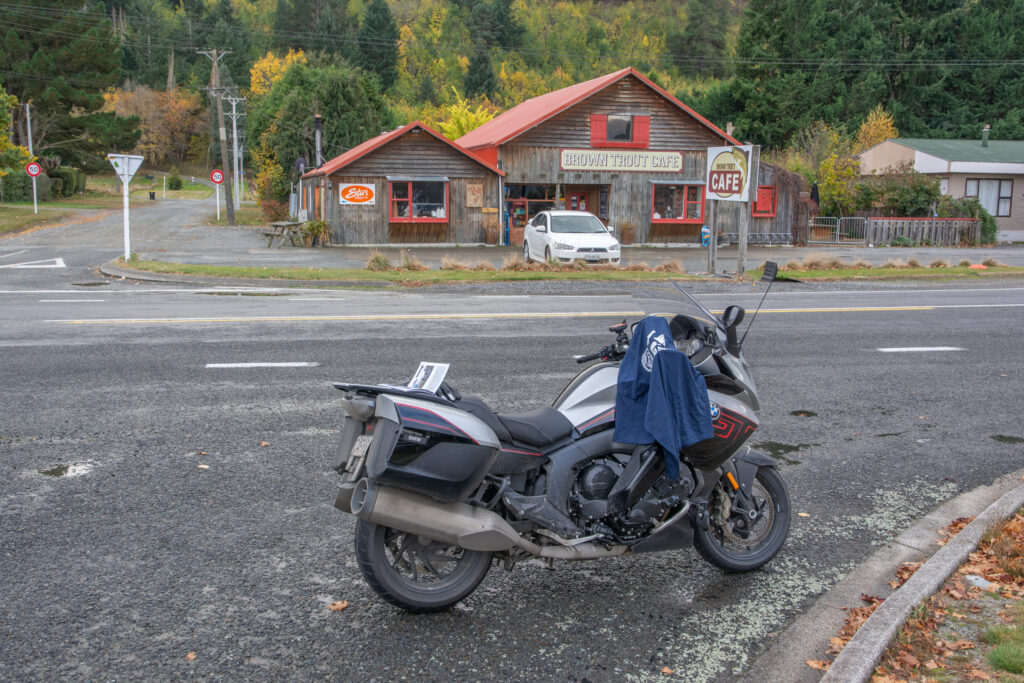 Another fuel stop at Frankton and then onto Glenorchy. This is now my favourite road ever. Hardly any traffic at all with nice smooth flowing corners and road condition nice. My wrist did not take kindly to it but what the hell. Photo taken and there was one more stop for the day.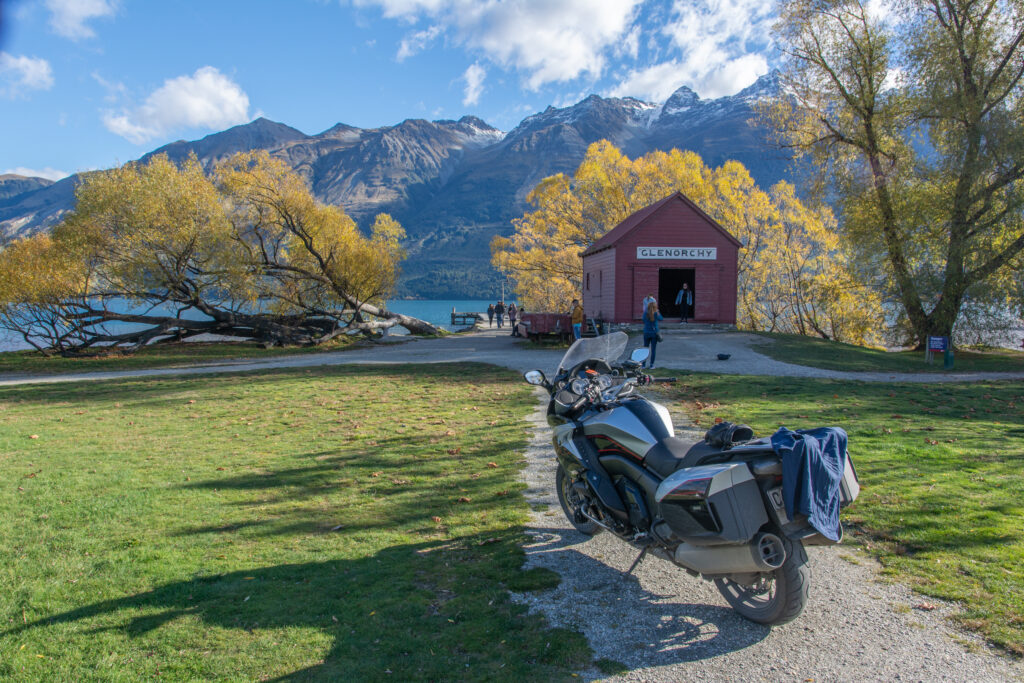 This was Cardrona and was initially worried that there might be ice/snow but the time of day I went through meant no ice and certainly no snow that low there yet. Photo taken and onto Wanaka for the night. Got some drinks and asked the dude if he knew any good fish and chip shops as I did not see any driving through. He said Eric was crap but now was awesome and told me where it was. The 4 oysters I got were way over cooked that I nearly cracked a tooth on the batter and the blue cod was not much better. The chips were nice though. Fed and watered I turned in for the night ready for another start in the morning. Put my wrist in the brace for the night.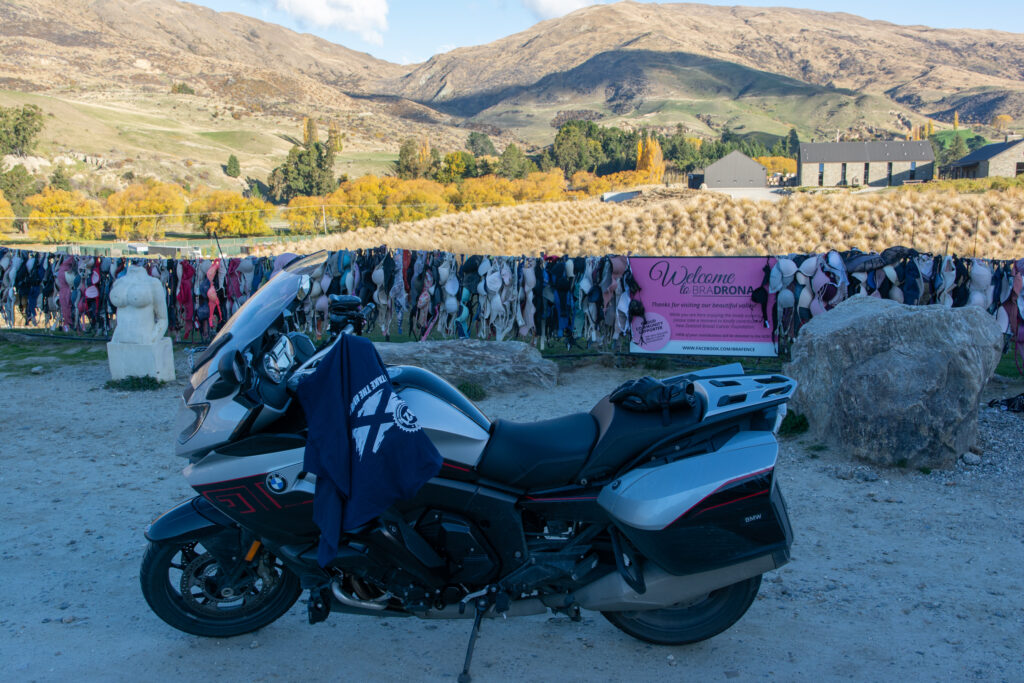 Saturday 1st May – Day 2
This was going to be the longest day so it was an early start. Had set the clock for 3:30am but as usual woke about 10 minutes early. Packed the bike back up and the sky was clear and the temperature was about 1 degree. So I was off for my first stop at Ardgour. The temperature dropped quite quickly and I started getting cold. I stopped and the next service station to put the heated jacket on and that made a major difference. Minus 5 outside, toasty inside.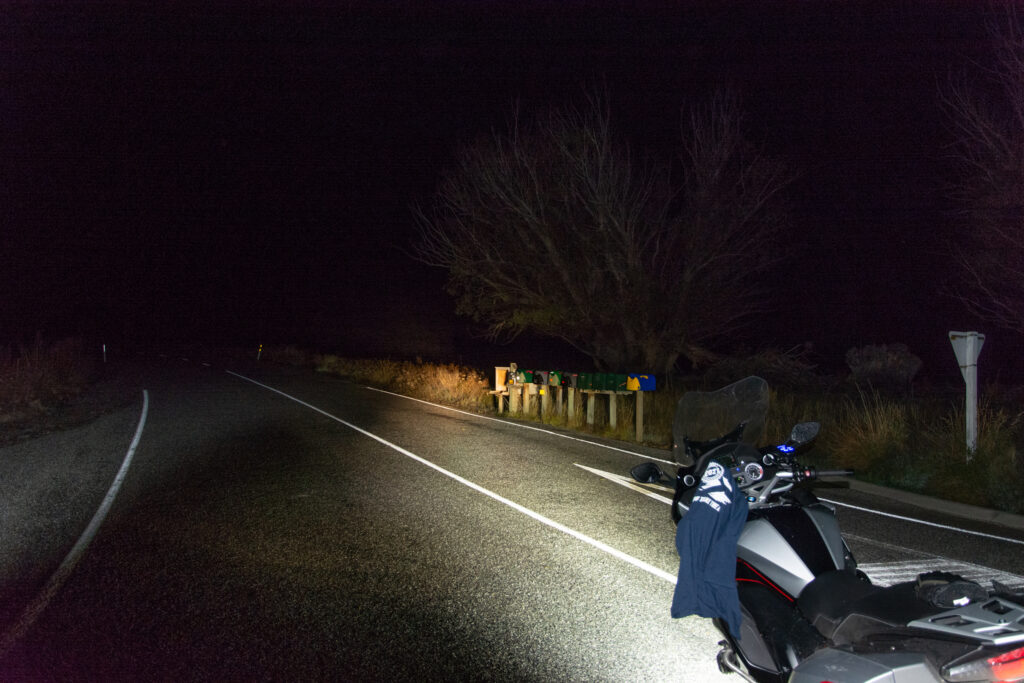 Next stop was Loch Laird and as I was riding along my GPS dinged me in my helmet. It is hooked to the bike so shows the bike warnings as well. I looked down and saw it was just the temperature below 3 degrees warning and looked back up just in time to see two sheep walking across the road and I had just missed them. The Denali lights showed them up perfectly but the GPS distracted me. Lesson learned. Arrived at the checkpoint and aimed the lights at the sign and as normal left the bike running not to flatten the battery. As I hopped off I heard the side stand start to scrape and I had to make a mad grab for the bike to stop it tipping over. I was on a slight downhill and the bike had rolled forward a bit. Certainly didn't want to pick up the heavy beast. Turned the bike off and stuck it in first. Now the camera started playing up again and it took four shots to get one that worked. Plugged myself back in for the heat and hopped back on just in time to see the battery symbol come up. Quickly started the bike and started toward the next checkpoint but it took a bit for the battery light to go out.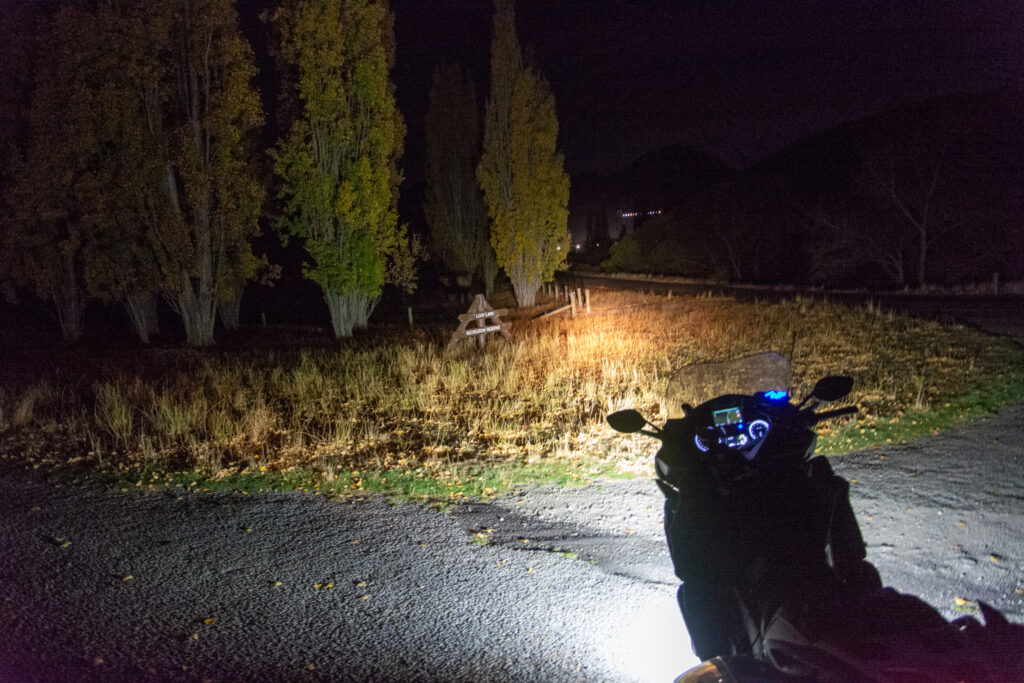 Duntroon was the next checkpoint on the list and it was a nice ride but still in the dark. No ice on the roads so was sticking to my plan pretty much. Quick snap and next the GPS played silly buggers on me.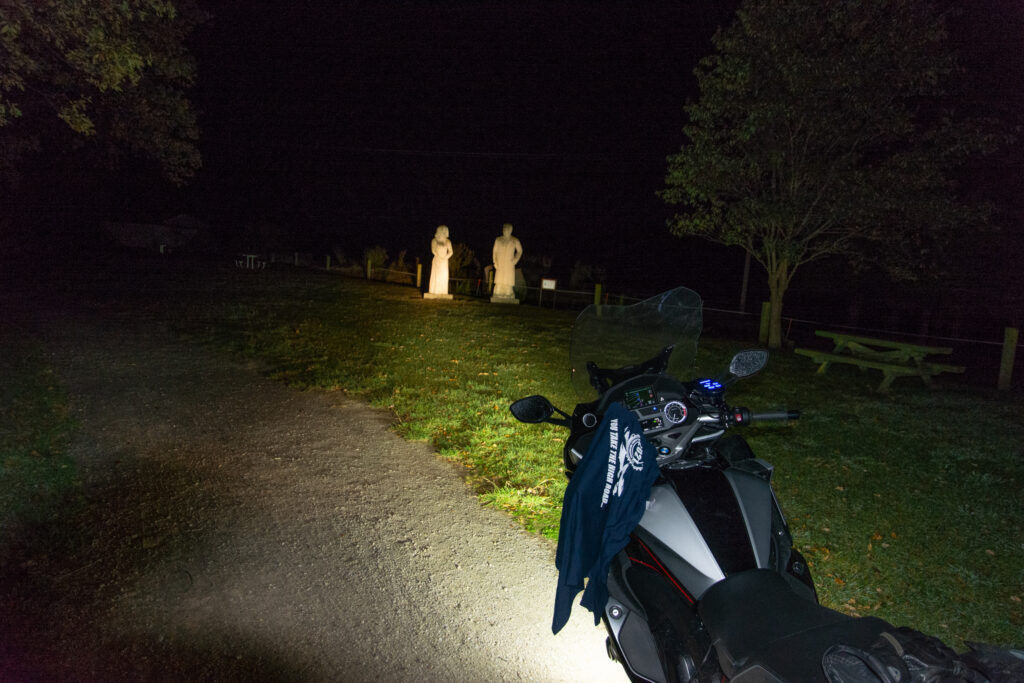 Fuel stop at Washdyke was next with 323km down so far.
Lagmhor was the next checkpoint and when I planned this on Basecamp I put in a couple of shaping points to make it avoid the gravel roads that I could see. We it seems the GPS didn't like this and was still trying to send me down gravel roads. The first one was for about 8km so  back tracked that one and it recalculated. It turned me down two roads further down and said it was a gravel road as well. Not knowing the roads and where I was I decided to take that one as it was only 2km distance. Well the gravel was very thick and made had riding on the big bike. Then after 2km it turned me again onto another gravel road of 6km. Not really impressed but finally the checkpoint was there. Double checked the preferences on the GPS making sure the avoid gravel roads was on and it was. I also saw the road it should have put me on.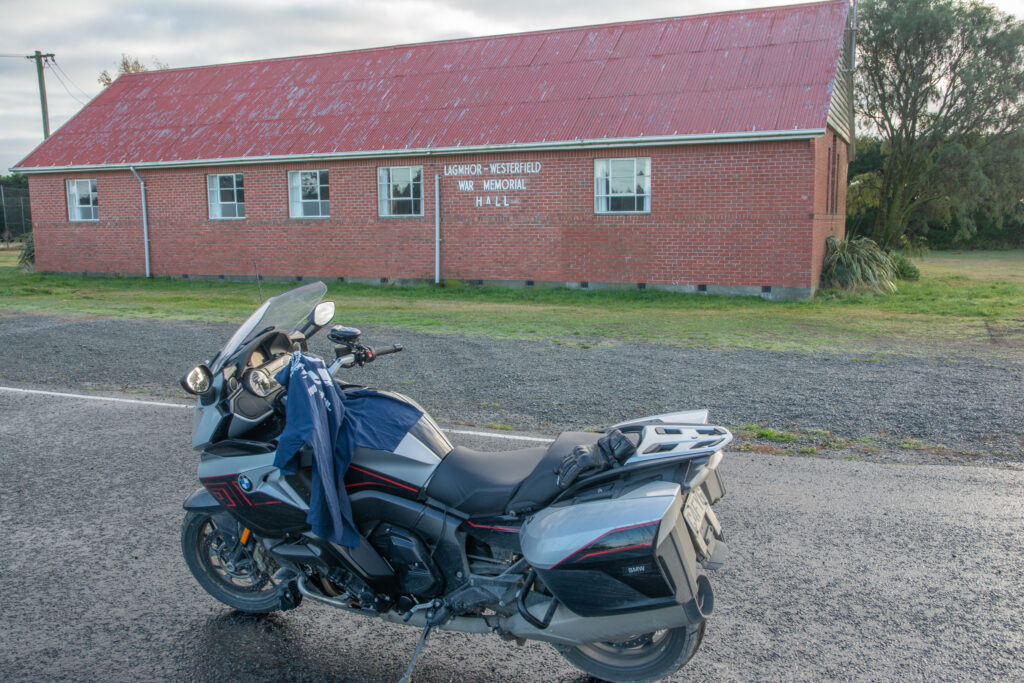 Next checkpoint was Mystery 01. I did not know exactly where this one was just what road it was on so I was keeping my eye open for it and then still nearly missed it and had to backtrack a bit.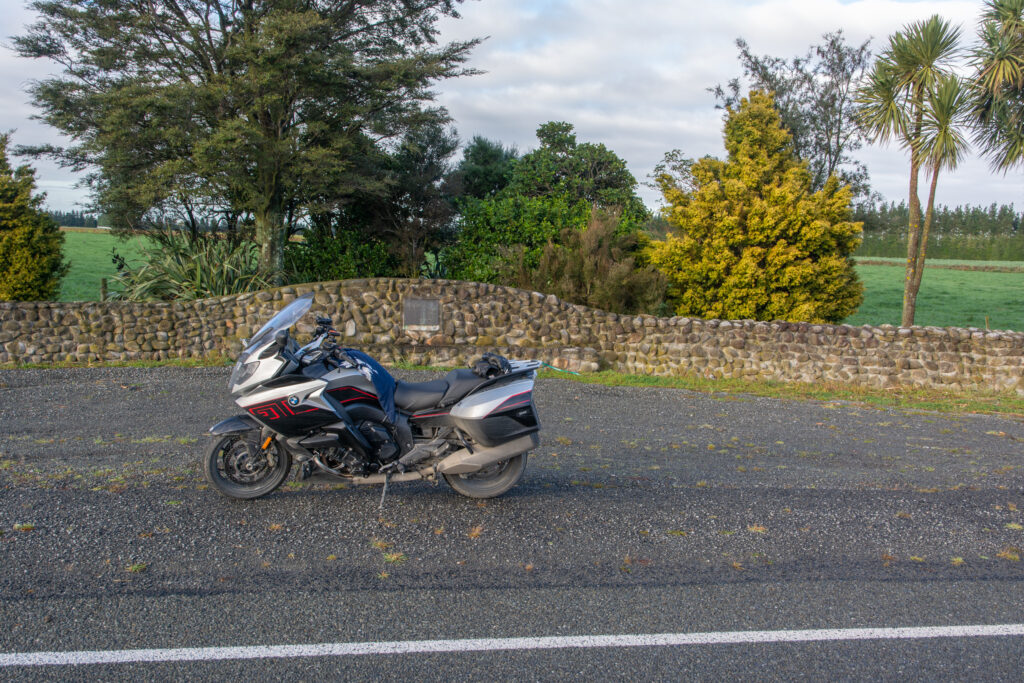 Glenroy was the next checkpoint and it was an uneventful 35kms from the previous checkpoint.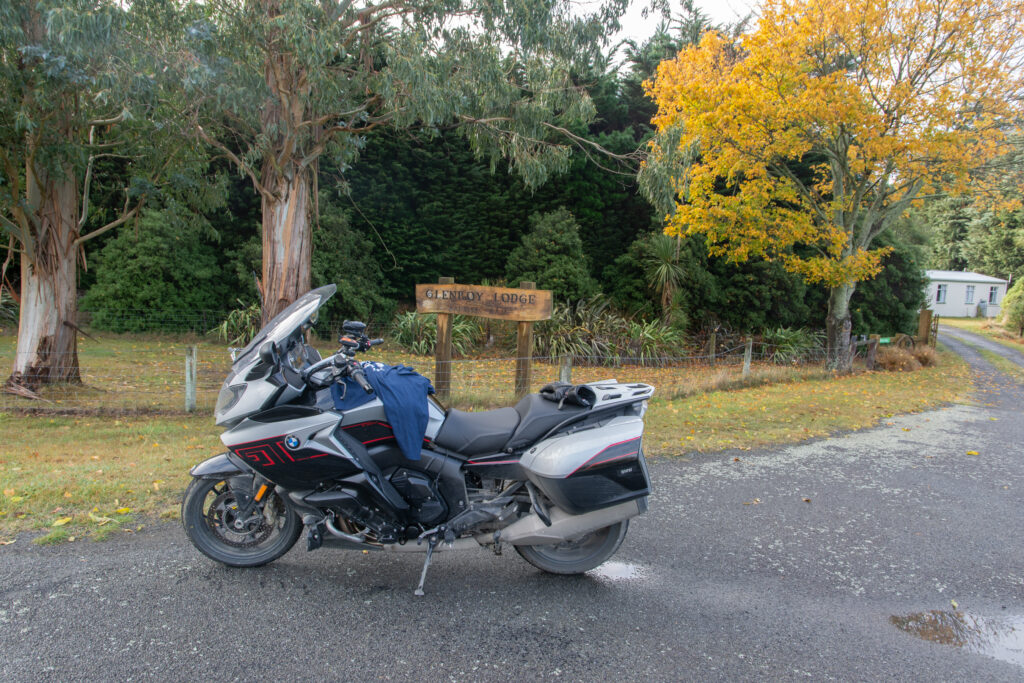 Second fuel stop at Amberley was next on the list with another 258km done.
Balmoral checkpoint was next on my list and it was about 30 minutes riding and quickly came up. Again camera played up and took a couple of shots.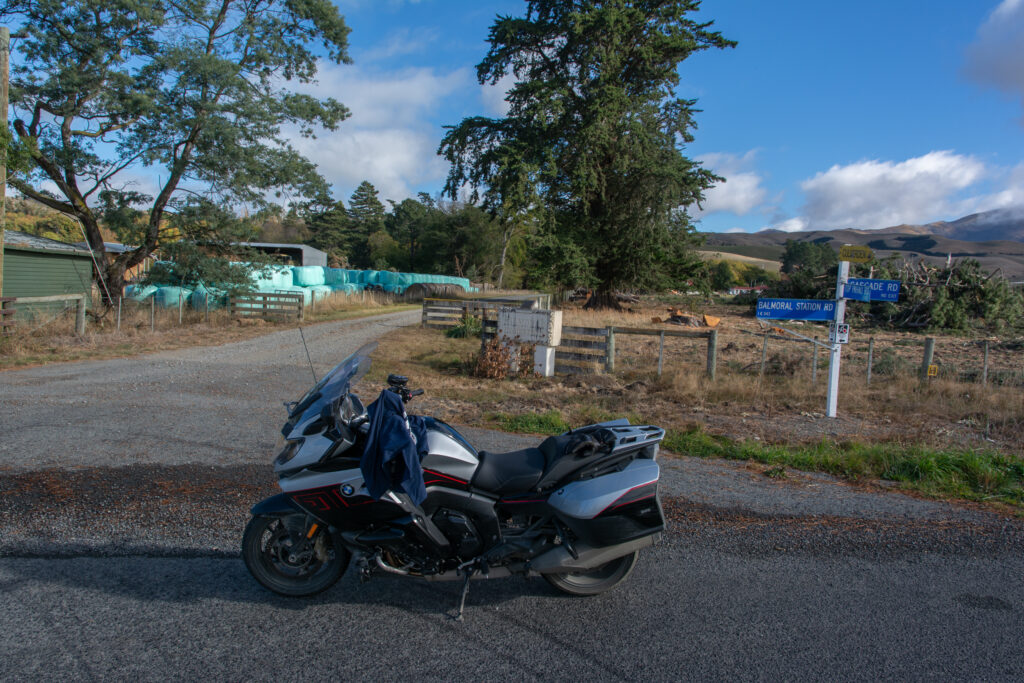 Ferniehurst was my next stop and it was another hard one to spot the location. A second read nof the notes put me to the right place though.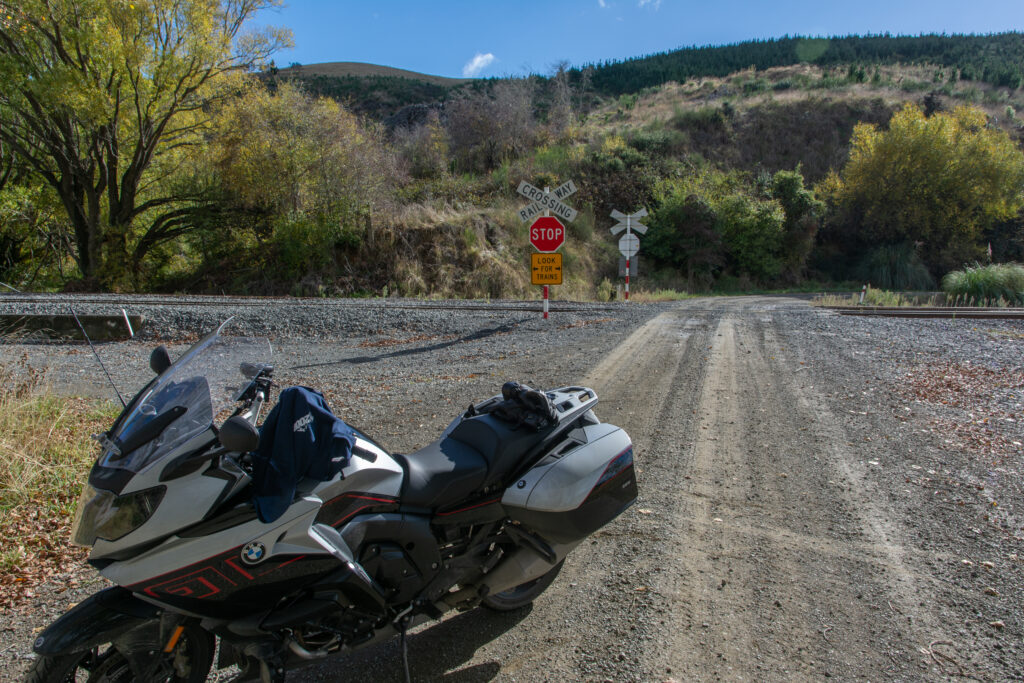 Scargill was next and the stops only about 30 minutes apart so was losing a bit of time on my schedule but only had two more stops for the day to go.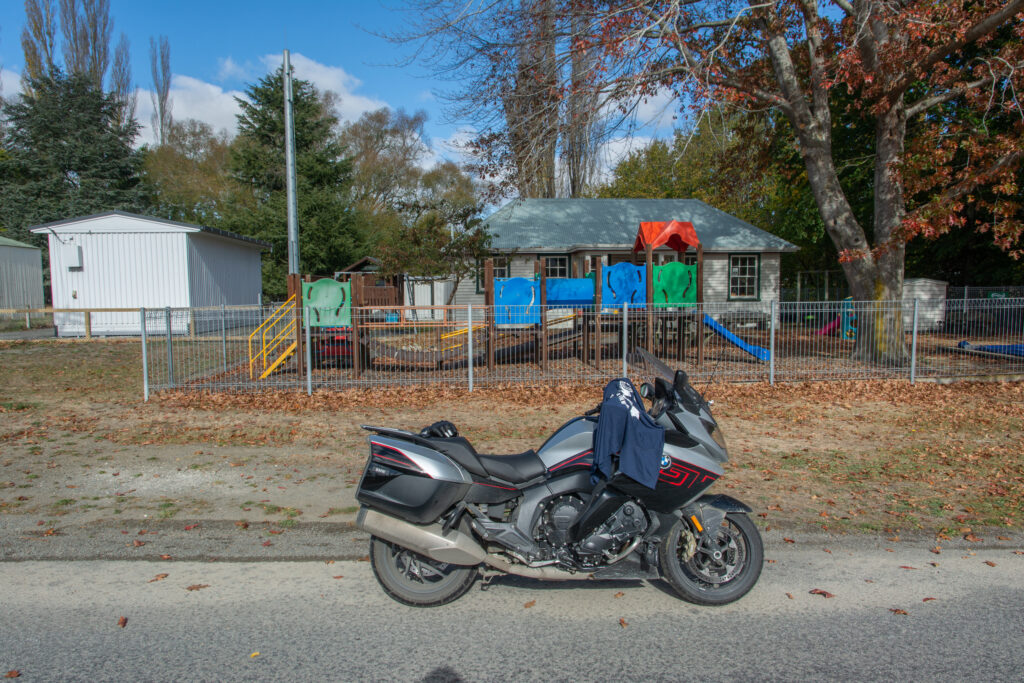 Glasnevin was the next stop and I could have picked this up earlier but decided to grab it on the way back. Again the camera decided to play silly buggers again but eventually took the photo.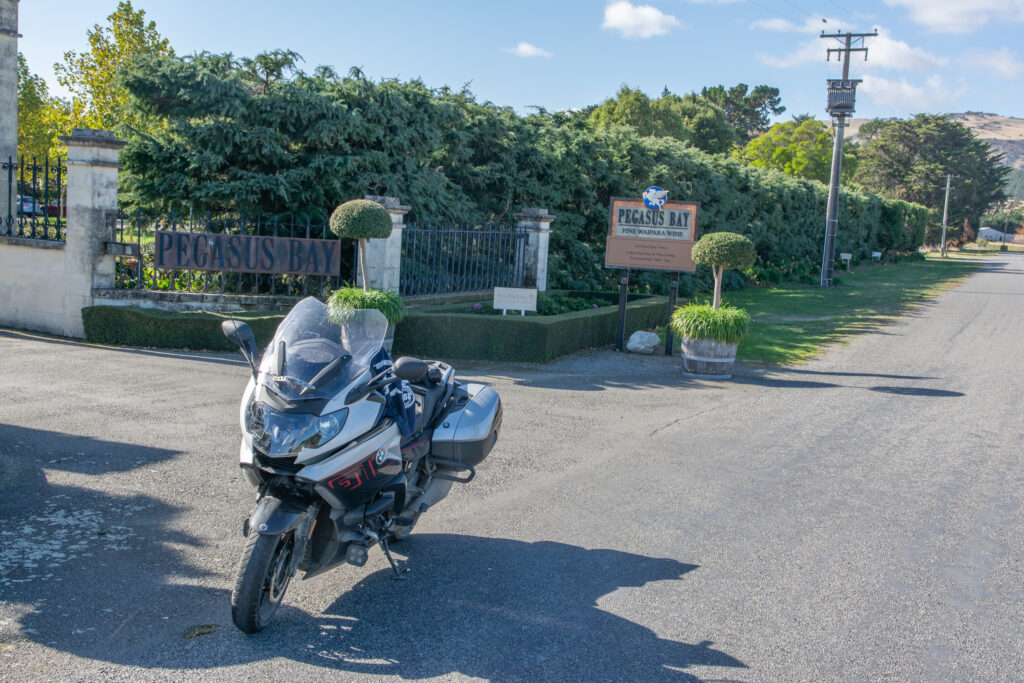 Plan had me refuelling again at Amberley but decided to bypass it and headed for my final checkpoint for the day at Gebbies. There was quite a few bikes heading out this way for some reason. It was a rather nice day for riding though. It was hard to get a picture without getting run over so had to pick my time.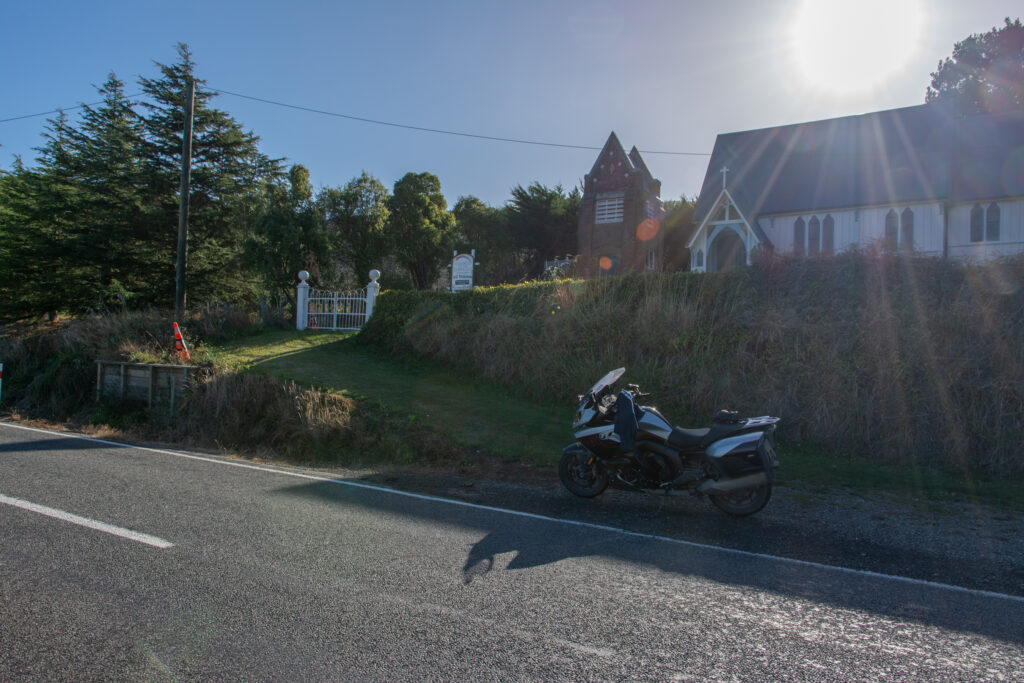 It was about 250km to Timaru and one refill from here and I got to Timaru about 5pm. My wrist was really sore now so I popped into town and grabbed some drinks. The only fish and chip shop I could find was packed so decided on Maccas for tea. I was really impressed with the motel that they had the heater on when I got there and it was lovely and warm. Drunk the drinks, ate the food and watched TV for a bit before going to bed.
Sunday 2nd May – Day 3
My original plan for day three was to mop up the 2000km as I had plenty of points. Doing so I was going to get Mystery 02 and Glenpark checkpoints. I would have had plenty of time to get back to the start. However when I woke up my wrist was quite sore so I decided to just do the straight kms and get to Omaru start/finish as quick as I could. I worked out the kms and was ahead of where I estimated and found I only needed about 30kms extra to make the trip. So I left at about 4am and headed for the Start/Finish and took a couple of side roads and arrived at 6:05 with 19kms over the 2000. Quickly took a phot of the dash and then left for Picton to try and catch an earlier ferry. Was worried about the South side of Kaikoura where they said there was road closures but went straight through. No one even working there. Traffic was not too bad and made good time to Picton and made the early ferry. Trip back over was calm and I had some of their fish and chips. Not bad. Unloaded from the ferry and was soon back in the ugly Wellington traffic. Stupid idiots sitting in the fast lane going exactly the same speed as the car next to them. Once off the motorway I made better time and refilled in Levin. Straight trip back to the Naki and my TT2000 for 2021 was finally completed.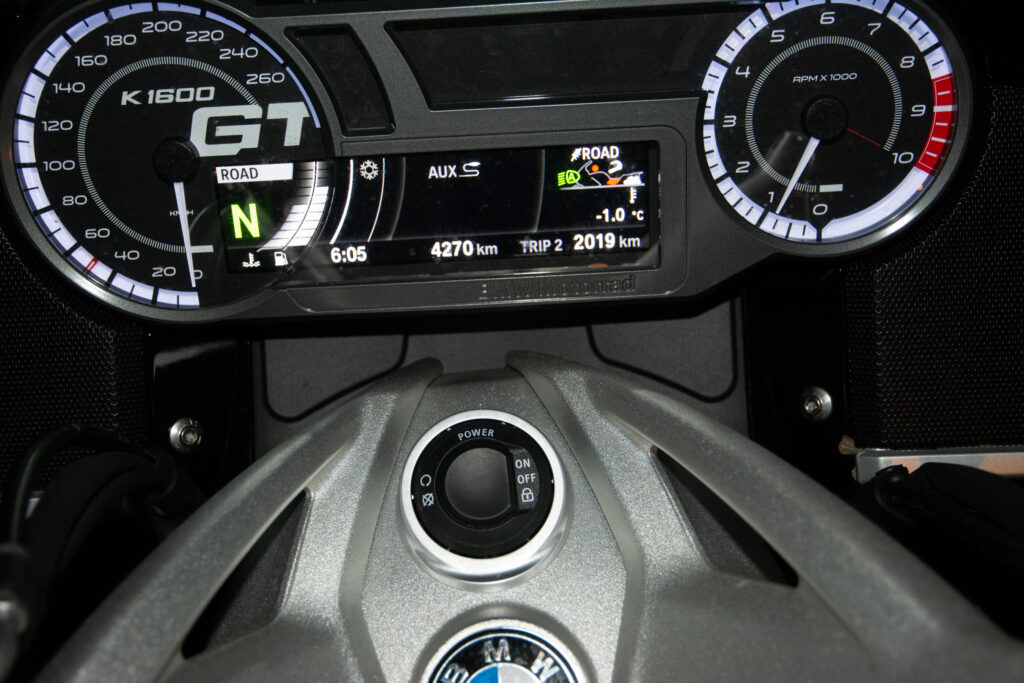 Thanks to Wayne and co for organising and letting me complete the trip later. I sure it would have been much nicer in February and a few more others to bump into.